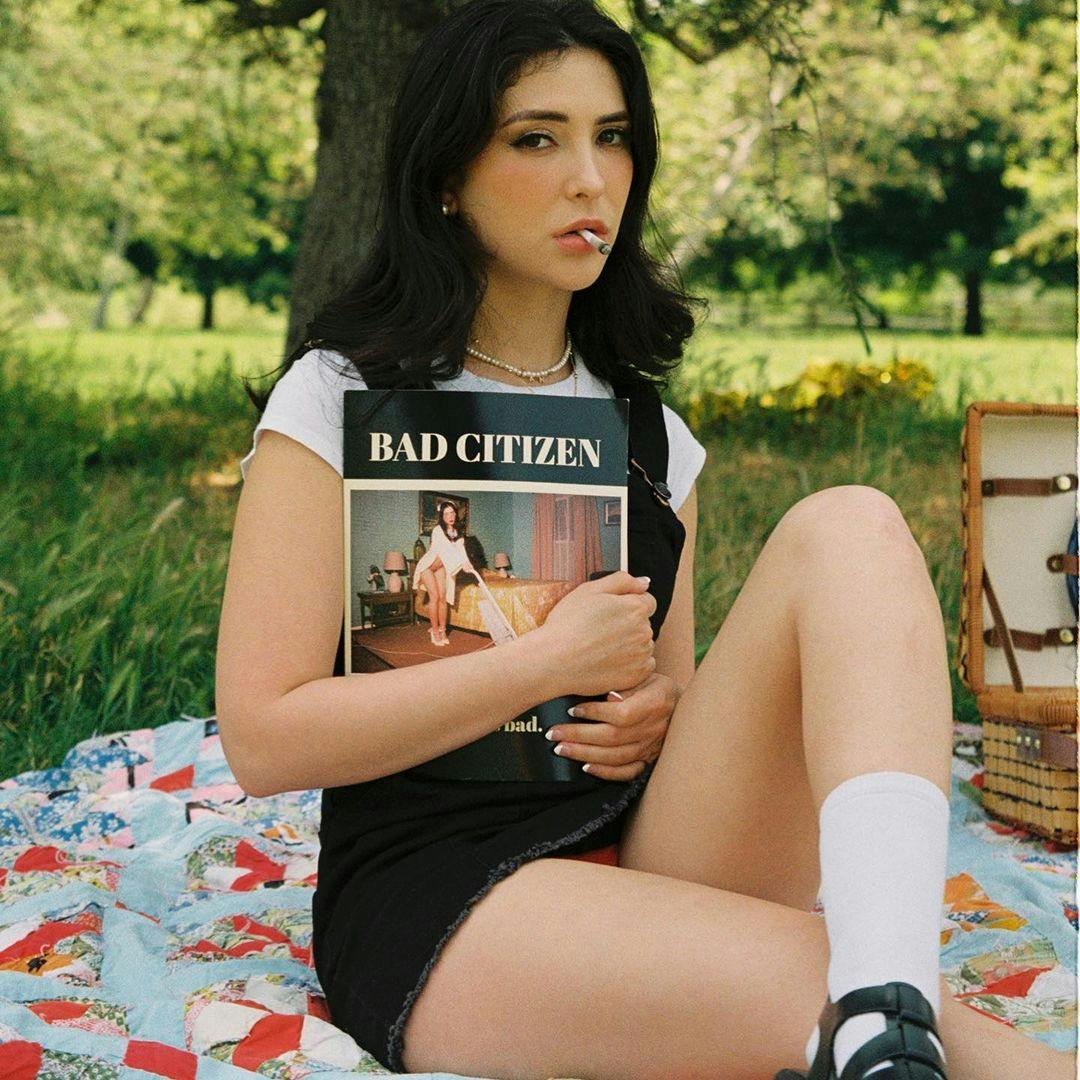 The latest release from one of the top talents in the adult industry drops Wednesday.
And this time, it's got nothing to do with porn.
Jane Wilde—a four-time finalist for AVN's Female Performer of the Year award—is excited to unveil Bad Citizen, a self-produced zine featuring never-before-seen photos and original writing from Jane herself.
For those unfamiliar with the concept, "zines" have been described as "magazines with a twist." They are mostly non-commercial, homemade publications devoted to specialized, unconventional subject matter.
Wilde tells PornCrush that it's important for sex workers—and everyone, for that matter—to take on projects that illustrate their passions and creative drive.
"I didn't make Bad Citizen to prove a point," Wilde says. "But if it drives home the point that being a porn actress doesn't render me incapable of having feelings, deep thoughts, wishes, regrets, confusion, creativity, and excitement, then that's wonderful."
Wilde this week provided PornCrush with more details about Bad Citizen and the inspiration behind it. Fans wishing to order the publication—including signed copies—can do so at badcitizen.world
PornCrush: What inspired Bad Citizen?
Wilde: Over the past couple of years I've been exploring new and different styles of photography and modeling. I learned how to pose for a photographer from shooting porn, but posing for those pictures never really scratched this itch that I had for something more. I found out about film photography in 2020 and I fell in love with it. I love how it looks, how it's shot, how it's reminiscent of the times before the 2000s, when digital photography and technology began to take over. I believe the world was better before we all had phones and social media and sometimes the only thing to do was actually go up to someone and have a genuine conversation, not for a Tiktok or anything, LOL. 
At some point I realized that I love to tell stories through any medium, whether it be modeling, taking pictures of my own, or writing. So with my storytelling, I love to embrace a character, or a vibe or feeling and go with it. That's kind of how Bad Citizen started. I had written a sort of hybrid story/poem idea and I inserted some photos of myself that had been taken on film in the margins. I loved the vibe. I loved having pictures to match the words, painting a picture in the reader's head. Like a book.
So when that came out cool I decided I wanted to go further. I enlisted the help of a few female photographers and bought the rights to a lot of my old photos so I could feature them in the zine. Now, after completing issue 1, I'm already considering my choices for issue 2—what to write about, what shoots to produce for myself, and what other ladies I want to feature and take pictures of myself! 
PornCrush: Can you further explain the concept of Bad Citizen and zines in general?
Wilde: A zine is basically a magazine. But it's usually printed on smaller-sized paper, and most often displays themes of feminism or other things one is passionate about. It can really be anything you want it to be, and anyone can make a zine. Usually a zine is homemade and not made by a company or a big group with lots of resources. My zine, Bad Citizen, has a lot of different stuff going on and I'm excited for people to take in my words and interpret them however they choose. 
PornCrush: What type of content is in Bad Citizen?
Wilde: What I'm super proud of is the amount of variety in my writing. I love writing so much, but over the years it's gotten harder for me to focus and complete things. I had a good amount of pieces that were unfinished for whatever reasons that I decided to take another look at. Some were a few years old, so it was very cool to bring them back with a fresh feeling.
There are six or so pieces of original writing in the zine. The majority are personal essays/anecdotes about my life and experiences. But there are some special surprises as well for people who enjoy fiction, especially erotic fiction. And then there'll be some stuff that may or may not feature a little bit of satire and creative license. You'll just have to see what I mean!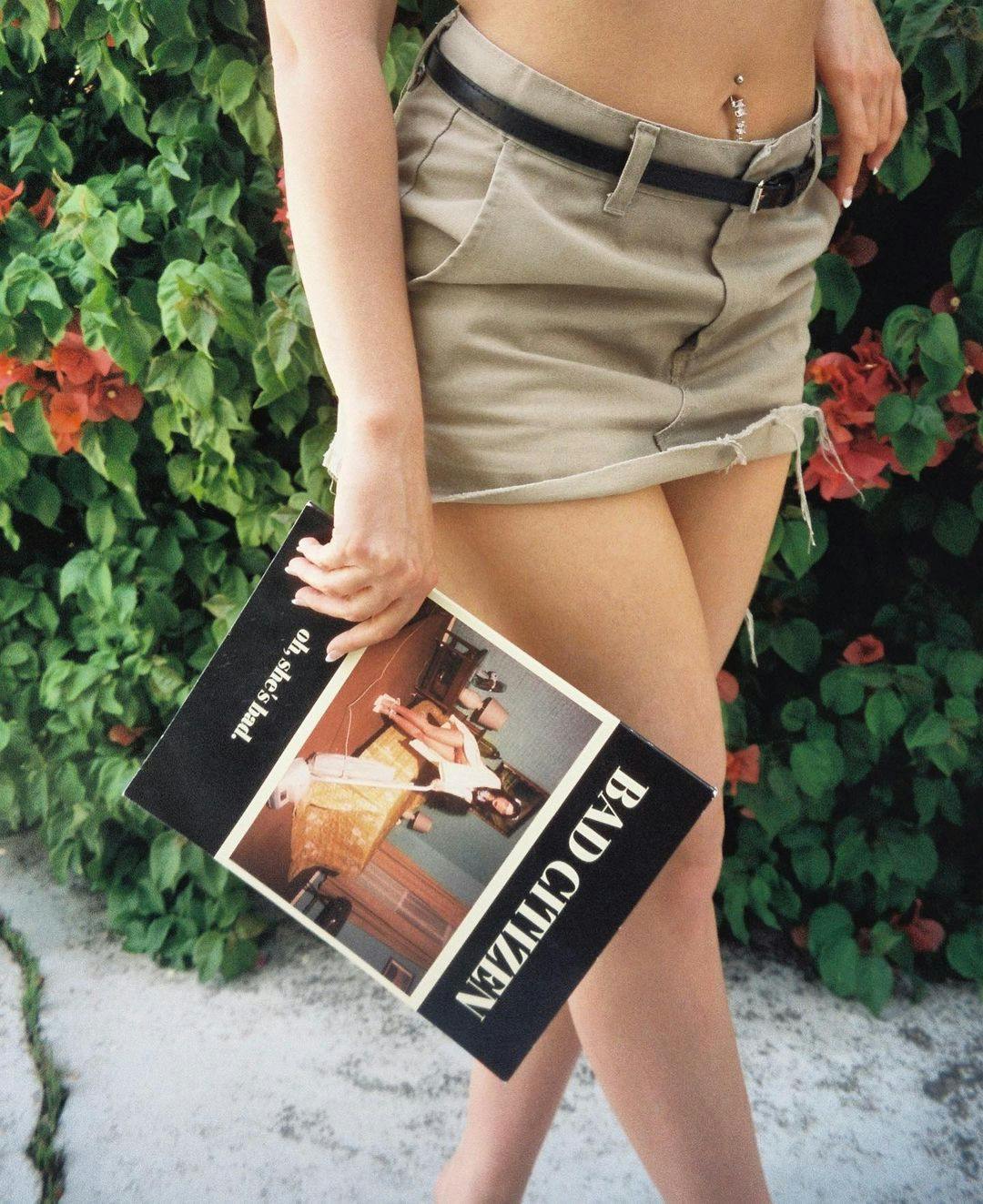 PornCrush: What was your background in writing, photography and modeling before you entered the adult industry?
Wilde: I've been modeling since starting my career in porn in 2018. However, as I said previously, those types of shoots weren't inspiring me to create things like this. Digital photography doesn't excite me, nor do plain sets and concepts. This isn't a diss to porn at all, but that's what we are used to. And I do wish more people were embracing film photography, although I understand why they don't. It's more expensive, more risky as far as getting a specific product, and the images are more difficult to upload in high quality. But that's what I love about them. I love that they look older and more cinematic.
But since I've been posing for a camera since 2018, I felt so comfortable for my first film shoot in September 2020 and I loved the results so much that I began having all my personal shoots on film for 2021 and on. I also started taking my own film pictures on a point-and-shoot camera in February 2022. I've taken hundreds of experimental photos, some of people and some just of scenery and vibes. It's all practice for me to one day shoot other people and have them feel the excitement that I feel when modeling for film photos.
With writing, I've been writing since I was a little girl. Mostly fiction stories, a lot of fan fiction because I love TV and books. I've also always written about myself and my experiences. In high school I wrote a couple of short plays before I unfortunately fell into a depression that would affect me for a few years and stifle my creativity. But thankfully I'm out of the black and into the blue and back to writing new things about what I feel inspired by. 
PornCrush: How important is it for sex workers to embark on passion projects such as this outside of the industry?
Wilde: I think it's extremely important for everyone—not just people working in the sex industry—to focus on their passions and creative drive. This world wants nothing more than to stifle us. Artistic expression is frequently shut down by people that are scared of its power or offended by it.
Sex workers in particular are shoved violently into these boxes, these roles. We're called whores and idiots and told we'll never have a "real job" (whatever the fuck that means), or that no one will love us for who we are. Sad pathetic people in this world want nothing more than for those of us who use our bodies and sexuality for our careers to fail and be miserable- which is exactly why we can't roll over and do that! We more than anyone have to be true to ourselves and explore who we are as humans, as only we as individuals can do.
No one can tell you who you are or really know you, except yourself. Experimenting with this project has shown me so much about who I am, and allowed me to grow into someone I'm proud to be and proud to present to the world as a public figure. Michelle Obama said, "When they go low, we go high!" When thousands or millions of people think you're only good for one thing or incapable of a feat, it's up to you to prove them wrong however you choose. 
I didn't make Bad Citizen to prove a point—but if it drives home the point that being a porn actress doesn't render me incapable of having feelings, deep thoughts, wishes, regrets, confusion, creativity, and excitement, then that's wonderful.
PornCrush: Is it a one-time thing, or can we expect more editions of Bad Citizen in the future? 
Wilde: I definitely have plans to create a second issue of Bad Citizen, this time featuring more work from other creative people I know. There are so many of us in the adult industry that are excited to break out of our shells and go deeper into certain mediums. I really want to inspire people with film photography and how fucking cool it is and how great the results are. I want to show people what inspires me and makes me happy and see if they feel the same way. So it's definitely not a one off. I'm very excited to keep working on it and building it up as a brand, like I have for my own brand in adult for the past five years. 
PornCrush: What's the main thing you're hoping to accomplish with Bad Citizen?
Wilde: The main thing I'd like to accomplish is for people to enjoy the zine. I want it to be something that makes people think and see me in a different light after reading it. I'd love to inspire someone to write their own story, or to start taking or posing for their own film photos. Or to just create a story in your head and realize that fantasy can be so much more fun than reality sometimes.
I want people to be entertained by and to feel proud of Bad Citizen, and immediately start wondering when the next issue is coming, who's going to be featured in it, what type of writing they can expect. I'd like to eventually have a cult following and for people to not even associate Bad Citizen with me as a person, but more so an overall cool and interesting vibe that you can't find anywhere else nowadays. I really hope people love it.