LOS ANGELES — Daisy Taylor kept quiet on social media.
Yes, she felt honored to be nominated for AVN's Fan Award for Favorite Trans Cam Star.
But campaigning just isn't her style.
"I tried not to market it," Taylor says. "I (wasn't) posting 'Vote for me! Vote for me!'"
Turns out she didn't need to.
Even with zero promotion, Taylor's supporters flooded the ballot box, propelling her to victory in the prestigious fan-voted category at the AVN Awards in January. Making the win even more impressive is that it came amid a lengthy hiatus from Taylor, who hadn't filmed a studio scene in nearly two years.
"I've been hibernating," Taylor tells PornCrush. "It's funny, because a lot of fans were like, 'You left?' There were still a lot of retweets, still a lot of people pushing my stuff. It didn't feel like I was gone."
If Taylor can have that impact when she's away, imagine what she could do if she returns.
Or rather … when she returns.
Barring a change of heart, Taylor says her extended break is over. She's ready to resume a full-time shooting schedule.
"I missed it, I truly did," Taylor says. "With this job, you don't get to see your colleagues and friends that much unless you're working together. There are a lot of friends I've made that I really, really miss."
Taylor says she also craves the mental stimulation that porn can spark. In the past, directors often consulted Taylor about plots, dialogue, sequencing, and even camera angles.
"(Porn) has been such a good, creative outlet for me," she says. "I've been able to write and produce and direct all of these different things, and make it more than just a pizza-boy scene. There are a lot of projects I started two or three years ago that I didn't get to finish. I feel like this is the right time (to come back)."
Taylor had already developed a massive following on PornHub when she made her studio debut in 2018 in Grooby Productions' "A Starlet is Born." The title couldn't have been more fitting for Taylor, who in less than a year ascended to the upper echelon of the trans genre, joining the likes of Aubrey Kate, Casey Kisses, and Natalie Mars as one of the most popular names in the industry.
Taylor shot more than 40 scenes in 2019 and 2020 and was consistently ranked among the top 100 models on PornHub—virtually unheard of for a trans performer.
"Things blew up on the internet very, very quickly," Taylor says. "It was really wild—you could argue overwhelming. But I have a decently-good head on my shoulders. I knew what I was getting into. I wasn't too bamboozled."
Still, as gratified as they can make one feel, fame and adoration can also come with a price. And while porn certainly helped Taylor's self-confidence, she says it also fed her ego "in a negative way."
"You get really wrapped up in it," she says. "You're talking to people (online), you're replying to people … I felt I was too involved."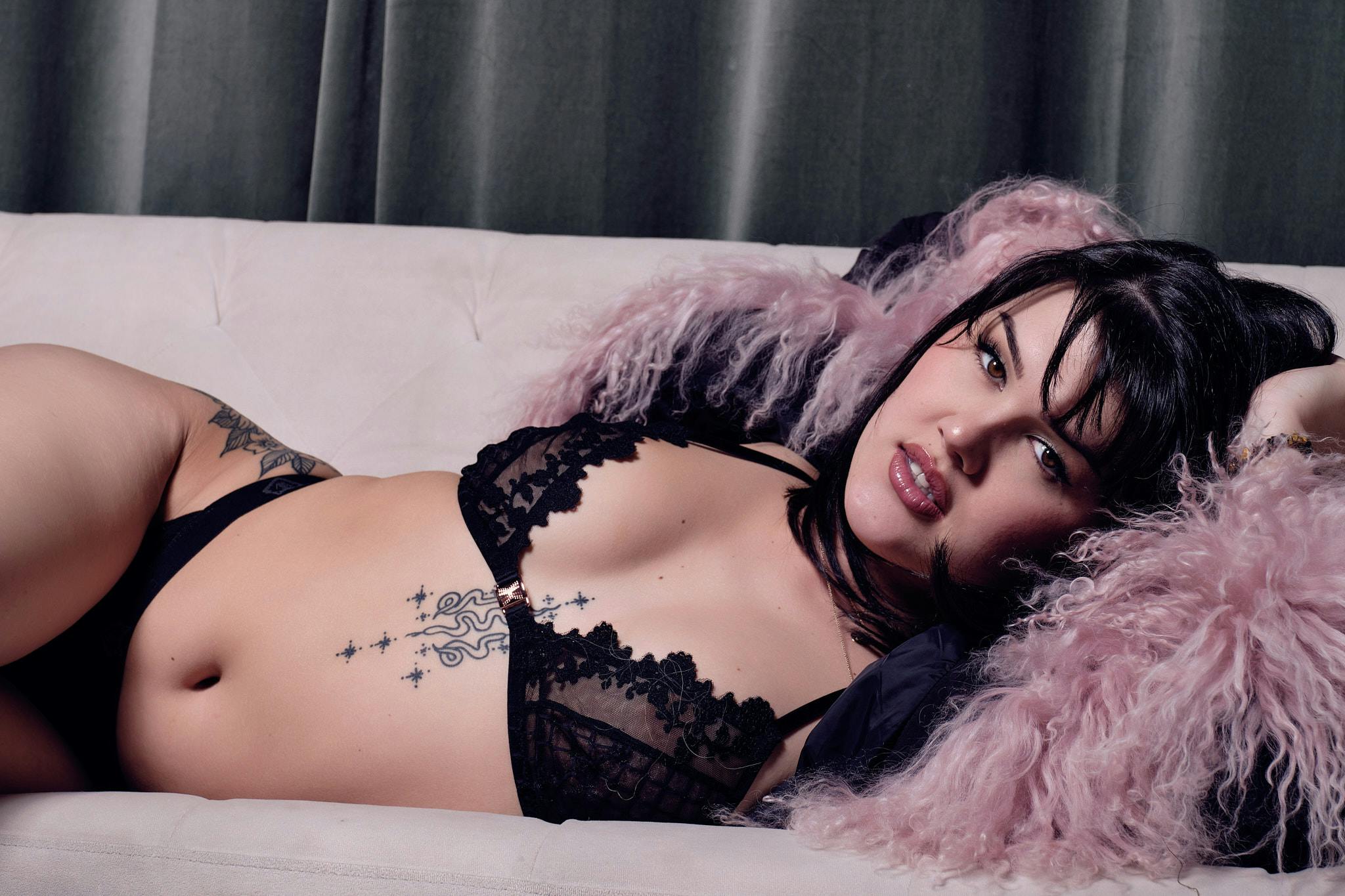 Taylor says she caught flak from some of her most ardent fans on PornHub when she broke things off with her longtime boyfriend, who had appeared in all of her self-produced scenes. Taylor says she was accused by fans of ending the relationship because of "greed" and to "further her career." She says she removed all of her PornHub scenes with her ex.
Taylor began scaling back her shooting schedule in 2021 before taking all of 2022 off. Another reason for Taylor's hiatus was that she'd entered into a new relationship and wanted to be monogamous.
Even though she wasn't an active performer, Taylor kept tabs on the industry. She says she felt a sense of satisfaction as she saw studios pumping more and more money into trans content or when cisgender men and women would shoot with trans performers for the first time.
Taylor became the first trans girl to shoot for Brazzers when she filmed "Dating Daisy" with Xander Corvus in 2021.
"All of my love goes out to people like Kenzie Taylor and Kira Noir," Taylor says. "Those girls were (shooting with trans performers) before it was cool. For them, it was always about shooting with beautiful women. That's it.
"The internet and how it's changed and grown over the years has been wonderful. I don't want to say I've helped with some of it … but maybe a little bit. I hope that my pride doesn't come across as arrogance."
By the end of last fall, Taylor had decided to return to the industry. She shot a sizzling boy-girl segment with Steve Rixx for Grooby and then filmed a scene for TransAngels, the details of which are being kept hush-hush until the teaser drops later this month.
Steven Grooby, one of the foremost authorities on the trans-genre of porn, says he's ecstatic that Taylor is back in the mix. Grooby says his company's social media platforms always experience a spike in traffic when content featuring Taylor appears online.
"Daisy Taylor is an 'It Girl,'" Grooby tells PornCrush. "She's not only gorgeous looking but she's got great camera presence and knows exactly how to work the camera. She's got a personality and a smile that shine through. She competes with the top porn stars when it comes to energy and sexuality in each scene."
Although she hopes to take on a regular shooting schedule, Taylor says she'll be picky when choosing the studios for whom she works. Taylor says she wants to collaborate with directors who will be open to her creative vision and suggestions.
"There's porn formula for how you do things," Taylor says. "You do the basic positions. It's all the same for everyone. I try not to be too much of a diva, but I want to switch it up.
"I'm kind of a control freak, to be honest. I just want to do what I want to do. I feel like I've been in this industry long enough, and I've made enough of my own content to where I feel like I have an eye for what people want."