"It's a vibe" - PornCrush Pool Party draws more than 300
Doc Johnson and BANG! sponsor first annual event; Ryan Pownall serves as guest emcee
By Frank Lotion / Contributor
Sep 25, 2023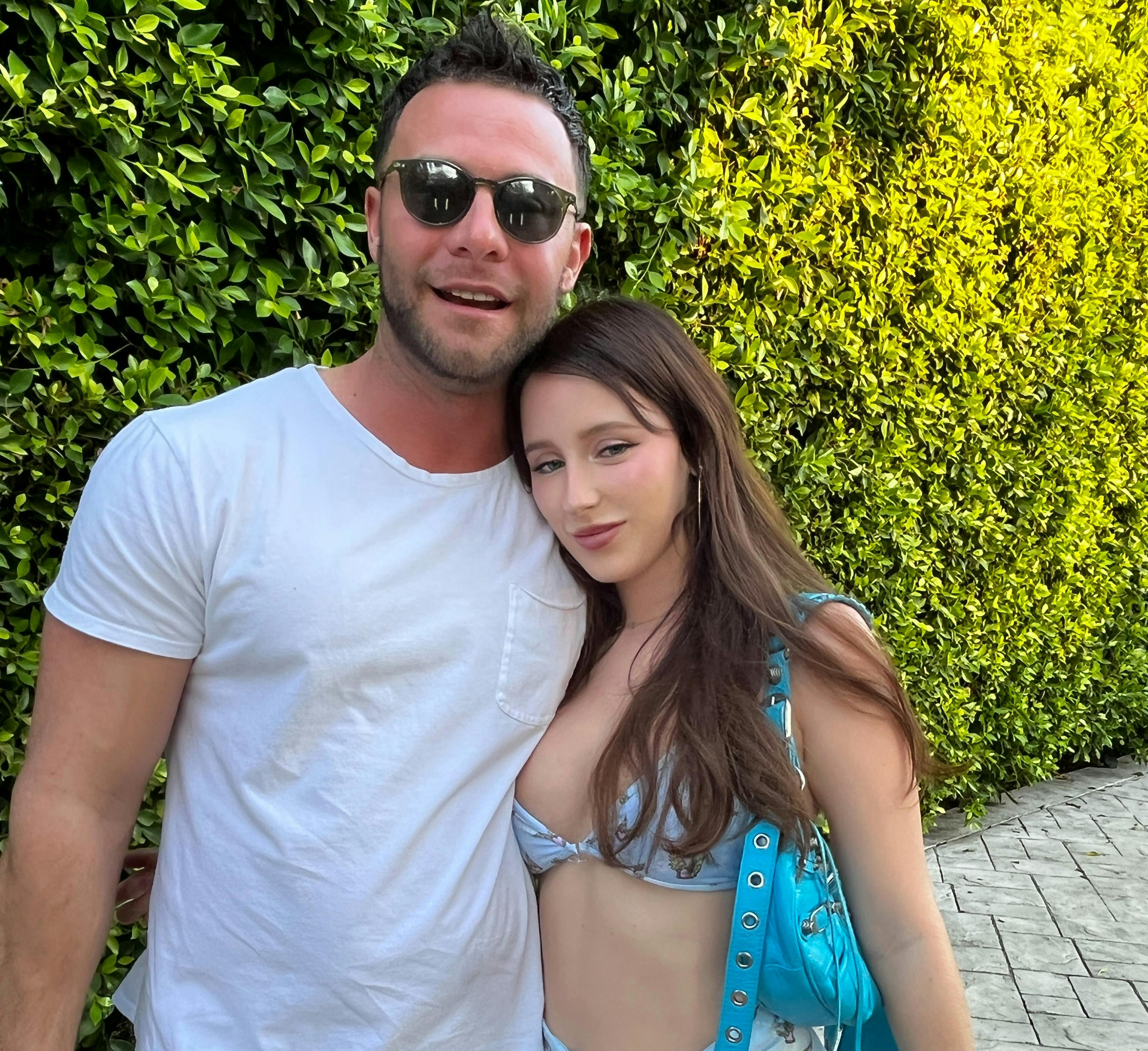 Back in May, PornCrush owner/editor Austin King was invited by AdultTime to conduct a round of interviews before a scene at a well-known shoot house in Reseda.
With some time to kill as performers went through hair and makeup, King took a tour of the multimillion-dollar property and was taken aback by the lavish pool and hot tub—and all of the surrounding space—in the backyard.
That's when the idea hit him.
"This," King thought, "would be the perfect place to throw a party."
Four months later, the thought came to fruition Saturday with the First Annual PornCrush Pool Party.
Sponsored by BANG! and Doc Johnson, the event could indeed be deemed a success. More than 400 adult industry luminaries had RSVPd by the time the shenanigans kicked off at 3, although King estimates the actual crowd was slightly above 300.
Among those in attendance were Kira Noir and Charly Summer—AVN's reigning Performer of the Year and Best New Starlet, respectively—and veterans such as Jennifer White, Casey Calvert and Hall-of-Famer Charlotte Stokely.
Established stars like Kylie Rocket, Chanel Camryn, Brittney Kade and Spencer Bradley mingled with up-and-comers like Molly Little, Madison Wilde, Olivia Would, Scarlett Alexis and Rissa May.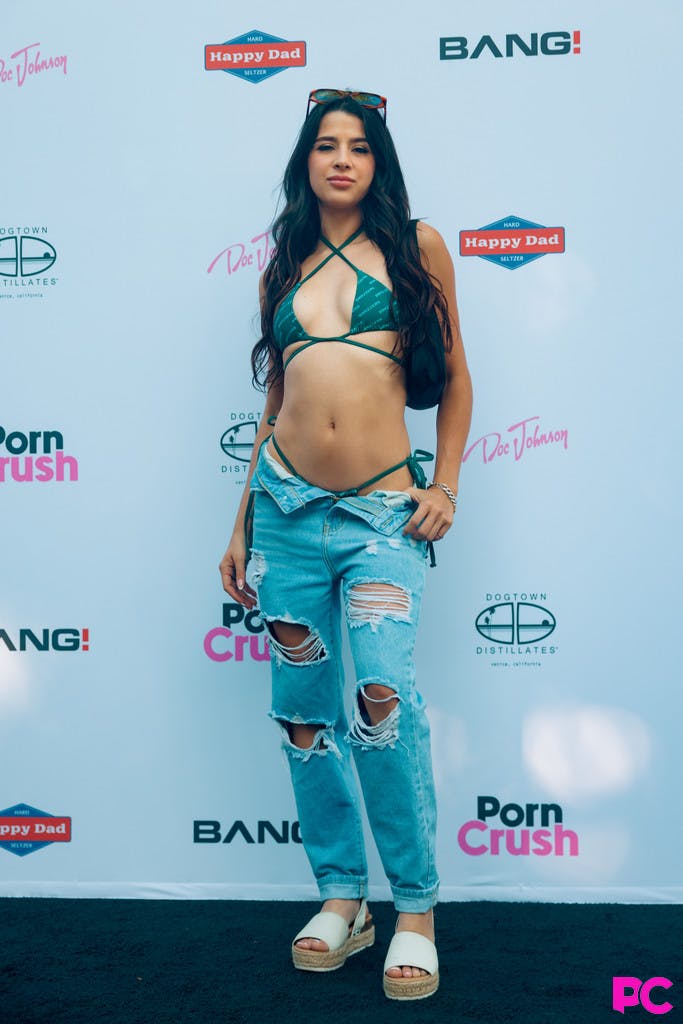 "The best thing about the party," King says, "is that it gave so many people the chance to meet for the first time, or simply to get to know each other better. At one point, I saw Hailey Davies and Elizabeth Skylar—who are literally just weeks into their career—sitting at a table with Charlotte Stokely and other big-name stars. That doesn't happen very often,"
As they hobnobbed, guests dined on freshly prepared tacos, nachos and quesadillas from Taqueria Tapatio in Woodland Hills. Drink options included frozen margaritas and pina coladas along with ranch water, vodka-soda, Fireball and strawberry lemonade. Happy Dad and Liquid Death—product-only sponsors—provided plenty of seltzers and water.
The most popular attraction was a tent set up by Dogtown Enterprises, a Venice-based hemp company that provided pre-rolls and a dab station. A photo booth allowed performers to take goofy photos featuring various props, with prints available immediately.
Early in the evening, BANG! Ambassador Ryan Pownall, host of the popular podcast Pillow Talk with Ryan, emceed "Porn Star Games," a series of competitions sponsored by BANG!. Stokely, Kay Lovely, Melody Marks, Brenna McKenna, Jennifer White, Haley Spades, and Kali Roses were among the contestants, and McKenna took home first-place honors after winning the final event: a twerk contest. Her prize was a lofty one, as McKenna was named BANG's Babe of the Month for January of 2024.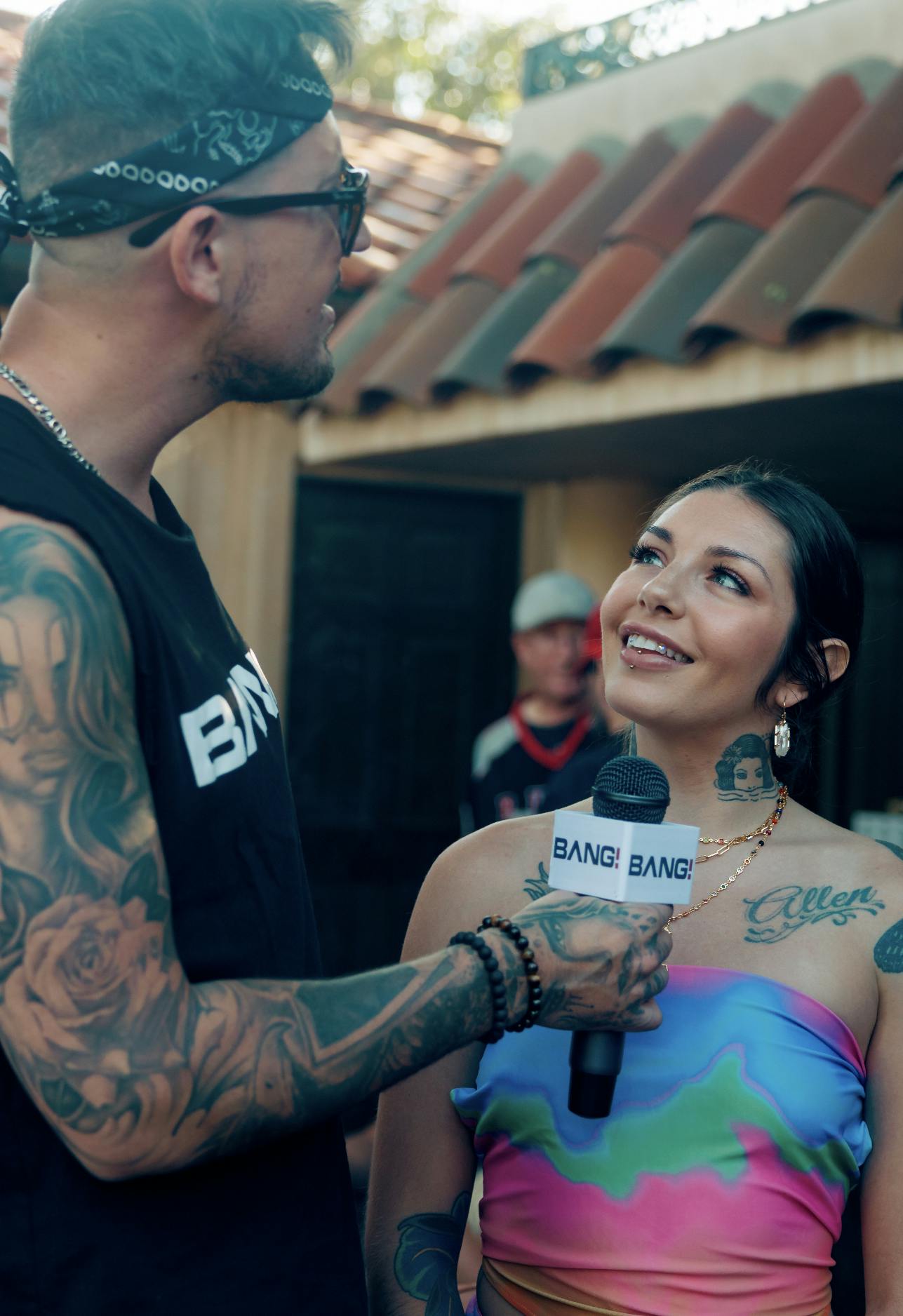 "The party was a vibe," says BANG's Chief Marketing Officer Steve Legos. "It didn't have an uppity or a pretentious feel to it. There was no drama, no tension. Everyone just came and relaxed and let their hair down a little bit. The industry needed that."
King agreed.
"It turned out exactly like we hoped," he says. "It brought together people from all facets of the industry, all from different genres—and all with different agents, performing styles, niches and experience levels.
"I think most people left feeling a little rejuvenated and upbeat about their industry. I think they felt the sense of camaraderie that can—and should—exist in it. Sometimes the industry can feel a little cliquish, but Saturday was a reminder that this really is one big family."