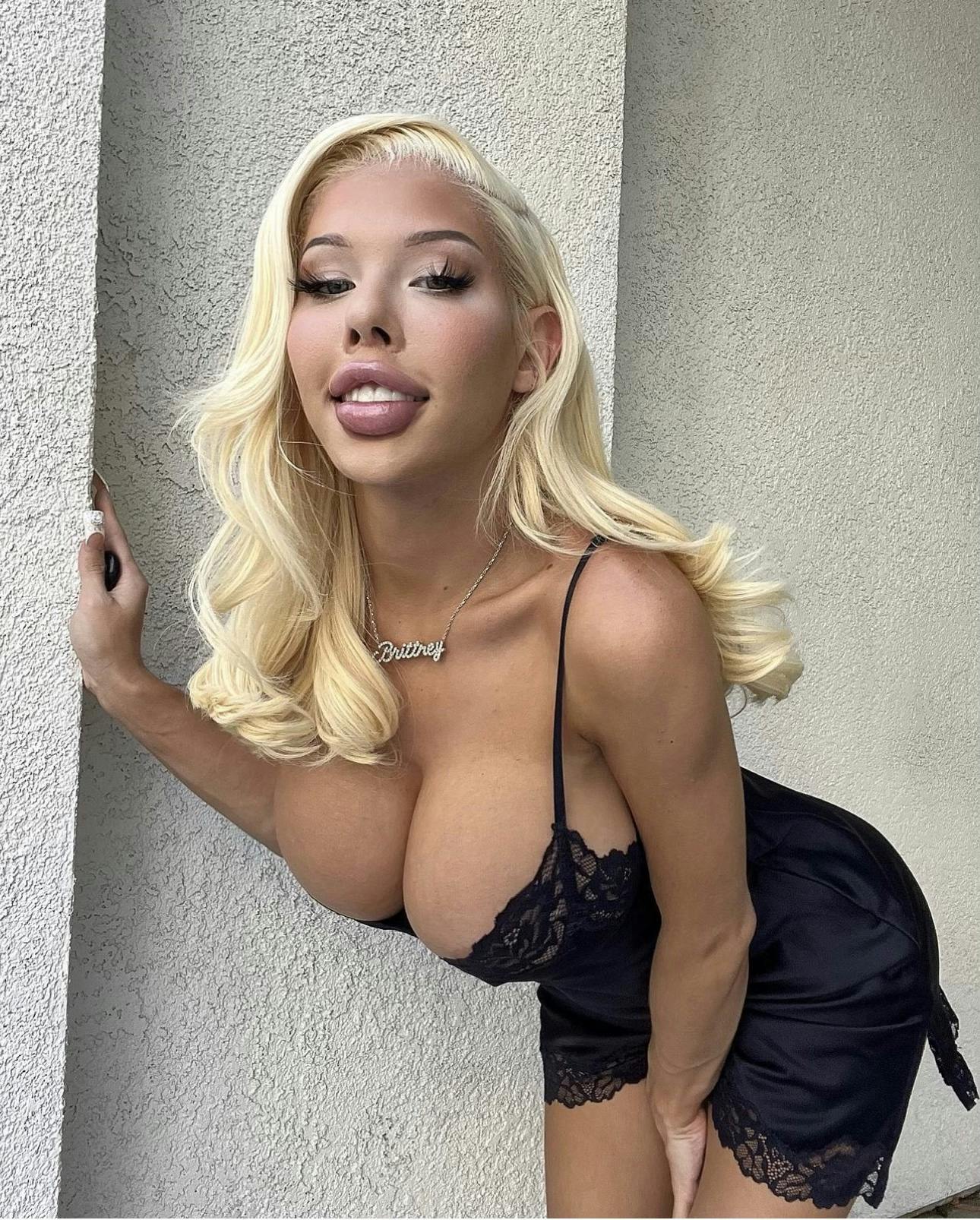 When Brittney Kade contacted Riley Reynolds in the fall of 2021 about potential representation, the Hussie Models owner was quick to invite the trans model into his stable.
"I showed some people your photos," Reynolds told her. "Everyone thinks you could be the next Aubrey."
Reynolds, of course, was referring to Aubrey Kate, arguably the top trans performer in history. And while Kade has a long way to go to match the accomplishments of AVN's three-time Trans Performer of the Year, the fast-ascending star is definitely propelling at an eye-popping pace.
With a gorgeous bronze tan, a 32E chest and dirty blonde hair that drapes all the way down to her plump posterior, Kade has been commanding attention in the adult industry since the first day she stepped on set in July of 2021.
But the buzz about Kade extends far beyond her looks.
A dynamic performer, Kade has churned out sizzling scenes as both a top and a bottom. Elite studios such as Adult Time, Brazzers and Evil Angel have paired her with A-list talent like Kenna James, Khloe Kapri, Jade Venus, Emma Rose, Dante Colle and Ramon Nomar.
She even had the opportunity to shoot an OnlyFans scene with Kate, who has become a mentor.
"She's the ultimate porn star," Kate says. "She reminds me of myself and Jenna Jameson with a little bit of Pamela Anderson mixed in. Brittney is not a dumb blonde, though. She's very smart. She's not just doing this so she can have a career, she's doing it because she loves it. People like that are the ones who go super far."
The 23-year-old Kade estimates she's performed in more than 100 scenes in the past two years, and there are no indications she'll be slowing down anytime soon.
"Porn has changed my life," Kade says. "It's made me so comfortable in my own body. It's ironic. Trans girls deal with body dysmorphia on a daily basis. But then I entered this world, and suddenly everyone is in love with my body. It's opened so many doors for me and given me so much freedom."
As well as things are going for Kade, her journey to porn stardom was anything but smooth.
Kade says her feminine traits began presenting themselves during early childhood. While other boys collected G.I. Joe action figures, Kade was obsessed with Barbies. She mostly chose Princess Peach as her character in Mario Kart. When Kade played "dress-up" with her friends she was always a princess.
Kade's feminine persona—she had long blonde hair even back in elementary school—evoked heckling from her classmates. During sixth-grade gym class they hid her clothes in the locker room, dumped the contents of her backpack onto the floor and then pummeled her with fists and kicks as she bent down to gather her belongings.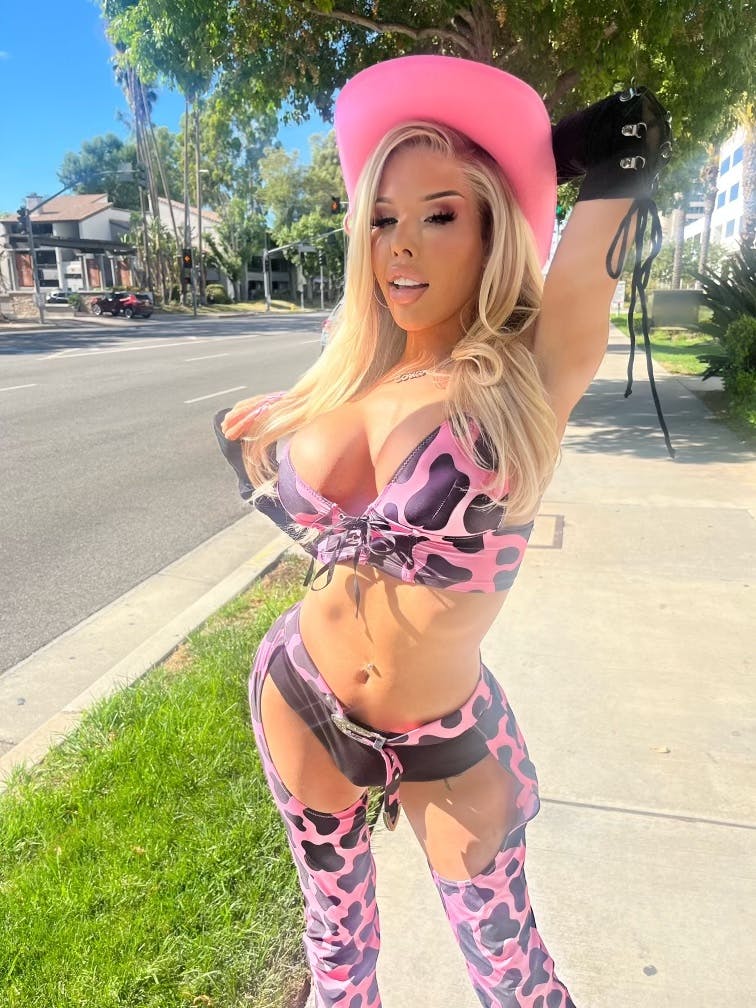 In a particularly vicious and demoralizing incident, Kade says she was shoved to the ground when the school bell rang and then trampled by students as they exited the locker room.
"I was so passive," Kade says. "I'd just take it and wouldn't fight back. The teachers didn't give fuck. They just let it happen. I became very introverted. I was a loner without any friends."
Kade's home life wasn't much better. Her mother—who was 16 when she gave birth to Brittney—was addicted to pain pills and unable to care for her daughter. Most nights, Kade slept on the couch in her grandmother's living room. Ramen noodles were a staple at dinner.
"I didn't have my own bedroom until I was a teenager," Kade says. "Living that type of childhood really humbled me. I felt so alone. My home life was shit, and then I'd go to school, and things were even worse."
By the end of the sixth grade, the bullying had become so intense that Kade had to withdraw from classes and finish her schooling online. A few months later—at age 13—she made the decision to transition.
"Once I dropped out I was like, 'There's no use hiding. I might as well live my life the way I want to live it.'" Kade says. "I wasn't dealing with bullies every day, so it got easier."
If anything, Kade used her former tormentors as a source of motivation.
"All these years later," she says. "I can still picture almost every one of them. I literally hated them so much. The last thing I wanted was to make them happy and 'off' myself. I was like, 'No, I'm going to be even more in your face about (my femininity) than ever. You're going to hate me even more now.'"
As she embarked on her life-changing journey—which included going on hormones—Kade went through bouts of depression. Multiple times, during extreme moments of distress, Kade called a suicide hotline funded by the Trevor Project, a group that focuses on suicide prevention among LGBTQ youth.
Eventually, though, Kade found inspiration—and a "safe space"—in a rather unlikely place: YouTube.
Each day, Kade's spirits were lifted by a group of teenage trans vloggers to whom she could relate. "I was living vicariously through them," she says. By watching their videos, Kade learned how to do her makeup and hair. And got advice about hormones.
Eventually Kade launched her own YouTube channel—and it became an instant hit. With thousands of worldwide followers tuning in each week, Kade documented the various stages of her transition and opened up about her struggles. She gave fashion tips and became a sounding board for other trans teens.
Kade also began dabbling in modeling. With wadded-up socks in her bra, Kade appeared in magazines and even a handful of commercials. By age 16, Kade's story captured the attention of The Daily Mail, and the publication featured her in a profile. "How a transgender teen found confidence by becoming a beautiful woman," the 2016 headline read.
"I was happy to share my story because I know how alone people can feel," Kade says. "You literally feel like you're the only person in the world that's dealing with it. But there's a whole community out there that has gone through it and comes out on the other side. Sharing your story can literally save lives."
Still, The Daily Mail article was bittersweet.
Embedded into the story was a video that was supposed to include an interview with her boyfriend, who was the first guy she'd ever dated or been intimate with. But he backed out of the agreement—and broke up with Brittney—because he didn't want to be "outed" for dating a trans girl.
"He wanted to be stealth and live a life where no one else knew," Kade says. "It was the start of a really shitty dating life. I've always been fetishized and never really taken seriously. I've just been looked at as a fantasy, a secret. If you're going fetishize me I might as well take advantage of it financially."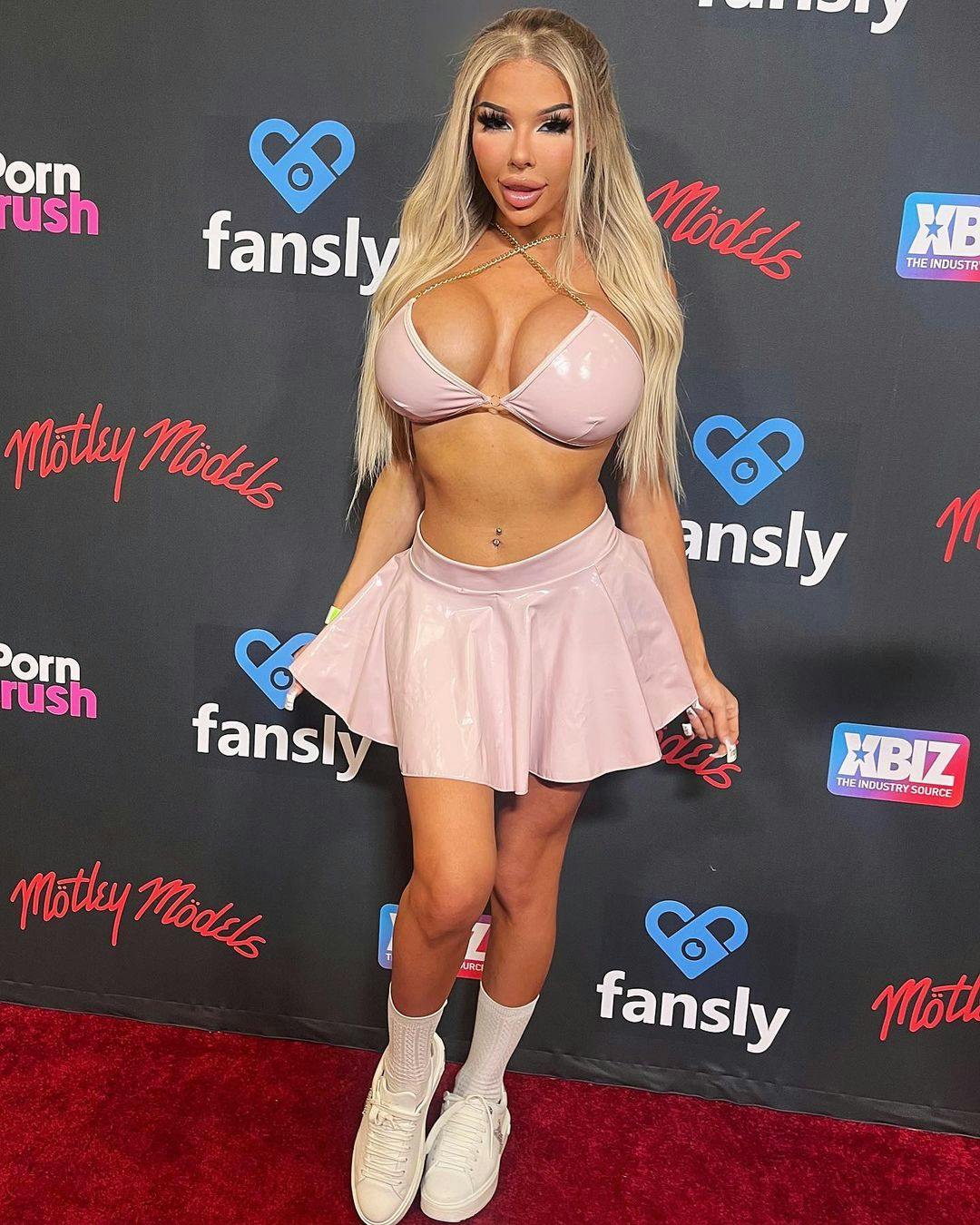 As soon as she turned 18, Kade began doing exactly that.
She launched an OnlyFans account and also started webcamming. Instead of doing solo masturbation videos or showing her crotch, Kade mostly posted topless photos or pictures of herself in lingerie. It was also during that time when Kade began undergoing a series of surgeries to enhance her already-feminine appearance. Breasts, lips, butt and more.
As her popularity grew, Kade caught the attention of former trans porn star Sarina Valentina. Along with becoming a mentor, Valentina also introduced her to director/producer Steven Grooby, an adult industry icon when it comes to trans content.
In the summer of 2021, Kade shot her first studio porn scene for Grooby with Rodrigo Amor.
"The biggest dick I'd ever taken in my very first shoot," Kade says with a laugh. "It didn't scare me away. As a viewer, those are the most fun scenes to watch."
Kade worked for a few months and then took a small break for another breast augmentation surgery. She returned just before Christmas—"I was ready to show those things off," she says—and her life has been a whirlwind since.
First came the contract with Hussie—a groundbreaking achievement, as Kade became the first trans model ever to be represented by a major porn agency. Then it was shoots for big-name studios such as Adult Time and Brazzers, which rarely features trans performers.
In March of 2022 Kade won the trophy for "Best New Face" at the Trans Erotica Awards (TEAs) and her workload continued to increase throughout the summer and fall.
Kade's rise has coincided with an increased interest and acceptance of trans performers. As recently as five years ago it was rare to see cisgender males and females working with trans models.
Now it's extremely common, with top-tier stars such as Angela White, Anna Claire-Clouds, Kenna James, Small Hands and scores of others shooting with trans talent.
"I feel like I got in at just the right time," Kade says. "I'm kinda riding the wave."
One of the highlights of Kade's career to date occurred in January when she was tabbed Best New Trans Performer at the AVN Awards in Las Vegas.
"It was very validating for me and all my hard work," Kade says. "It gives me more inspiration to keep going. This is all a dream come true. All I've ever wanted was to make a name for myself, and this industry has allowed me to do that."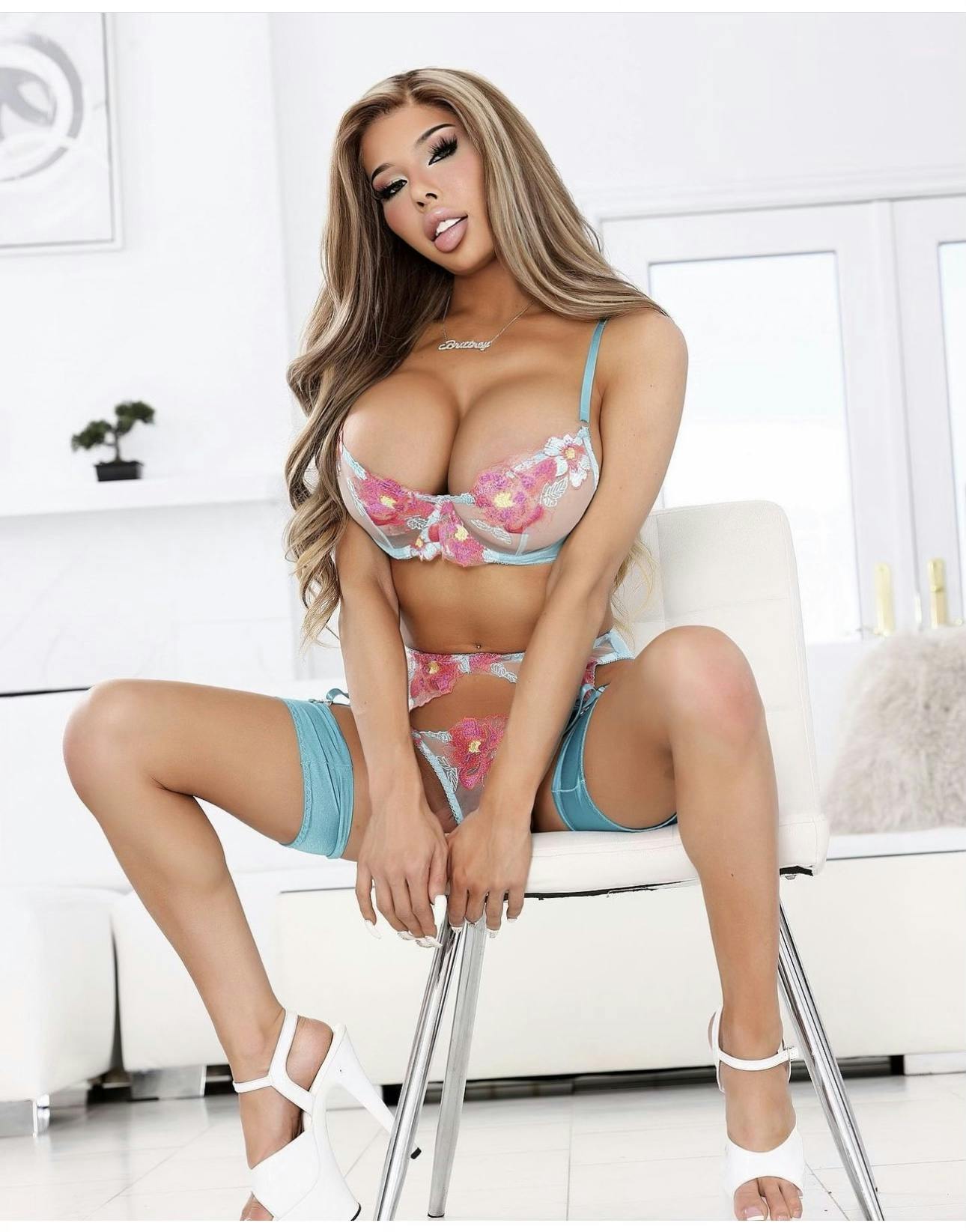 Even more than that, on a personal level, Kade says the industry has provided her with the one thing she yearned for—but never experienced—during her childhood and teens.
A sense of belonging.
Rather than being ridiculed and bullied for who she is, Kade is being embraced for it. The bashful, insecure girl who once felt so empty and alone is now radiating with charisma and confidence as she finds herself surrounded by a growing list of colleagues and friends who care for her deeply.
"I've found a family here," says Kade, who is estranged from her parents. "It's a strange thing to go from being rejected by basically everyone to feeling loved and accepted.
"I've had so many people reach out to me and tell me that I've inspired them and helped them with sexuality, or that I've helped them discover themselves. It feels really good. It's overwhelming.
"But very fulfilling."