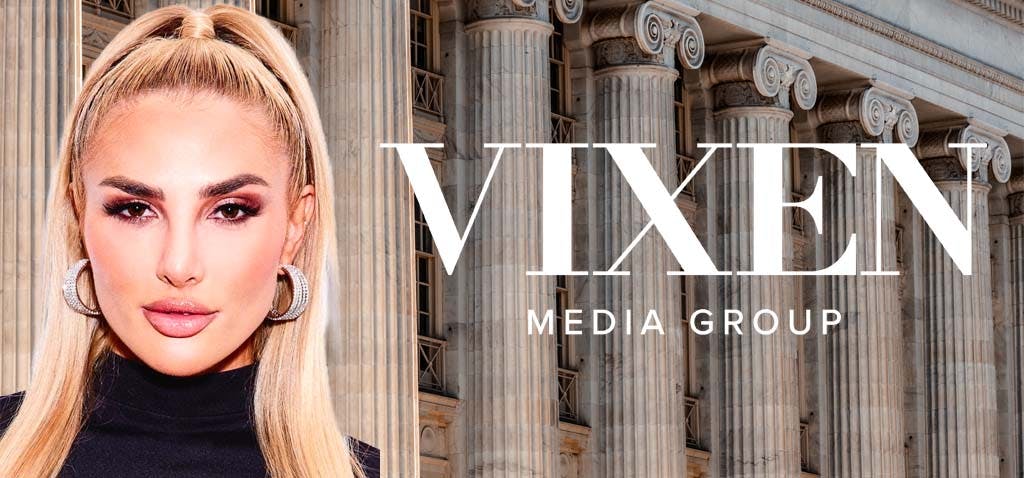 Retired performer Kenzie Anne on Thursday filed a class action lawsuit against Vixen Media Group, claiming the high-profile adult film studio abuses and mistreats its performers by consistently violating California labor code.
The lawsuit, a copy of which was obtained Friday by PornCrush, also argues that Vixen performers should be classified as full-time employees based on the influence and control the company attempts to impose on the lives, bodies and careers of its talent—and also because of the excessive amount of time they are often asked to devote to projects without any additional compensation.
By instead listing them as independent contractors, the lawsuit alleges, Vixen is denying its performers the "fair pay and benefits" to which they'd be entitled as employees.
Anne's class action suit is believed to be the first in history against a mainstream porn studio for misclassification of labor. The lawsuit features parallels to a 2015 case involving a group of exotic dancers who sued their strip club for similar mistreatment. In that case, Salazar vs. Victory Entertainment, a judge in the Court of Appeals in California ruled in favor of the dancers, agreeing that they should indeed be classified as employees instead of independent contractors.
Based on that precedent, if Anne's case is upheld, it could lead to a significant payout by Vixen, not just to Anne, but to scores of other performers who—knowingly or unknowingly—worked for Vixen while labor codes were being violated. It could also spark industry-wide change among studios regarding how they treat and classify their talent.
Mike Miller, Vixen's Executive Producer, is explicitly named in the suit along with Strike 3 Holdings and General Media Systems, both Delaware-based LLCs that appear to be affiliated with the studio.
Anne, 30, is a former mainstream fashion model who had zero experience in adult film when she signed an exclusive contract with Vixen in November of 2020. Her first scene was released the following April, and over the next two years, Anne shot approximately 12 scenes for Vixen's various production banners.
In the lawsuit, Anne alleges her contract stipulated she be available to work nights, holidays and weekends, with filming sessions that "may take as long as ten hours." During the term of the agreement, Anne was to "maintain" her "physical appearance," including Vixen Media Group's "reasonable personal grooming requests." According to the lawsuit, if Anne wanted to change her physical appearance, including obtaining a tattoo or piercing, she was required to get written permission from VMG.
The lawsuit alleges that, even after the agreement, Anne had to agree to promote Vixen Media Group's websites and brands on her social media to the best of her abilities, at Vixen's direction and under their guidelines and recommendations.
According to the lawsuit, when Anne requested her personnel file, the company threatened to sue her because of purported losses stemming from two medical infections that forced Anne to take a break from shooting, including one from an "unauthorized plastic surgery," an accusation Anne claims is false.
"Yet despite exercising control over every aspect of (Anne's) body," the lawsuit reads, "including with whom she has sexual intercourse, whether she may pierce her ear, obtain a cosmetic surgery, or even miss time for an infection, Vixen Media Group contends that it lacks sufficient control over (Anne) to be her employer and thus declines to provide (Anne) with the pay and benefits afforded to California employers."
Anne's lawsuit was filed in the Superior State of California for the County of Los Angeles. Court records indicate Vixen Media Group has been issued a summons, to which it has 30 days to respond.
An email to Emilie Kennedy, General Counsel for Strike 3 Holdings, wasn't immediately returned Friday. Anne declined to comment through Dave Rock, her agent with Motley Models. Attempts to contact Anne's lawyer, David Bibiyan, through his office were unsuccessful.
Anne shot more than 150 scenes in two years for various studios before retiring earlier this month, telling PornCrush: "I loved my time in the industry. I don't want to leave porn hating it. I don't want to be one of those girls who is like, 'Porn should be illegal. It's terrible!' I had a great time. I got to learn about myself sexually in a safe environment. I worked with great people who have great attitudes who enjoy their jobs every day. Those are the memories I want to take with me."