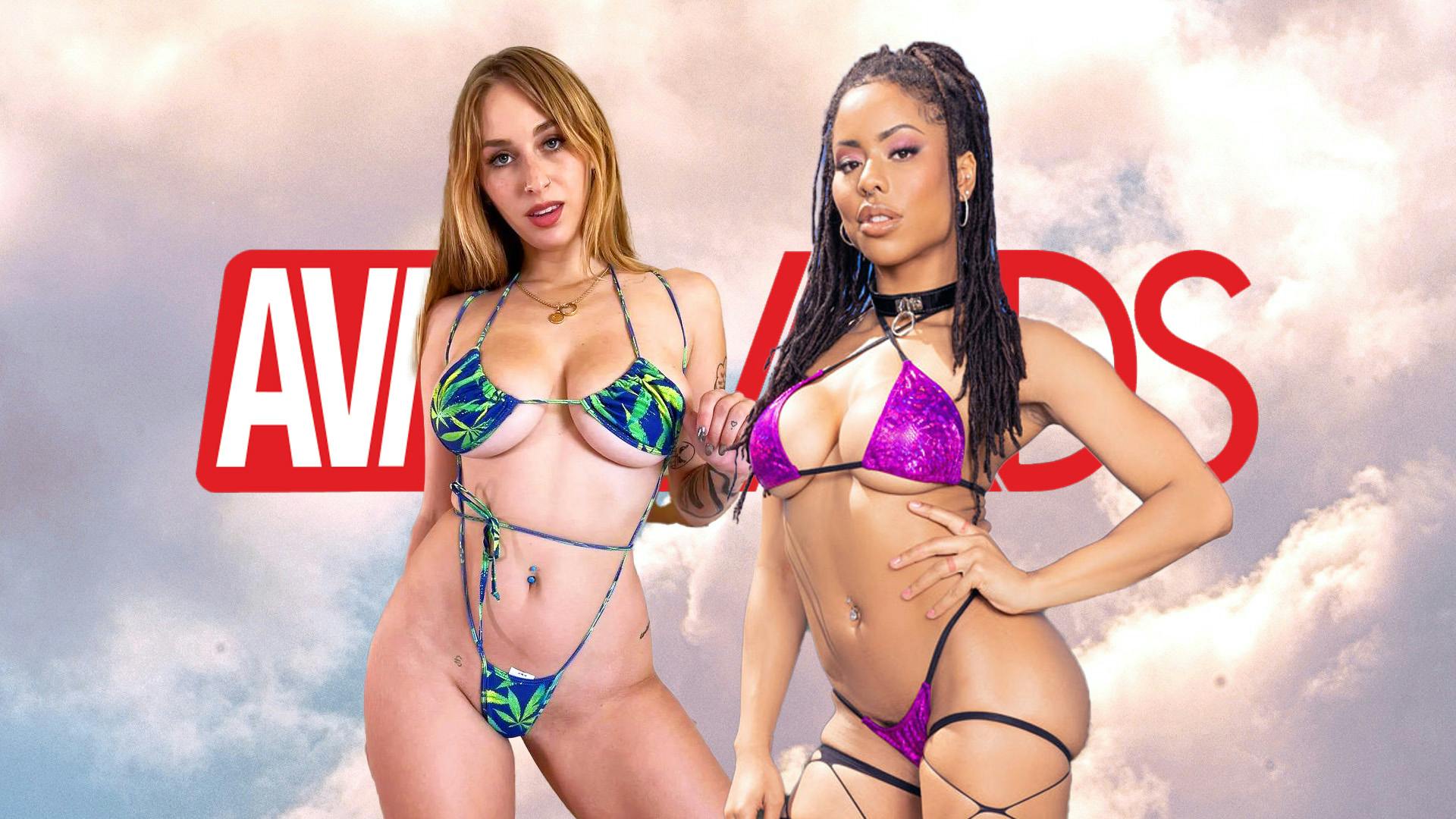 CHATSWORTH, Calif. — The mindset is difficult to dodge—even for the world's elite entertainers.
An athlete wins a championship, an actor captures a trophy, a musician's album hits No. 1 on the charts … and then complacency sets in.
They workload is whittled.
Their drive is diminished.
Sometimes they even disappear.
Kira Noir, however, chose the opposite approach. Instead of taking a step back in the months following her January 2023 crowning as AVN's Female Performer of the Year, Noir surged forward. Somehow, some way, the person who'd just been anointed as the industry's best found a way to get even better.
The illustration of that came late Monday evening, when AVN unveiled the nominees for the 41st edition of its annual awards show in Las Vegas. Noir's name appeared in 11 different categories—the most of any adult model—and, once again, the 29-year-old is a finalist for the coveted Performer of the Year trophy.
Noir told PornCrush during a Tuesday morning phone interview that she was "shocked" by the nominations. She also made a comment that illuminated why she's so adored within the industry.
"I hope this doesn't sound bad," Noir said. "But I've got so many friends that are also up for Performer of the Year this year. I'm almost rooting for them a little bit more than myself. I want others to experience the feeling I experienced when I won."
Angel Youngs (nine nominations) has a strong chance of doing just that. Blake Blossom, Kylie Rocket and Anna Claire-Clouds (eight each) do, too. Other than Noir, those four models earned more nominations than anyone in this year's field. And all of them are recognized in the coveted Performer of the Year category, including Blossom and Claire-Clouds for the second consecutive time.
In fact, nine of the 15 finalists for POY were on the list last year: Noir, Blossom, Claire Clouds, Ana Foxxx, Angela White, Lilly Bell, Maddy May, Vanna Bardot and Alexis Tae.
Youngs is one of the six first-time nominees in that category along with Kylie Rocket, Lulu Chu, Liz Jordan, Jennifer White and Nicole Doshi.
"Awards season is always bittersweet," Blossom told PornCrush via text. "It's wonderful to be recognized for anything you do, especially when it requires such physical and mental preparation. I've always enjoyed a good competition. I'm proud to already hold five awards. I won't stop until I collect them all."
The most memorable moment of Blossom's career thus occurred in 2022 when she was named Best New Starlet. Among the nominees that year were Claire-Clouds, Rocket, April Olsen, Freya Parker and Coco Lovelock, making it one of the most-loaded BNS classes in history.
This year's list has similar potential, with surging stars such as Chanel Camryn, Scarlet Alexis, Melissa Stratton, Molly Little and Katrina Colt all on a trajectory to stardom.
Camry's six nominations—including Best Oral Sex Scene and Best Blowbang—are the most of any Best New Starlet candidate. The 22-year-old Florida native—who moved to Alaska as a teenager—has shot more than 200 scenes since entering the industry in May of 2022. She added anal scenes to her resume in early 2023.
Camryn was—surprise!—on set when PornCrush contacted her seeking a reaction to her nominations.
"I cried tears of joy," she texted.
Isiah Maxwell, Zac Wild and Oliver Flynn are among the nominees for Male Performer of the Year, along with 2023 winner Seth Gamble, who has the resume to capture the trophy once again. So, too, does Noir. And even she'd be fine with someone else winning POTY honors, there is another award for which she's crossing her fingers: Best Leading Actress.
Noir is nominated for her role in "Machine Gunner," an action film directed by Ricky Greenwood for Digital Playground.
"It was my first action movie," Noir, a three-time winner for Best Supporting Actress, said. "We had a lot of fight choreography. We learned how to hold guns. It was a lot of stuff I'd never done before. I'd done a lot of comedy and drama. But not a lot of action and yelling and being a badass. It was a lot of fun for me."
A ninth-year industry veteran, Noir said being named Performer of the Year last January is one of the reasons she landed the role. She also signed a six-month contract with Brazzers over the summer.
"All of those things were a result of me winning," Noir said. "I love being a performer in every sense of the word. I'm an exhibitionist. I like dressing up, I like being dramatic, I like being funny. There are so many ways to perform in the adult industry, and then you get to throw hot people in with you. I couldn't ask for a better job."
See the complete list of nominees here.