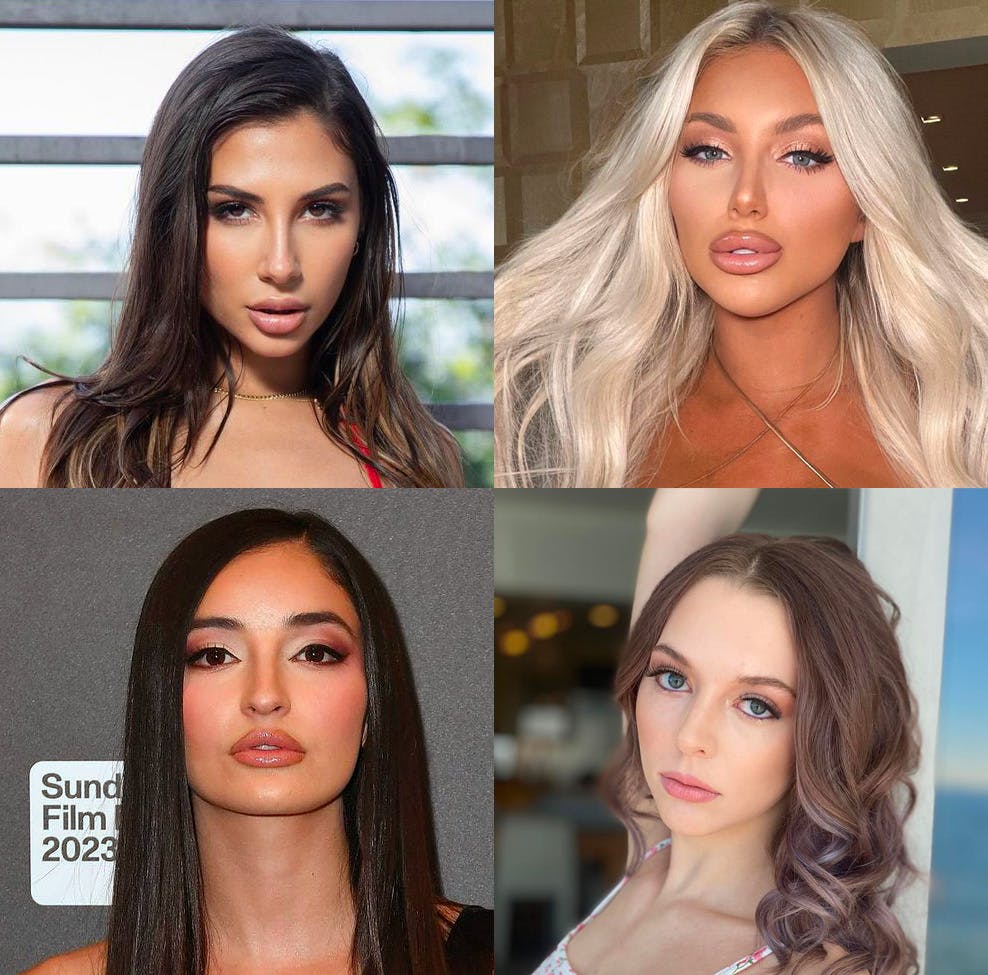 Four of the most high-profile models in adult entertainment have left their respective agencies in recent weeks and are taking a significant step back from studio porn.
Or quitting it altogether.
Headlining the list are Gianna Dior and Emily Willis, two of the most recent winners of AVN's Performer of the Year award. Both starlets have been removed from the website of their respective agencies, Spiegler Girls and Motley Models.
Motley on Saturday also took down the profiles of Lily Larimar—a veteran of more than 400 scenes—and fast-ascending model Kayley Gunner.
While the reasons for the four departures vary, agents Mark Spiegler and Dave Rock believe the potential to earn a more lucrative income outside of studio porn was an underlying cause.
"There's no better time to be a hot girl in the world than right now," Rock told PornCrush via phone Saturday evening. "There are so many avenues for adult influencers to generate revenue and monetize their brand.
"I'm in support of that. It hurts our business, but at the end of the day, if they're not happy doing (studio porn), I'm not cool with that. I don't want them to do anything they don't want to do. I care more about the person than the paycheck."
According to Rock, Willis is completely finished with studio porn. At least for now. The news isn't all that surprising, considering the versatile brunette from Utah hasn't shot a scene in a year and a half.
Even so, the complete removal of Willis from the Motley site evokes a sense of finalization that could be jarring—and somewhat sad—to her fans and industry colleagues.
Rock says Willis, 24, is "one of the biggest names this industry has seen" in the past five years, and she certainly has the hardware to prove it. Willis won 15 AVN awards from 2020-22—including nine in 2021, when she was crowned Performer of the Year.
Willis recently appeared in the science fiction thriller "Divinity."
"Emily is a very talented actress and a high-level model," Rock said. "She wants to pursue her dream, mainstream acting, and we support her in that 1000 percent. We're still in regular contact with Emily. She still comes to some of our events and will continue to do so in the future."
The situation involving Dior is more complex. She's only shot a handful of studio scenes—mainly for Vixen Media Group—in the past year and had been listed as "mainstream only" on Spiegler's website for most of 2023. But Dior recently posted from the set of Ricky's Room and continues to collaborate with some of the industry's top performers on her OnlyFans platform.
In a telephone interview Saturday night, Spiegler told PornCrush that while Dior isn't retiring, her main goal is to pursue opportunities outside the industry.
"She basically just wants to work for Vixen once in a while and do OnlyFans and mainstream," Spiegler said. "I like her, but we need to save the spot (on our roster) for people that are going to work all the time. We already have more girls than we've ever had, and we have more waiting to join."
Dior, 26, is one of the most-decorated performers in recent porn history, having won 11 AVN awards since 2020 including Best New Starlet (2020) and Performer of the Year (2022). Equally impressive—and maybe even unprecedented—is that she's also captured trophies in every major scene category: Boy-Girl (twice), Girl-Girl, Oral, Anal, Boy-Girl-Girl, and Boy-Boy-Girl.
Spiegler said he and Dior parted on good terms.
"She contacted me from a hotel room in Florida in 2018 and wanted to get the heck out of there and come to LA," Spielger said. "She called me on a Thursday, had a scene Friday, and then left Saturday and drove to LA. She left Miami at 3 in the morning on a Saturday and got to my apartment on Monday. She was so eager."
Spiegler said Dior shot 29 scenes during her first month as a Spielger girl.
"She definitely holds the record," he chuckled. "I didn't think it was healthy, but she kept saying, 'No, I can do it. I can do it.' She told me she had a vagina made of steel.
"She worked a ton. She had her eyes set on Best New Starlet, and she got it. She had her eyes set on Performer of the Year, and she got it. After that she was like, 'I don't know what else I can do.' Now she's saying she wants to do mainstream. I wish her luck. She was great."
Spiegler has also cut ties with one of Dior's closest friends, Rara Knupps. He said Knupps—who'd achieved substantial fame on YouTube before transitioning into porn last spring—stepped away from the industry for personal reasons.
Larimar, 25, informed Rock last week that she was leaving porn altogether following a four-year run in which she was one of the most prolific performers in the industry. A Pittsburgh native, Larimar shot nearly 400 studio scenes from 2020-23 and topped the 100-scene plateau in both 2020 and 2021.
Feeling overworked and physically worn down, Larimar took an extended break in the summer of 2022 and then returned to produce some of the most sizzling performances of her career. Her threesome with Prince Yahshua and Don Prince for Blacked and her girl-girl tryst with Kira Noir in the feature "Maid to Kill" were among the year's best scenes in their respective categories, as both received AVN nominations in 2023.
Larimar told PornCrush Saturday that she hadn't worked in months and didn't plan to renew her contract when it expired in August.
"I'm stopping for now," Larimar told PornCrush in a text Saturday night. "There are no negative feelings toward Motley or the industry."
Rock said he was sad to see Larimar go.
"Our experience with Lily was always top-notch," Rock said. "She was incredible and worked as hard as anyone on our roster. She's like family and always will be."
Rock said Gunner's contract expired this month and that she told him she wanted to take a break and re-evaluate her future. Perhaps more than any member of Motley's roster, Gunner had attracted mainstream attention over the past two years thanks, in part, to her unlikely path into porn. Gunner was an Army sergeant before joining the adult industry, a story she's shared in countless interviews, including one on a high-profile podcast with Barstool Sports.
Gunner, 26, plays the lead in the recently-released feature "Machine Gunner" from Digital Playground and will also be featured in Brazzers House 4. Even though Gunner appears to be flourishing on her content platforms, industry insiders said they'd be shocked if she was completely finished with studio porn.
"Kayley spent two years with us," Rock said. "She was peaking at a level where she was always booked. We did everything we could for Kayley. She was humming. I hope her success continues."
Losing Gunner, Larimar and Willis marks the continuation of a rough 2023 for Motley Models.
It started in April when Kenzie Anne—one of the most popular girls on the agency's roster—unexpectedly announced her retirement. Jewelz Blu left Motley after her contract expired in June and is now booking independently.
Rock says it's gratifying to see so many of his models getting mainstream opportunities, some of which have spurned from events and parties his agency has hosted.
"We've put them in circles with people who can make moves for them on the mainstream side," Rock said. "What we've created has put girls on maps they weren't on before. They were pigeonholed as porn stars only, and we opened the door to other opportunities."
Still, even without mainstream exposure, the potential to make six- and seven-figure incomes from platforms such as OnlyFans is too appealing for many to pass up.
"There's no need for them to shoot scenes with someone they don't want to work with or when they don't like the theme because it's not on brand for them," Rock said.
"They can say 'no' because they have a check from Fansly or OnlyFans or Chaturbate coming the next day. It's a very powerful thing for a female performer, and I love that. That's the goddamn truth. I'm in support of that."
Spiegler agrees, although he said the situation can work both ways.
"Because of OnlyFans," he said, "there are definitely a lot of girls who may want to shoot fewer scenes than they did before. But recently we've also seen it reversed, where some of the top OnlyFans girls come to us to ask about representation for studio porn.
"With OnlyFans, you have to market yourself to the world in general, and that's a wide net. In porn, you have a ready-made audience to join your OnlyFans if you market yourself to them. If you go to studio porn, you're marketing yourself to a ready-made audience.
"Statistically, it's a smart thing to do."