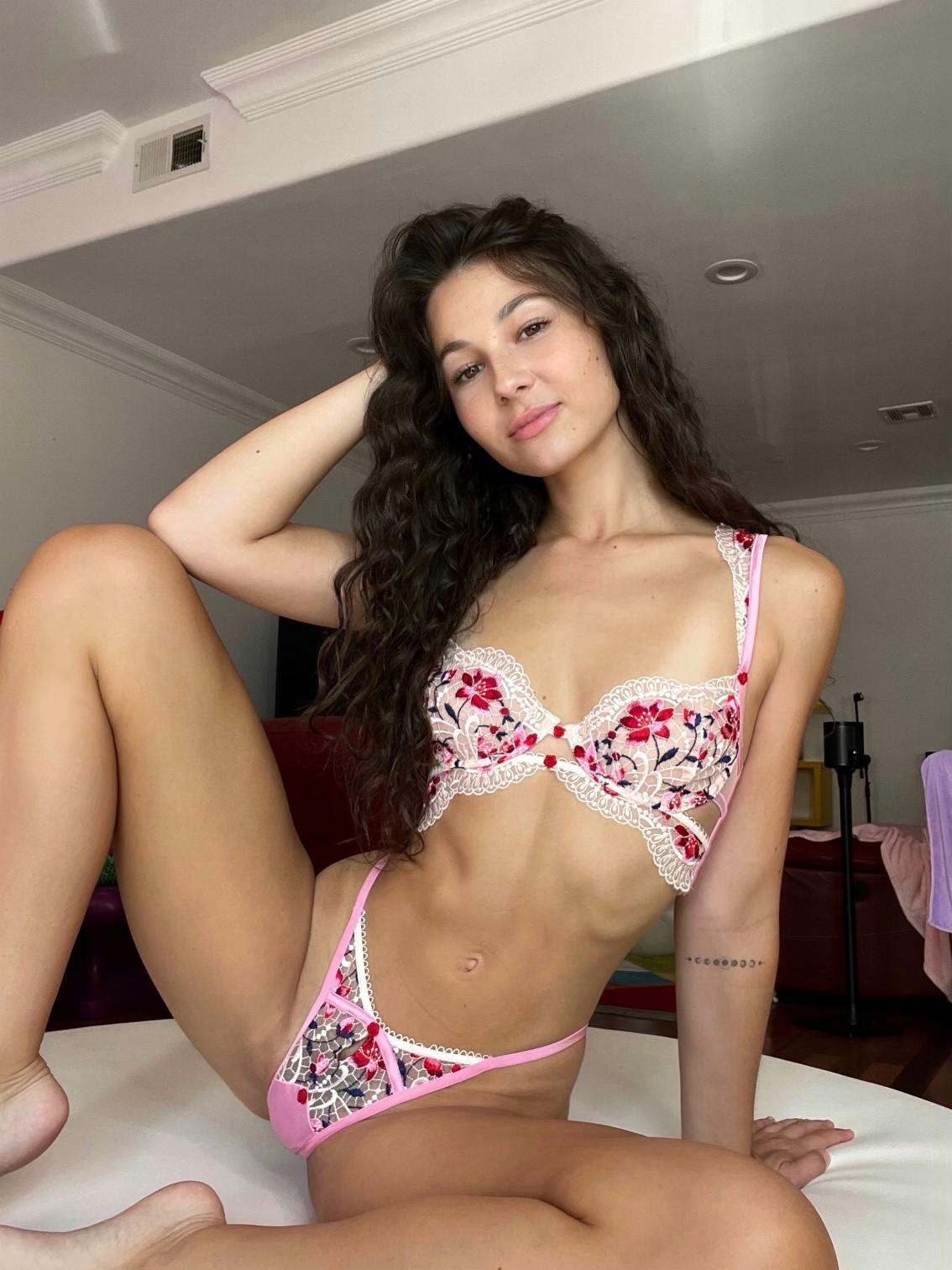 Every time he's with Liz Jordan, longtime agent Mark Spiegler can't escape one thought.
"If you saw her walking down the street," Spiegler says, "you would never ever think this girl does porn."
Indeed, when it comes to stereotypes, Jordan hardly fits the mold.
Fair-skinned with dark, curly brown hair, Jordan wears little—if any—makeup. Most days she opts for glasses over contacts, and her body is void of implants, gaudy tattoos or facial piercings. Instead of flaunting her figure with skimpy crop tops and hiked-up booty shorts, Jordan usually conceals her tight tummy and appealing posterior beneath oversized shirts and loose-fitting jeans.
Soft-spoken and unassuming, Jordan's the intellectual you'd expect to see in the cozy corner of your local coffee shop, immersed in a book or crossword puzzle. While other industry girls' club-hop in West Hollywood, Jordan, 22, mostly stays home with her puppy and paints.
"I was never the hot cheerleader in high school," Jordan says. "I was never the pretty girl that drew attention in the halls."
Jordan leans forward and giggles.
"But," she says, "I was always the one all the guys wanted to fuck."
Five years later, not much has changed.
Only now, instead of her horny teenage classmates, Jordan is fawned over by millions worldwide.
Anal, double-penetration, squirting, girl-girl, kink. As one of the elite performers in all of porn, Jordan has flourished in virtually every genre since entering the adult industry as a fresh-faced 18-year-old in 2019.
Jordan's reputation is soaring right along with her bookings. She's among the most in-demand models on the Spiegler Girls roster. Want Jordan on your set? You'd better call at least a month in advance.
"She's my favorite person to shoot, without a doubt," AVN Hall of Fame director/performer Pat Myne says. "She has this presence, this warmth, this smile … you just melt. And then the cameras turn on and she flips a switch.
"All of a sudden the 'awwww-she's-so-cute' girl in the loose sweats and white tank top with the little backpack is taking Dredd in her ass."
And that, Myne says, is what makes Jordan so alluring. She's a sexual wolf in sheep's clothing. The same girl you'd take home to your parents likes her ass slapped and her hair pulled. The bashful-looking co-ed you winked at in Target may blow you in the parking lot or let you bend her over in the restroom.
The trait is tantalizing to fans who are aroused by the same girl-next-door persona that helped models such as Riley Reid and Jenna Haze become two of the top stars in porn history.
"You can't really put your thumb on what it was about them," Myne says. "They just had this 'thing' that people were attracted to. They seemed more real and genuine than others. They'd smile at you and leave you in a trance. It wasn't that big, fake, dumb porno smile. It came from the inside. Liz is the same way.
"And then, besides all of that positive, bubbly energy, she fucks like crazy. Just like Jenna and Riley. She takes it all and loves every minute of it."
From DVD box covers to high-end photo shoots to social media fame, Jordan's porn career is propelling like the Millennium Falcon.
Along with a level of financial freedom that would be unfathomable for most 22-year-olds, Jordan's talents have taken her to multimillion-shoot houses in Malibu and fancy hotel suites in Las Vegas. She's dined at five-star restaurants and posed for paparazzi.
The magnitude of it all began to sink in during an all-expenses-paid trip to Europe in April to star in a feature for Dorcel. Sitting outside a coffee shop in Paris, Jordan says she experienced a moment of clarity.
"I remember thinking this is all so surreal—it's just surreal," Jordan says. "I was like, 'I can't believe how far I've come. I can't believe where I am right now."
Especially considering where she'd been.
💗💗💗💗
Just months out of high school, Liz Jordan arrived at the motel well after midnight in a seedy section of Oakland. The worst place, she'd later admit, for an 18-year-old girl.
A man in his 40s—whom Jordan had met only hours earlier on Tinder—answered Jordan's knock, grabbed her wrist and pulled her inside. Then he whipped out a pair of handcuffs.
"Get naked," he said. "I'm going to tie you up."
Make no mistake: Jordan knew what she was getting into. She'd listed "25-to-70" in the "age preference" section of her Tinder profile and specifically sought out men with "daddy" or "dom" in their bio. And while her encounter that night in Oakland—a two-hour romp filled with spanking, hair-pulling, bondage and rough penetration—may have been her first taste of the BDSM subculture, it was far from her last. Months later Jordan even visited a "kink house."
"I think it was the adrenaline that turned me on," Jordan says. "I didn't care about looks or age. It was explorative. It was literally about experiencing what other people are into. I wanted to try it all."
While Jordan's sexual exploits in 2019 may have foreshadowed her career in porn, her future at that point had hardly been determined.
Raised in San Jose, a large chunk of Jordan's youth was centered around softball. During the spring and summer, it wasn't uncommon for her club team to play 60-plus games. A pitcher, Jordan could overpower hitters with a sharp fastball, baffle them with a screwball and then freeze them with a changeup for strike three.
By the time Jordan was a senior, burnout had set in. While many of her teammates aspired to play college ball, Jordan gave up the sport and pondered what to do after graduation. At one point she considered becoming a chef. Or maybe a tattoo artist.
Eventually, Jordan took a minimum-wage job at Pressed Juicery, a tiny store at an uppity outdoor mall that sold healthy drinks—Spinach Ginger, and Butternut Squash were among the menu options—to fitness fiends, many of whom had just completed a workout at a nearby gym.
Coupled with the classes she was taking at a local community college, the low-wage gig left Jordan with little money and virtually no time for a social life. Not that she would've had one anyway. Shackled by the watchful eyes of strict parents, Jordan says she wasn't allowed to hang out with her friends at night. Her curfew took effect "as soon as it got dark."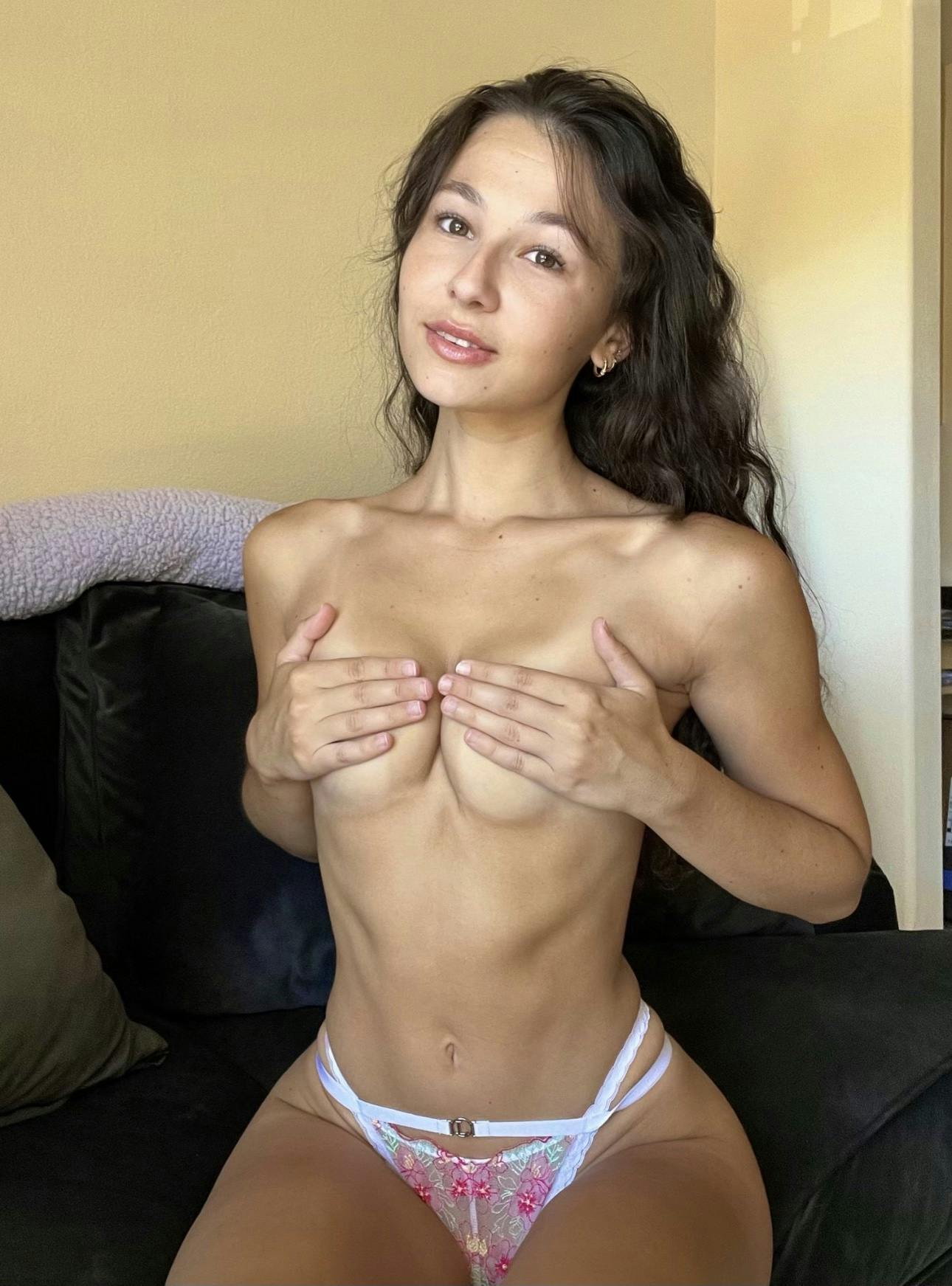 " Get naked, " he said. " I'm going to tie you up. "
"They didn't trust me," she says.
In March 2020, Jordan's life abruptly changed.
She lost her job because of the COVID pandemic and suddenly found herself stuck at home with no income and even less direction in life than she had before.
Like so many others that spring, Jordan turned to OnlyFans.
The decision made sense, as Jordan's thoughts had been consumed with sex long before that motel tryst in Oakland. Jordan says she fucked "all the boys" at her high school, where it was hardly a secret that she got around.
She watched porn routinely and also had a private Instagram account where she posted risqué pictures of herself in lingerie and other provocative clothing. And she took tons of nudes.
"By the time COVID hit," she says, "I had so many photos piled up that I didn't need to take any more for, like, four months. I figured I might as well make some money off of them."
Without even promoting her page, Jordan earned $500 in her first month on OnlyFans simply by posting solo videos and naked pictures that didn't show her face. The account quickly picked up steam. After just 37 days, she was discovered by Matt Morgia, a porn agent with the now-defunct World Modeling.
Morgia offered Jordan a contract and she shot her first scene (with Tyler for Net Video Girls) on May 25, less than three weeks before her 19th birthday.
Jordan—who had never even filmed a sex tape before—says she arrived on set nervous and timid. But by the time shooting wrapped, she was brimming with confidence.
"They didn't want me to act," Jordan says. "They wanted me to be natural and authentic. I realized that that's what I do best. After that first scene, I knew I wanted to do things my own way. Some girls have a character, a persona—and that may work for them. But I decided then that I didn't ever want that.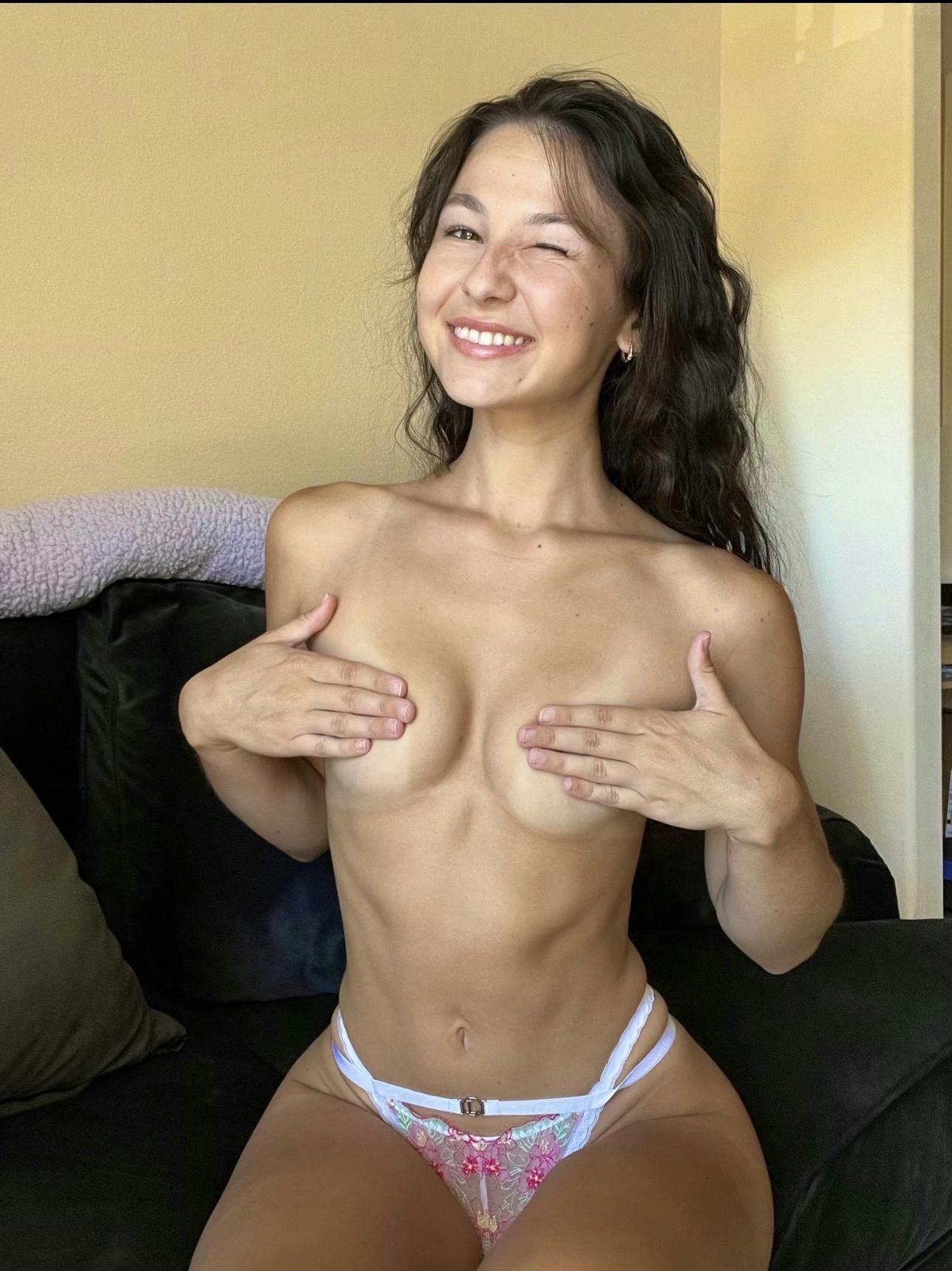 "I just wanted to be myself."
Jordan initially attempted to keep her new career a secret from her family. But shortly after the release of her first scene, the mother of one of Jordan's friends called Jordan's mom and exposed her secret.
"I wouldn't say they were mad," Jordan says. "Instead it was like, 'Where did we go wrong?'"
Jordan moved out of the house immediately and absorbed herself in work, routinely traveling to Los Angeles for weeks at a time for shoots. An instant success, finding bookings was never a problem.
By the end of the year—after just seven months in porn—24 of Jordan's scenes had been released on various websites, including two on high-profile Vixen banner "Tushy" with A-listers Mick Blue and Oliver Flynn.
Sixty-four more scenes followed in 2021, when she became a favorite of anal-obsessed director Mike Adriano and well-hung pipe layer Isiah Maxwell, who has now done seven studio shoots with Jordan.
"Liz was a ready-made performer the day she entered the industry," Maxwell says. "There's something about her look that makes you just want her! She's one of those girls that camouflage in with civilians. You could go on a date with her and no one would guess you were with a porn star.
"But then you get her in the bedroom and she's an absolute beast."
As well as things were going, Jordan's career rocketed to a new level in August of 2022 when she parted ways with Morgia and signed with Spiegler, the most high-profile and successful agent in the adult industry.
Directors and performers had been fawning about Jordan to Spiegler for months, praising her professionalism, work ethic, and talent. Still, before he agreed to represent Jordan, Spiegler wanted to chat with her in person over Sunday brunch at Boccaccios, a popular Italian restaurant in Westlake Village.
"She was very mature and poised for someone who'd just turned 21," Spiegler says. "She didn't say 'um' or 'like' a lot. She wasn't constantly looking at her phone.
"I usually like to talk to the girls for a couple of hours. A lot of them are nuts. They can keep up a front for 30 minutes. But a couple of hours? Probably not. For Liz, it wasn't a problem."
A visit to a high-end chocolate shop nearby followed lunch. By the time Spiegler dropped Jordan off at her car, he was sold.
"She did pretty much anything in terms of scenes—and she seemed to love her job," Spiegler says. "It was a no-brainer."
With Spiegler guiding the way, Jordan's bookings began to improve, not necessarily in quantity but in quality.
By the end of the year, she'd done her first shoot for Brazzers and began to reappear more often on Vixen sets. Gone were the days of countless scenes for lower-budget sites with rookie male talent. Jordan began working almost exclusively for the best of the best: Jules Jordan, Missa X, Evil Angel, Nubiles, Mile High and a handful of others.
Myne recalled contacting Spiegler last fall and telling him he needed a "sure thing" for a high-profile shoot.
"He absolutely delivered it," Myne says. "Liz walked through the door and just blew me away. That face, that smile, that energy. I've been in this business for 25 years. It takes someone special to have that effect on me.
"There's nothing fake about her: physically, spiritually, her performances … she's as real as they get."
💗💗💗💗
Just the other week, Liz Jordan had a nightmare.
She showed up to set for the first time after getting a boob job and absolutely hated how she looked. Then she decided to have the implants removed, and things got even worse.
"I had these ugly scars," Jordan says. "That pretty much solidified the promise I'd already made to myself—that I was never going to get enhancements."
No one in porn is complaining.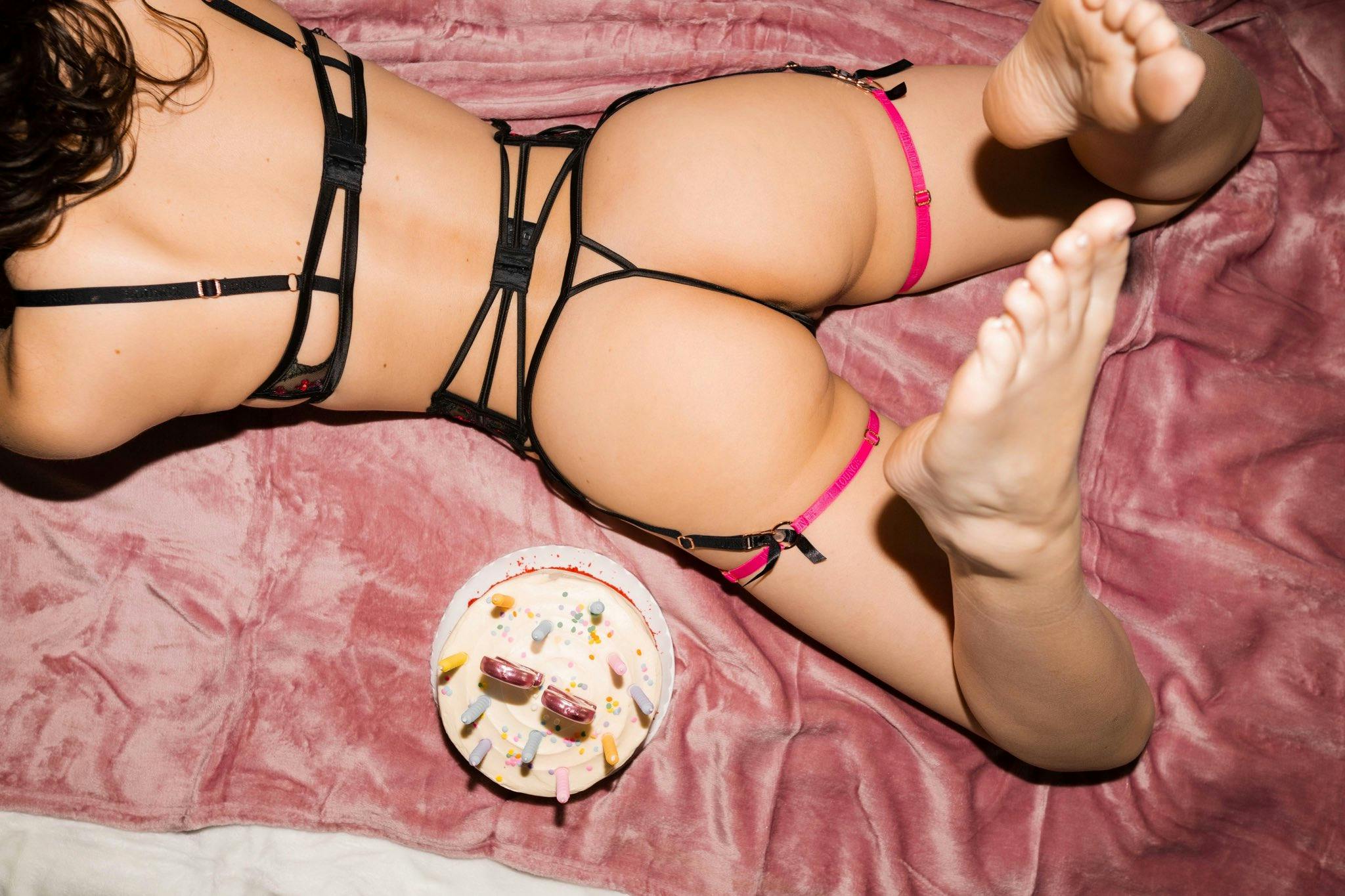 Rather than a weakness, Jordan's B-cup breasts, natural lips, and unprimped hair are among her biggest strengths. She's not being shunned for her look but championed for it.
Granted, it took a few months before directors and producers completely embraced Jordan's style. Early in her career, she says, makeup artists would attempt to change her appearance with bright-red lipstick, fake eyelashes, and foundation that erased her soft image.
"From scene to scene, my look was never the same," Jordan says. "They'd try to make me not look like myself. My hair was always different. They'd either straighten the shit out of it or try to curl it. Now I don't let them touch it. Just my natural curly hair is what I like."
Jordan pauses.
"I mean … I know I don't look like a typical model, with big lips and big eyes," she says. "I look younger. I look more innocent. I'm not trying to make myself look young, but I like the uniqueness of not having what other girls have.
"I don't want to look like the other girls."
Reid and Haze operated under a similar mindset and became household names during their legendary mainstream careers. Even today, Reid and Haze are among the first to surface in any discussion of the top porn stars of all time.
Myne says he and Jordan discussed the traits she shares with both performers. Haze, for instance, had a gorgeous, all-natural body. She may not have been the prettiest, he says, but she had a sensual, seductive presence on camera that was captivating to fans.
"You put her on the box cover," Myne says, "and she'd sell a thousand more DVDs than you would've if you'd have chosen someone else."
Reid also didn't overwhelm people with her beauty, but she had an aura about her that was likable and relatable.
"Liz is the same way," Myne says. "She reminds me of shooting Riley seven or eight years ago. Besides that positive, bubbly energy, she fucks like crazy."
Indeed, just like Reid and Haze, Jordan has few limits when it comes to sex. Even though she rarely does it in her personal life, Jordan has developed a reputation as one of the top anal performers in the adult industry. She says she got hooked after her first backdoor encounter with Michael Stefano and also listed veterans such as Adriano, Mick Blue, John Strong and Ramon Nomar among her favorite tushy partners.
"I actually prefer anal scenes now," Jordan says. "My ass can stretch more than my pussy, so it feels really good.
"Still, I've only done it with one person in my personal life. I'm just more comfortable doing it with professionals who know what they're doing and are going to take really good care of me."
Jordan also doesn't shy away from size, as she's taken on Brickzilla, Anton Harden, Hollywood Cash, and plenty more of the most well-hung men in porn. She also enjoys double penetration—and she takes pride in her deep-throating skills.
"She's so passionate in everything she does," says male talent Romeo Mancini, who has shot multiple scenes with Jordan. "Everything just flows so well when you're with her. She brings out the best in whoever she works with. You can tell she genuinely loves what she's doing."
That's obvious simply by looking at Jordan's face. She says her fans often point out that she's always smiling during her scenes.
"I love that people can see how much I enjoy my job," Jordan says. "Directors have said, 'You seem so shy until the cameras are rolling, and then you just come out of your shell.' I like surprising people in that way. It's not like I'm acting or anything. I'm just genuinely excited to be fucking on camera and for people to see it."
The buzz about Jordan isn't limited to her prowess in front of the lens. She's known as one of the more dependable, professional talents in porn. Jordan says she's learned that the little things—showing up on time, having good hygiene, being rested and having an upbeat vibe—can go a long way in the adult industry.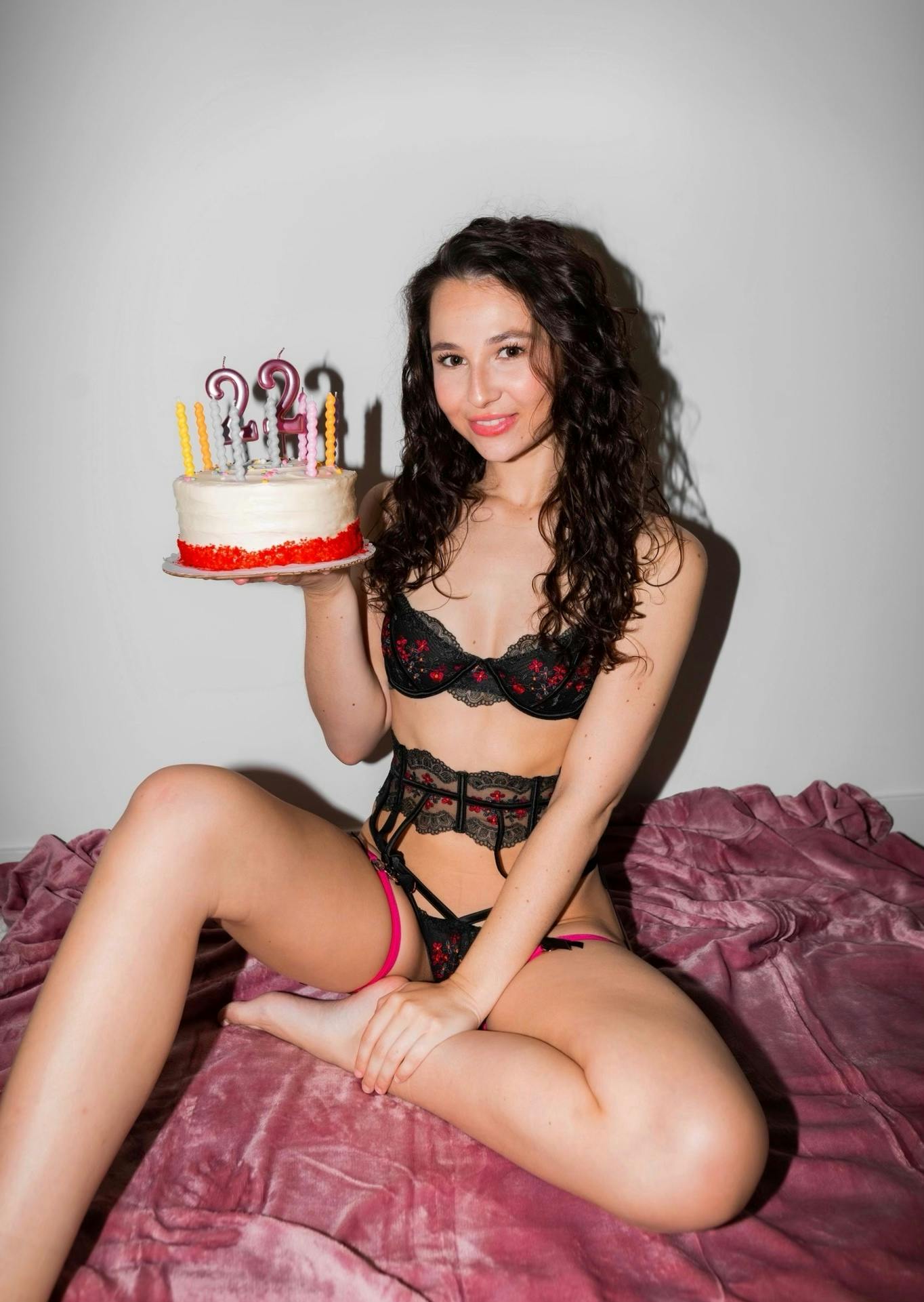 " I don't want to look like the other girls. "
Jordan also won't allow herself to go to set if she's not feeling her best, mentally or physically. She recently canceled a Kink shoot she'd been looking forward to for months because she was having cramps. The plan was for Jordan to be tied up during the scene.
"I waited as long as I could, but the cramps wouldn't go away," she says. "I was like, 'I can't do it because I'll be out of the subspace I need to be in for that type of shoot.' It killed me to cancel that scene."
The decision was hardly a poor reflection on Jordan. If anything, it enhanced her reputation because it showed how deeply she cares about her work and how she refuses to give studios anything but her absolute best.
"She might be the sweetest girl I've met in this industry," Spiegler says. "I always point out that the girls who make it to the top are the ones who are genuinely nice. Riley Reid, Angela White, Asa Akira, Jessie Andrews … the ones that are actually nice and polite and have manners … they're the ones that get ahead."
While Jordan may initially come across as shy, anyone who spends some time with her quickly realizes that's hardly the case. Fellow Spiegler Girl Lilly Bell discovered that firsthand in April when the two performers traveled to Paris to work for Dorcel.
Midway through the trip, Bell returned after midnight from an evening on the town. Nicely buzzed from a few too many glasses of wine, Bell got on the phone and was engaged in a spirited chat with her mother when a text came through from Jordan, who was in the adjacent room of the apartment they were sharing.
"I hate to be this person," the text read, "but you're very loud through the wall and I really need to sleep."
Bell says she felt terrible.
"She had a DP the next day, and I know how important it is to sleep," she says. "She's so sweet, so I knew it took a lot for her to say something. It was good to see her speak her mind. Let's just say I was very silent for the rest of the night."
Bell and Jordan became close friends during the trip, which each listed as one of the highlights of their careers to date.
The Eiffel Tower, the Catacombs and the Palais de Tokyo. The duo toured as many landmarks as they could during the weeklong stay. Nothing got Jordan as excited as a visit to Disneyland, where she was about as far from timid and reserved as one can get.
"She wanted to ride all of the big rides, all of the roller coasters," Bell says. "The Tower of Terror, Guardians of the Galaxy. I was a scaredy cat. I was like, 'I'll hold your stuff and you can go ride.' And she did. She was so into it and having so much fun."
Jordan took so many pictures during the trip that her phone ran out of storage. Each day she made sure to text photos back to her parents and siblings, who were "jealous as hell" that she was in Paris. After some initial hesitation, Jordan's mother and father are now fully supportive of her career choice.
"I think it's because I'm the first kid to move out of the house and support myself," Jordan says. "For them to see that I'm doing good and making this type of money, they can't help but get behind it."
If Jordan maintains her drive and work ethic, the financial freedom she's enjoying should only enhance.
She recently moved to Los Angeles, which has allowed her to immerse herself in her career even more. Jordan is also devoting more time to her blossoming OnlyFans account while continuing the grind of studio shoots. Her recent Tushy Raw scene with Chris Diamond is a can't-miss.
In her free time, Jordan enjoys going on walks and riding her bike. She's also getting better at cooking. Pastas, salads, fish with rice. Sometimes she uses recipes she sees on TikTok. Other times she figures things out on her own.
Jordan smokes weed but isn't much of a drinker. She tries to attend industry events when possible but is far from a partier.
"I'm so comfortable in my own little bubble," she says. "I never need to leave my house."
Jordan did venture out recently to put some fuel in her car. As she was pumping the gas, she noticed a cute guy making eyes at her as he filled up his tank nearby.
A few minutes later, after she'd driven away, the guy pulled up next to Jordan. He rolled down his window and shouted out a request for her phone number. Jordan was quick to reply with her digits. She was not sure if he was able to hear her, but nonetheless, the interaction lifted her spirit.
"For so long," she says, "people would just look at me and say, 'I want to fuck her.' But it was never, 'Oh, she's so pretty.'
"But now I've got guys who say they admire me, guys who lust after me. They compliment me on my looks and not just my body. It's a nice change. It makes me feel really good."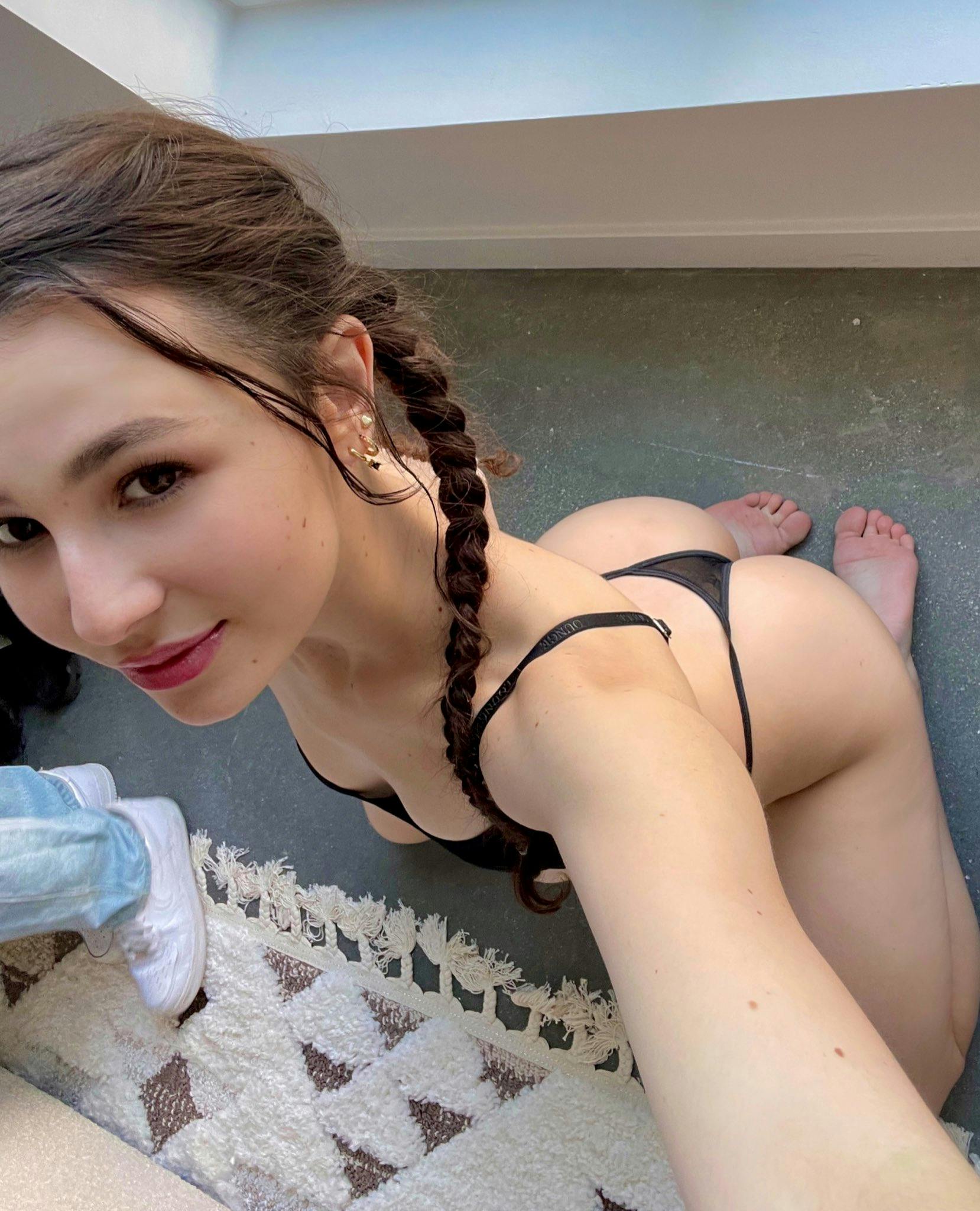 Watch our full exclusive video interview with Liz Jordan