Multiple times over the past few years, Kimmy Granger contacted her former agent and said she was ready to return to porn.
"I'd get all excited," Hussie Models owner Riley Reynolds says. "But then she'd disappear for months. She'd call back—and then disappear again.
"It was a tease."
But when Reynolds answered a call from Granger about a week ago, something in her voice sounded different. Normally "bouncing off the walls," as Reynolds says, Granger seemed calm and composed. She'd mapped out goals, hatched ideas for potential shoots and reflected on past shortcomings and how to fix them.
"So," Granger asked him, "are you ready to take me back?"
How could Reynolds say no?
"I could tell she was serious this time," Reynolds says. "I told her, 'Kimmy, you sound so at peace—like you can actually breathe now.' Once she re-signed and sent over the paperwork, I was like, 'Wow! This is really happening!'"
It is indeed official.
Kimmy Granger—one of the most iconic stars in recent history—is back in porn. Other than two spontaneous scenes for Brazzers in 2021, Granger hasn't shot for a mainstream studio since September of 2019.
"The moment I got into the porn industry (in 2015), I felt deeply that I belonged here," Granger told PornCrush in an exclusive interview. "This is exactly where I wanted to be. This is where I needed to be. It gave me a great sense of purpose.
"Since I've been gone, I've had a huge piece of me missing. I want to get that back."
Granger's announcement will certainly feel like Christmas in July for most porn fans, as Granger was one of the most popular performers in the industry before stepping away for personal reasons.
The Queen of Cowgirl boasts more than 1 million followers on Instagram and is a former Brazzers contract star. One of her early scenes—"Kimmy Granger Like it Rough," from New Sensations—has more than 123 million views on PornHub, placing it among the site's 10-most-watched videos of all time.
Despite her success, Granger—who was 19 when she debuted—says she has more to accomplish.
Granger has shot two anal scenes for her OnlyFans account but has never opened her backdoor for a studio shoot. That will soon change. The 5-foot-1 Granger is also open to double-penetration scenes along with gang bangs and blow bangs.
Perhaps most surprising is that, even with 20 career nominations, Granger has never won an AVN award. That's something the eight-year industry veteran is determined to make happen.
"I have a lot of unfinished business with mainstream porn," says Granger, who turned 28 in May. "I have a lot of unresolved things. I want to win awards and really take control and take my power back."
Reynolds says Granger isn't limiting her options when it comes to shoots and will entertain offers from a variety of studios.
"She wants to go balls to the wall," Reynolds says. "I think it's all going to go really well. When I first met her seven or eight years ago, and I saw her perform, I was like, 'You're going to be one of the big ones. You're going to go far.' She was like, 'I'm sure you say this to everyone.' But I really don't.
"It was just obvious that she was going to be special."
During a wide-ranging interview with PornCrush, Granger opened up about her time away and her personal growth and maturation. She reflected on her rapid ascension eight years ago and discussed her approach to Twitter and Instagram, where she's become a must follow.
And of the course the interview wouldn't have been complete without some talk about her jaw-dropping cowgirl skills.
A full transcript of the interview—which is also available on the PornCrush YouTube channel—Is below.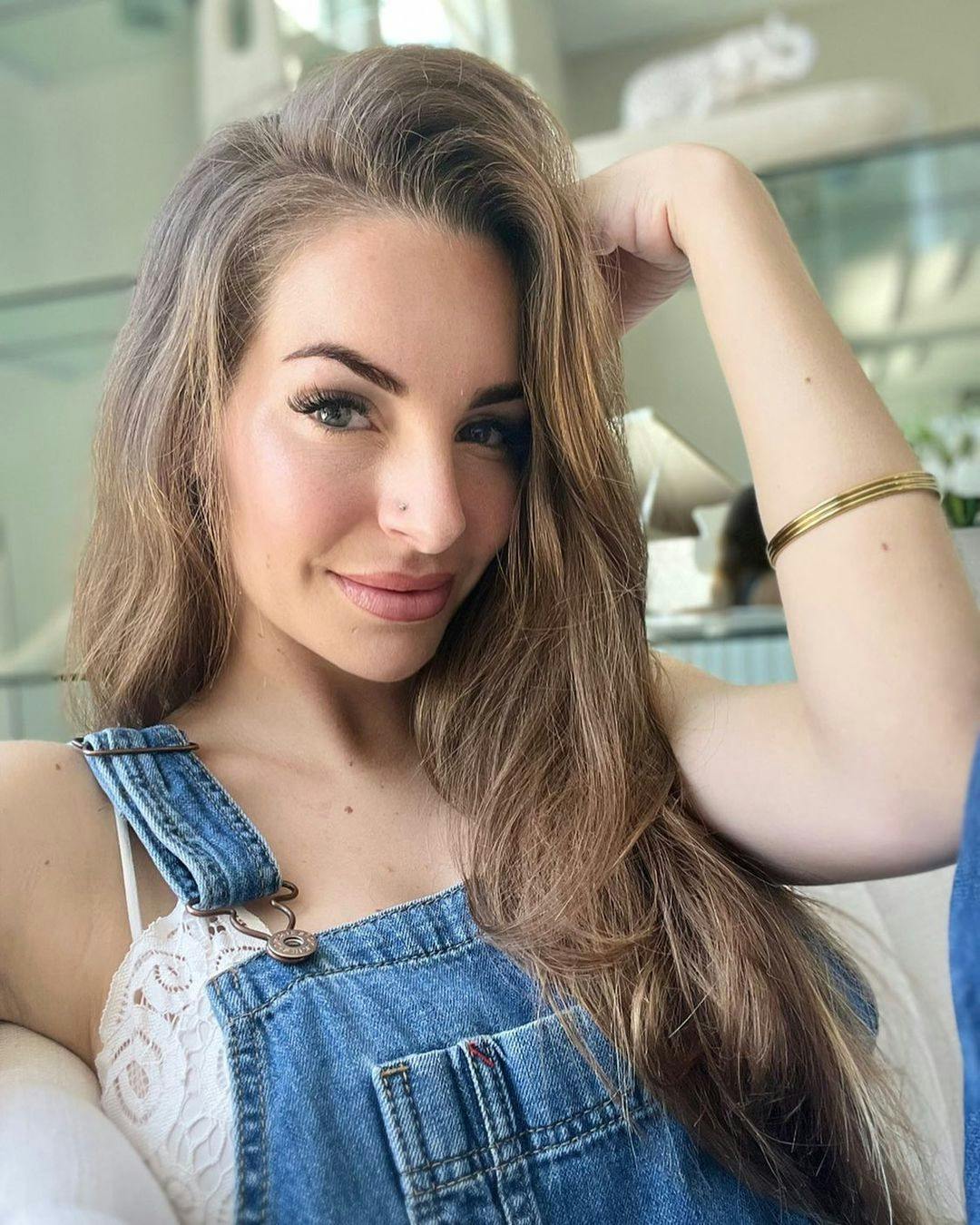 PornCrush: Let's get right into it, Kimmy. What button clicked that made you say, "Hey, I want to do this again. I want to get back in."?
Kimmy: You know… over these last handful of years, maybe three or four years, I dealt with a lot of personal hardships. Obviously I lost my mom and then COVID happened. And then even prior to losing my mom, I got my heart broken. I had a lot of things that were setting me back.
I was getting over addiction issues after my mom passed and I was buying a house, and then I got into a relationship and things fell apart in that. I let things continually allow me to fall apart and set me back from being able to perform or have any activity in the industry whatsoever other than my OnlyFans. That was a major resentment that I had with myself because I have been dying and dying to get back into shooting mainstream for major companies. I just didn't have the bandwidth or the emotional capacity, or there was always something going on.
Now that all of these things are settled, I have made peace with my hardships. I have made peace with everything around me. I've grieved over my mom. And now I'm at this point where I'm like, "You know what? Fuck this! I'm not letting anything get in my way." I am ready to take action and take this by the balls and get back in there and handle it.
PornCrush: You seem like you're in a real good place right now, mentally.
Kimmy: I definitely am.
PornCrush: What did you miss about studio porn?
Kimmy: I miss networking, I miss the people, I miss being on set, I miss working with certain directors. There are a lot of things. I miss performing, I love making scenes. It's like an art form for me. I always took a lot of pride in my performance and providing people with something that I love doing and something that they love me doing. And I miss having that sense of belonging, that sense of community. The moment I got into the porn industry, I felt deeply that I belonged here. This is exactly where I wanted to be. This is where I needed to be.
The porn industry has always provided me with so many wonderful things and it always gave me a great (sense) of purpose, too. Since I've been gone, I've had a huge piece of me missing. And I wanna get that back.. I have a lot of unfinished business with mainstream porn. I have a lot of unresolved things. I wanna win awards and I really wanna take control and take my power back.
PornCrush: Is the Kimmy Granger we're going to see now going to be any different than the one we saw before? Or will there be changes?
Kimmy: The only thing that'll be different will be my dedication to it. There were a lot of times where I allowed personal issues to get in the way of (my career). Even just showing up to set … I canceled a lot. I had a lot of issues with canceling and not showing up and not fulfilling my responsibilities to companies. That's probably the thing that's gonna be different. I'm going to show up and I'm always gonna deliver a phenomenal scene. I'm gonna try to do my best to give everybody what they need and what they want from me. But nothing's really changed. I'm still the same quirky, shit-talking, fucking train wreck. I'm not perfect by any means.
PornCrush: How did the folks over at Hussie Models react when you called them and told them that you were ready to sign with them again?
Kimmy: I think that Riley (Reynolds) was pretty excited. He was almost shocked at first. He was like, "Really? Are you sure?" He's been amazing. He's been super, super patient and super accommodating to my do's and don'ts and my needs and wants. We're going to be a great team. We always were in the beginning. He was always such a phenomenal agent and always treated me with nothing but love and respect. So I'm very, very excited and very grateful to be back with the Hussie family.
PornCrush: What's your plan when it comes to shooting? What should fans expect?
Kimmy: I still have my do's and don'ts. I'm not big on the fetishy stuff, so you're probably not going to see me doing any Kink or anything like that. That was just never my thing. I'm not big foot fetish person, but I will do feet stuff. I'll always incorporate it into a scene. If a guy wants to stick his dick between my feet that's totally fine. I'll be doing lots of boy-girl, boy-girl-girl … maybe we can throw a couple of orgies into the mix.
I'm definitely doing some anal. I'm definitely doing some DPs. I'm going to be doing some gang bangs, some blow bangs. There will be lots of things that I haven't tried yet that I'm really excited to provide my fans with.
PornCrush: You shot an anal scene or two right before you stepped away, if I'm not mistaken. You had started to dabble in it a little bit?
Kimmy: Yeah, I did it for my OnlyFans, though. So I have not done anal for any studios or companies.
PornCrush: Even though you've been away, I'm sure you've kept tabs on the industry from afar. Do you think porn has changed at all? Do you sense that anything is different now compared to how it was when you stepped away?
Kimmy: I think that the industry is a lot more inclusive. I think that it's a lot safer for women. I think that it's a safer place for all performers to be able to feel and think and do what they want without feeling like they're going to get, you know …
PornCrush: Ostracized or blackballed?
Kimmy: Yeah, it's a lot more free and kind. And also, I think that it's really, really great that companies have on-set liaisons as well, because there was a time when being on set was … you never know who was going to grab who, or who was going to do what, or what girl was going to have her boundaries disrespected and then talk about it later on—and then be told there was nothing that she could do about it. There was a different time. I don't really want to go into too much detail, but it's definitely is different now. Different for the better.
PornCrush: When you first entered the industry, you took off really quickly in terms of popularity and notoriety. You were young, around 19 or 20 years old. I've always wondered what's it's like for someone at that age to all of a sudden have this level of fame, with so many people knowing who you are. How was that for you? Was it hard to handle?
Kimmy: I wouldn't say it was hard to handle. I think it was fun. When you're that young and hungry and excited, the attention is always fun.
It can get a little difficult, especially with the negative side of it. I was insecure when I got in. I was very insecure about my butthole. I was very insecure about my skin and my moles. But the industry and the performers and my fans changed that. I had never felt so free to love myself, and I loved that. So that definitely played a major part in shaping the confidence that I have today, which I'm super grateful for.
But I wouldn't say I was ever fearful of anything. I went into it and knew what I was doing and I knew I had good judgment on certain things. But then there were other times where like, you know ... I fucked up. We all make mistakes and we have to learn the hard way. But for the most part, it was a lot of fun. I had a blast and I loved meeting new people and I loved getting to know myself sexually. I learned how to have sex in porn, which was kind of crazy.
PornCrush: I didn't realize that.
Kimmy: Yeah, I was very sexually inexperienced when I got in. If you look back on some of my very first scenes, I was a lot more timid. You could tell there was a sense of insecurity that I didn't really know what I was doing. So I had to learn as I went: what each guys likes, and how they like their dick stroked and, whether they like their balls sucked or how to suck the balls without pulling on the fucking nutsack too hard.
There were a lot of things that I learned and now I feel like I have such a great understanding of sex in general with women, with men, with myself. That's something that I'm really, really grateful for in porn because I was able to apply that to my personal life as well.
PornCrush: It's no secret you're known for cowgirl, for your riding skills. How did you get so good at that? How does that happen? Did it come with reps, or is it a natural talent?
Kimmy: I think it's just a natural instinct, although I do owe some of it to being a stripper prior to porn. I always think girls should at least be a stripper before porn. Like if you're gonna get into porn, at least put like a few months in the strip club because it'll teach you how to gyrate and how to give a lap dance and how to like move your body and how to do certain things. And that was one thing that I knew how to do was bounce my butt from being on stage and twerking my butt in customer's faces or whatever.
I didn't think that was something that I was going to need to do in porn until I did it, because also I was motivated by my insecurity about my butthole. It wasn't that I had an issue with my butthole. It just was so intimate for me. It was so vulnerable for me and I didn't want anybody to see it. So when I would get in cowgirl girl the guy would grab my ass and like spread it open and I'm like "Wow! You're really exposing my biggest insecurity." So I'd bat his hands away and I would just ride really fast, thinking that like nobody could see my butthole.
But people took to it and were like, "This is amazing. Nobody else does this." I'm like,  "OK, good. I'll keep doing that so this way you don't have to see my butthole. It's a win-win!"
PornCrush: I was actually talking about your talent with a performer a few days ago, Seth Gamble. He said what's amazing is that it's so fast and intense, but it's also so controlled. Like, you know what you're doing. You're not going to hurt him. He's not worried about you like popping off of his dick and then coming down on it and hurting him.
Kimmy: Well, that makes me happy. I'm glad the guys like it too, because I always felt like it was just for show, but I know there are a lot of guys that think it feels really good. With what Seth said about me being in control of it … I can feel the dick, right? I can feel it inside of me and where it is. So I know what part of his dick is being stroked inside of me and how I'm moving and giving him the pleasure, as well.
It's almost like you become one with the person. It's crazy how I go into this primal state.
PornCrush: Besides the fact that you're an elite performer, I think another reason people really like you is because you're such a personality. You see that on social media a lot with your Instagram. I think people probably feel really attached to you because you choose to share a lot about your life. What's your approach to social media and putting yourself out there?
Kimmy: When I first started doing that … I wanted people to see me for the person that I am because that was something that I always wanted to make sure I never lost. I didn't wanna lose me. I didn't wanna lose myself. I wanted to be able to have both of my worlds separated, but also integrated in a healthy way.
I remember when I had gotten my Instagram deleted and I had to make a new one. I was like, "You know what, fuck this. I'm just gonna do me. I'm gonna just be myself. And if people don't like it, then they can go fuck themselves." I started just doing things a specific way and people took to it. They were like, "Wow, you're so funny." I'm like, dude, I'm just being myself. Thank you. I'm glad you like it.
I didn't want to just be like some dumb bimbo, like, fucking whatever, you know? I feel like it's easy to stereotype porn women as dumb, bimbos, useless. People are so fucking mean and I think that it's important to not allow people to see you as that, you know? Because we are people and we are humans and we do have personalities and we have lives and we struggle with mental health issues and other things, too. We're not just fucking robots who are here to give sex and that's it. We're more that that. I know a lot of phenomenal human beings in this industry. Everybody is so cool and so kind and so fun and everybody has their issues. 
I wanted to kinda be an advocate for mental health and be an advocate for just being a fucking human being. That's where my mind was at. And so I was just like, "You know what? I'm just going to be myself and be goofy." People liked it.
PornCrush: Yeah, your social media really runs the gamut. Some days you're hilarious, some days you're emotional, but that's how people are. I mean, we all have those ups and downs in life, right? And we see it in your social media.
Kimmy: Listen, there's times where I should have probably locked it up and kept things off social media, but I think that I get the case of the fuck-its a lot. I don't know, I get the case of the fuck-its and I'm like, "If you don't like it, then fucking unfollow me. I don't know what to tell you."
PornCrush (joking): I was a little worried when I heard you were coming back because I was like, "I hope this doesn't take time away from her Q and A's on Instagram."
Kimmy: No, God no!
PornCrush: You've gotta keep those coming. It's appointment viewing every time I wake up in the morning and see you've posted 25 slides. I set aside time to watch them. They are absolutely hilarious.
Kimmy: Those are so fun. I love doing Q&As. I's a fun way to also interact with my fans, too. I can tell sometimes when they asking certain questions to try to poke the bear. I'm like, "Bring it the fuck on, dude. If you think you can hurt me better than I can hurt me, good luck. There's nothing you can say to me or ask me that I haven't already said to myself."
And I think that was another point that I've always tried to make, is like, you can't fuck with me more than I've already fucked with myself. Like, I am my own worst enemy. I think those Q&A's are also a fun way for me to show my vulnerability and like my humility.
I know that I can be a fucking trainwreck. And I know I can be a piece of shit sometimes. But there's nothing that you can say that can affect me more than what I've already done to myself.
PornCrush: I keep waiting for the time when someone in the mainstream discovers you. Have you been approached? I'm talking about acting, comedy … I feel like you've got a gift for that. I've always wondered if you had any opportunities.
Kimmy: No, I haven't been like technically approached, but it's been suggested a lot of times. My fans tell me I need to do standup. But I can't do standup, because what I do just comes naturally, on the spot. It's word vomit.
With standup, it's a craft, right? You have to have a mental script. For me, it just kind of happens. So I don't know. But I'd love to do other roles and venture out into major films or whatever. That would be so much fun.
PornCrush: Back to porn, as you prepare to re-enter the industry, is there anyone who has caught your eye. Males and females that you'd like to work with?
Kimmy: I really love Kazumi. She seems like a lot of fun. I'm really looking forward to potentially working with her. I think Sky Bri is beautiful. I would love to work with her. I would love to eventually work with Lena the Plug. There's a lot of new faces to the game.
I've always wanted to work with Emily Willis. But I don't even know if she's performing anymore. There was a time when Emily Willis and I would have been been really great scene partners. As far as the male talent goes, there's so many new faces? I'll have to (find out) who I work well with because all of the guys that I used to work so well with don't shoot mainstream anymore.
PornCrush: Who have been your best friends in the industry, people that you've leaned on during these last few years when you were going through some stuff? People have been important to you?
Kimmy: Demi Sutra. She's one of my closest, closest friends in the industry and also outside of the industry. Love her to death. Same with Gia Page. Love her always. Karmen Karma. She's also one of my very, very close and personal friends. I haven't lost touch with her, but she lives farther away now and our lives sort of got ahead of us. We try to stay in touch. But whenever I talk to her, it's like we never miss a beat. So those three have been an amazing support group for me throughout all of this since I've been away and kind of on hiatus.
PornCrush: I certainly appreciate the time today, Kimmy. I know all of your fans are going to be hyped to hear about your return.
Kimmy: I appreciate you, as well. Thanks so much.