PornCrush signs on as co-sponsor of "Heaven and Hell" Halloween party
Industry-wide event slated for Oct. 27 in Hollywood; Anna-Claire Clouds, Lauren Phillips, Misty Stone highlight list of celebrity hosts
By Frank Lotion / Contributor
Oct 21, 2023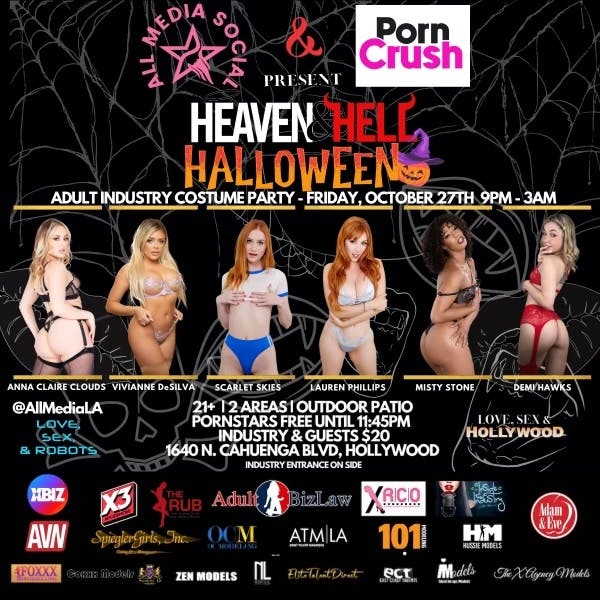 One of the longest-standing social soirees in the adult industry has a new financial backer.
The hosts of the annual "Heaven and Hell" Halloween party announced this week that PornCrush has signed on as a co-sponsor of the Oct. 27 event in Hollywood.
Event organizer Scott David—the CFO of host company All Media Social—tabbed the Heaven Hell party as "one of the best nights of the year" in the industry.
"We're happy to add PornCrush as a major co-sponsor," David said. "Behind the fun costumes and wild times, this is still a business that needs capital to thrive."
PornCrush—a first-year website covering all facets of the adult industry—has agreed to pay the admission fee for 150 porn stars and starlets. The party runs from 9 p.m. to 3 a.m. at Station 1640, located at 1640 Cahuenga Blvd. in Hollywood.
"Heaven and Hell has long been one of the most-anticipated functions of the year, and the 2023 version might just be the best one yet," PornCrush owner/editor Austin King said. "We're happy to be a part of this party."
Performer Misty Stone, the event's Mistress of Ceremonies, said "Heaven and Hell" never disappoints.
"This is the motherfucker of all parties," Stone said. "Don't miss it."
Joining Stone as "party devils" will be Anna Claire Clouds, Vivianne DeSilva, Lauren Phillips, Demi Hawks and Scarlett Skies.
Destiny Mira, Kendra Cole and Olivia Jay will be pouring shots on the outdoor patio. September Reign, Sunny Lane, Cassie Del Isla and Liv Revamped will be serving up thrills and chills on the patio while Ameena Green conducts red-carpet interviews.
No RSVP is needed for the party. Porn performers and cam girls arriving before 11:45 p.m. get in free, courtesy of All Media Social and PornCrush. The event is 21-and-up and IDs will be checked. Those working in the adult industry and their guests will be admitted for only $20 until 11:45 if they enter the industry line, located down the walkway on the north side of the clubs. Director and party host Will Ryder will greet industry arrivals at the door.
There is plenty of street parking in the area and the subway is two blocks away. All known media members with cameras will be admitted free to shoot on the red carpet.