Before she reads over her call sheet or packs a bag for set, Elizabeth Skylar tends to a more important order of business most mornings before work.
She gets her children ready for school.
"Family first," Skylar says. "Then porn."
Just four months into her career, Skylar appears to be juggling both aspects of her "double life" just fine. The 33-year-old Los Angeles native has captured the attention of A-list studios such as Brazzers, Naughty America and Cherry Pimps, who have already featured Skyler in MILF-themed scenes.
Skylar is also experiencing a high level of success on OnlyFans, where she collaborates with some of the top male talent in the industry.
All while raising two kids and thriving in a healthy marriage.
"No one in my life knows about this, with the exception of my husband and a couple of close friends," Skylar tells PornCrush. "I like that, though. It's kind of like, "Oooh, it's taboo." It's a no-one-knows type of thing. It's my secret double life."
Granted, if her rapid ascension continues, Skylar may have trouble keeping her career hush-hush.
PornCrush caught up with Skylar this week to talk about her upbringing, her journey into porn, her life as a literal MILF and much more.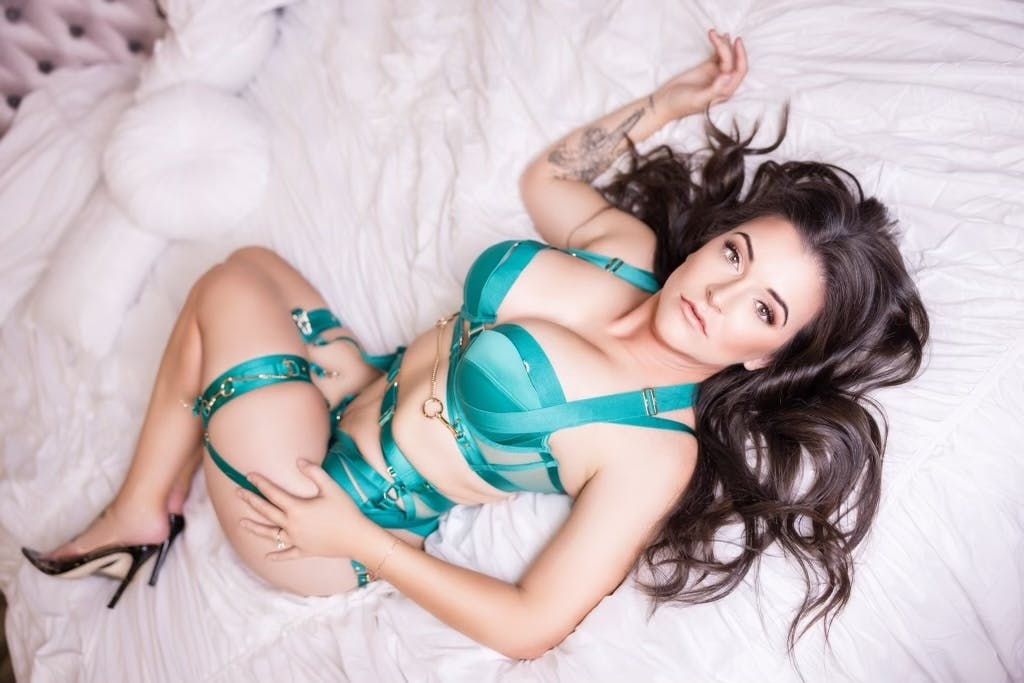 PornCrush: Thanks so much for joining us tonight, Elizabeth. Tell us a little bit about your background and your life before porn.
Elizabeth: I was born, raised, and still live in LA County. Never left. I was always the outgoing, wild teen. I didn't didn't really like college that much. So I went into cosmetology and got my license. And then shortly after that, I found out I was pregnant with my first kid. I've been a stay-at-home mom ever since.
PornCrush: Let's backtrack a little. You said you went through a wild party stage in high school and college. Can you expand on that?
Elizabeth: My parents kind of gave me the green light to do whatever. I'm not saying that they were like, "Have at it, do drugs!" It was more like, "We don't care what you do as long as you don't drink and drive." So I was like, "OK, cool!" I was very sociable. I partied a lot on the weekends and had a good time.
And I've always been a sexual person. I lost my virginity when I was 15. (Sex) was never a taboo topic in my house. My parents were very open with me about it and I was always very comfortable with it.
PornCrush: Judging by your physique and body, I'm guessing you were pretty popular with the guys in high school.
Elizabeth: It was great. I loved it. I really pressed the envelope. I would always get in trouble at school for what I wore. Crop tops, low-rise jeans, skirts that were too short. (My parents) were always getting calls. It was bad. They were like, "Stop!"
I wasn't the type to really sleep around, though. Up until I met my now-husband, I had only slept with four people prior to that. So I wasn't all over the place, but I did enjoy having sex.
PornCrush: When did you meet your husband?
Elizabeth: I was 18. He's a few years older than me. So we actually met through an ex-boyfriend of mine. Oops! And we started dating. And then when I was 20-years-old, I found out I was pregnant. So we were in a position like, "Oh my God, this is serious." He really stepped up to the plate and I'm forever grateful for that. He's the greatest father in the entire world. And just a really good guy, a really hard worker. He's amazing.
PornCrush: How did your world change once you became pregnant?
Elizabeth: I was 21 when I had my first kid. That was very scary. I was still living at home when I found out I was pregnant. So within the course of a month, I moved out of that house and into the house I'm currently in. Then I accidentally gave birth early, so all of this life-changing stuff happened really, really quickly. It was super jarring but totally worth it. 
PornCrush: You spent more than a decade as a stay-at-home mom before you began dabbling in adult work shortly after COVID hit in 2020. How did all of that happen?
Elizabeth: When COVID hit in March of 2020, my kids were forced out of school. I was like, "Hell no, you guys are not gonna stay home 24-7. This is not cool. I'm not gonna deal with this for months and months and months on end." So I found a place that was able to take them in, a daycare type of thing.
And then I had a lot of downtime. The gyms were closed, nothing was open. So I was like, "What the hell am I gonna do?" My husband introduced me to Chaturbate and I thought it was really cool. He asked if it was something I'd be interested in doing and I was like, "Yeah, absolutely." So I started out in May of 2020 under the name "Triple D MILF" and I did that for a little bit. And then I switched my name to my current name, Elizabeth Skylar.
PornCrush: What happened after that?
Elizabeth: In 2021 I started an OnlyFans, because everybody was asking me about it. I was like, "What the hell is that? What is OnlyFans?" So when I first started I wasn't necessarily successful right off the bat.  It wasn't until I contacted Jack and Jill and did a show with them that my OnlyFans blew up. Now OnlyFans is my main bread and butter.
PornCrush: For those that don't know, Jack and Jill are a couple that have achieved fame within the industry by putting out some great OnlyFans content. Did working with them make you "catch the bug" when it comes to filming yourself having sex?
Elizabeth: Yes, they were my first ever threesome on camera. I had never done that before. I never had a threesome even off camera. I was so nervous. If you look really closely in the video, you can see me shaking. I was like, "Oh my God, what am I doing?" But I ended up having a great time and Jack and Jill are great people. I've done a few more shows with them since. I always tell people that's a great way to (break in) because they're just the sweetest, most welcoming people ever.
PornCrush: How did you transition from OnlyFans collabs to studio work?
Elizabeth: In June of this year I contacted Shelby Black, a director for Naughty America. I never thought I'd hear back. I was in Dana Point, Calif. at a wedding and he emailed me and said he wanted to book me. So my first-ever professional pro scene was with Naughty America in July of this year.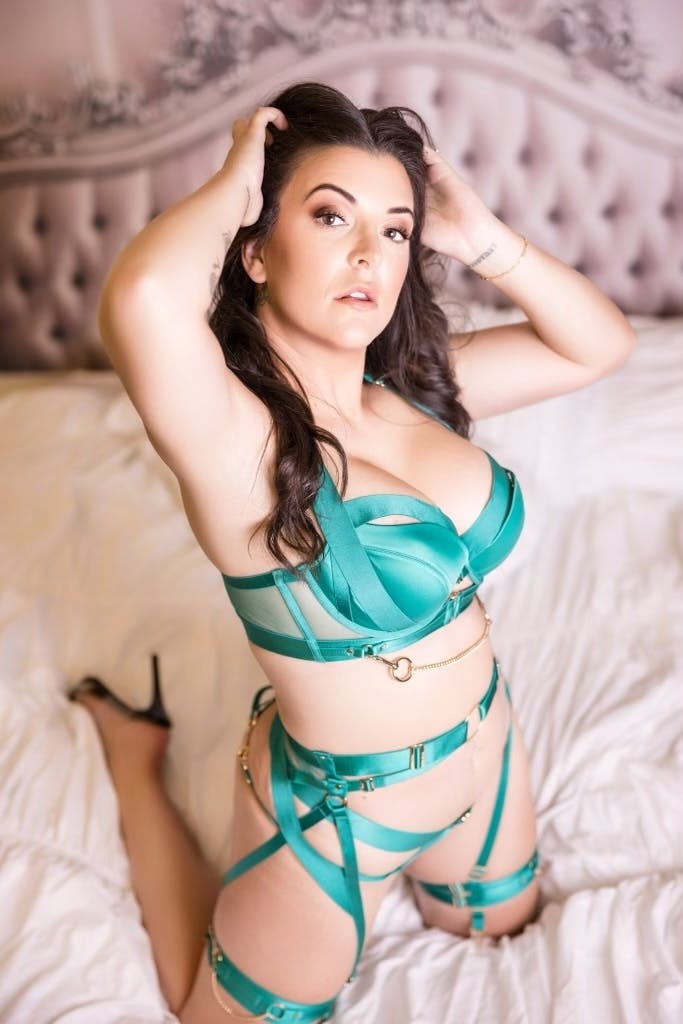 PornCrush: How was shooting a pro scene different from an OnlyFans collab? Was there something about the studio environment that made it cool?
Elizabeth: I was super nervous because I wanted to make a good impression. I didn't want them to say, "This was not worth our time. This was not worth our money." I wanted to make sure I performed and delivered so they would ask me back. So I was nervous.
But again, I always have a preconceived notion of something in my head, and that's not what it's usually like. Everybody is so sweet and so accommodating and so welcoming (in the industry). I've done another four scenes now with Shelby Black for Naughty America and then I've done one scene for Brazzers and one scene for Cherry Pimps.
PornCrush: Okay, wow. A lot of performers spend years in the business just hoping for the day and they get to shoot for Brazzers—and some never get the chance. You were fortunate enough to get that opportunity three or four scenes in your career. That's a pretty big deal. Who were you paired with for that scene?
Elizabeth: Shout out to Kieran Lee. He arranged it. He was the director. But I shot with Manuel Ferrara and Sinatra Monroe. And it was an amazing experience. We were there literally all day. It was a big ad scene for Brazzers. But I had such a good time. I didn't want to leave. I was like, "No, my God, I don't want this to end." And I'll never forget that day because it was the day of the—and I say this in quotations—"hurricane." (Laughing) 
I just vibed really well with everybody. I vibed well with Manuel and Sinatra and Peggy, who is a great liaison/makeup artist/hair artist. All the cast and crew were just great people. I was super bummed at the end, like, "Oh my God, we have to leave already?" And everybody's like, "Yeah, we've been here for 12 hours."
PornCrush: It's crazy to think about how quickly your life has changed. Just a few years you were content being a stay-at-home mom. And now you have this new career that you're passionate about—but never envisioned.
Elizabeth: I never thought I would be in (the adult industry). Like never, ever. I still think about it in my head and I'm like, "Oh my God. I totally live a double life." No one in my life knows about this, with the exception of my husband and a couple of close friends. Our family does not know. I like that, though. It's kind of like, "Oooh, it's taboo." It's a no-one-knows type of thing. It's my secret double life.
I always tell myself as long as my husband is okay with it and we're on the same page and it's not causing an issue in our marriage, then I'm cool with it. I'll keep doing it. I'll keep riding this train for as long as I can. I always tell people, family comes first for me. Family first, then porn.
PornCrush: I feel like you fit into the category of the mainstream stories I've been reading about PTA moms and school teachers turning to sex work as a second career. Some people in those positions get socially ostracized or even fired from their jobs because of it. Is that something you worry about? Have you prepared yourself for the day when people find out?
Elizabeth: Honestly, no. And I think that even if someone did find out, that person would have the balls to come up to me and say it to my face. They could probably gossip all they want, but I mean, I tell people everything I'm doing is safe, sane and consensual, and if people have a problem with that, then whatever.
I say that to my husband all the time: "Oh my God, I must be the only one." He goes, "Oh no, you'd be surprised. You would be surprised how many women at the school probably have an OnlyFans or do whatever on the side."
PornCrush: Regarding your husband, it sounds like such a great relationship. What's the key for sustaining a healthy marriage when you do sex work?
Elizabeth: Don't get caught up in emotions. I know that's kind of a cliche, but it's business, it's work. You can have fun and cum on set and everything, but when you come home, you leave work at the door. I try to show my husband appreciation and love.
PornCrush: And I'm sure he's your biggest supporter.
Elizabeth: Yeah, he is. And he's never been like, "I don't want you doing this" or, "I'm jealous of this person." He's super sweet, super supportive. He helps me a lot and gives me a lot of advice.
PornCrush: How familiar were you with the adult industry before you started shooting? Did you watch a lot of porn growing up? Who were your favorite stars?
Elizabeth: I always kind of idolized naked chicks, like anybody in the adult industry. I loved looking at Playboy and Penthouse and even Hustler. I always thought the women were so beautiful. I thought people like Jenna Jameson and Tera Patrick were so gorgeous. I was like, "Oh my God, I want to do that someday." But I never thought I would be in this position.
PornCrush: So it seemed like a glamorous, cool kinda thing? Had you had much experience with women, sexually, before them?
Elizabeth: I had my first experience with a woman was I was 26 years old. It happened to be in front of my husband and her boyfriend at the time. And that felt very natural, too. I like both, you know. Women are great.
PornCrush: Some people get into this because they think it's a great career. And some really love the sex and the opportunity for sexual exploration. Where do you fall on that? How much are you enjoying the sexual freedom you're getting to experience?
Elizabeth: Yeah, I like that this is my double life and I love the sex. I enjoy it every single time. I've never had a bad experience where I'm like, "God, I've gotta get this shit over with." I've never had that before. I've always had a great time.
PornCrush: The MILF genre in porn seems to be at an all-time high when it comes to popularity. Some of the top-ranked performers on PornHub are MILFS. How does being labeled a MILF at age 33 sit with you? Have you embraced it?
Elizabeth: I know a lot of people don't like it. Everybody's like, "Oh, I don't want to be called a MILF."  Well, I do. I'm actually a mom in real life. So I love it. I think some people (associate it) with being old or mature. And that's just not the case. You can be a mom at any age. It doesn't matter to me, the MILF thing. I totally embrace it.
PornCrush: OK, Elizabeth. Let's transition into the "Quick Pops" portion of this interview.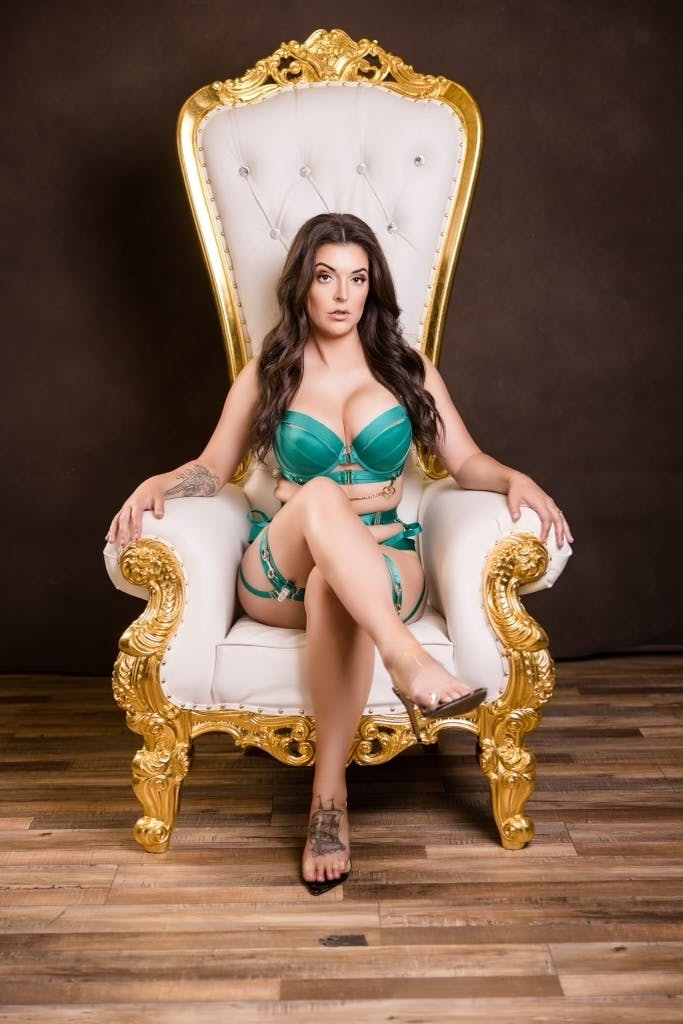 QUICK POPS
PornCrush: What's one of your biggest turn-ons?
Elizabeth: When people whisper in my ear … I don't know what the hell it is. It just makes me frickin' melt. I don't know.
PornCrush: Does it need to be dirty talk? Or is it because of the physical sensation of someone being that close to your ear and whispering in it?
Elizabeth: Yeah, like physically … and just like the things that people have whispered in my ear before, It's a total turn on. I guess I'll just say it: Manuel Ferrara did that to me on set and I freaking came right then and there.
PornCrush: Along those lines, is there something you've discovered about yourself sexually that maybe you didn't know?
Elizabeth: I have found that I like really rough sex. I get why people are not into that. Because of the consent thing and the whole cancellation thing. People don't want to be canceled. I get that. But I love it. I really, really love it. I'm comfortable with a lot of that stuff.
PornCrush: When you say rough, are you talking about hair pulling, a little bit of slapping?
Elizabeth: Hair pulling, choking, biting, spanking, spitting, stuff like that. I experimented with it before, but not to the extreme that I've taken it, especially recently.
PornCrush: What's the riskiest place you've had sex?
Elizabeth: Oh man … cars, boats, beaches, balconies. I'm trying to think.
PornCrush: How'd the beach work? Was that during the day or was it at night when no one was around? Was sand an issue?
Elizabeth: It was at night. It's not ideal. But, you know, you've got to check it off your list. And yeah, it's super messy, but it was fun.
PornCrush: Would you call yourself a size queen? Does it matter?
Elizabeth: I'm not a big size queen. I am cool with all different lengths, different thicknesses. If it's too big, I'm not gonna lie. It's not fun. You feel like you're getting impaled. So yeah, I'm definitely not a size queen.
PornCrush: At 33, you're at that age where you're probably working with guys who are both considerably younger and considerably older than you. Do you have a preference?
Elizabeth: It's pretty much all the same. I know I shouldn't say that, because the older you are, obviously the more experience you have. But yeah, for the most part, it's pretty much the same. When you're in this industry, you better know how to fuck.
PornCrush: I've got to think that a veteran —someone like Manuel—would be really good at all of the little things besides just the sex. The positioning and the other stuff that makes a scene look really good.
Elizabeth: Yeah, he gave me tips. He was like, "Make sure your hair is not in front of you. Everybody wants to see your face at all times. But don't look directly at the camera." Manuel definitely knows what he's doing.
PornCrush: As we discussed earlier, you've had a really successful run on OnlyFans. What is the key to flourishing on those types of platforms?
Elizabeth: Definitely consistency. You've got to constantly post things to keep people's attention and to keep them on their toes. For me personally—and I'm not saying it's a bad thing because I know some people get so many messages that it's impossible to answer all of them, so they've got to have help—but for me, I answer all my messages personally, and I will voice message people so they know it's actually me.
PornCrush: Any crazy requests for customs?
Elizabeth: Someone requested that I full-on go to the bathroom for them, like No. 2-wise, on camera. And I was like, first of all, I'm not gonna do that. Second of all, OnlyFans doesn't allow that. So no.
I'm sure there's other sites that allow that. I think there is. Someone gave me a chart of all the different platforms out there and what they allow, what they don't allow. The ones that do allow it, I've never even heard of in my life. So good luck if you're trying to ask for that on OnlyFans.
PornCrush: You mentioned that you used to look up to people such as Jenna Jameson and Tera Patrick. Are there any active performers who you admire, or even ones who have become friends and mentors?
Elizabeth: I'm going to give a shout out to Tanya Tate. She has been amazing to me. She's a very sweet woman who has given me advice on what to do, what not to do. I really appreciate our friendship and everything that she has taught me so far. She's an amazing woman.
PornCrush: What's your favorite thing to do when you have a free night, or even a couple of hours all to yourself?
Elizabeth: I am a shopping whore. I will shop all day every day, whether it's online or physically in a store. I love it.
PornCrush: Mainly for clothes?
Elizabeth: Anything. Clothes, skin-care products, decor for my house, seasonal decor. I'm really into decorating for Christmas and Halloween and all that kind of stuff. So I'll shop for anything that catches my eye.
PornCrush: What do you like to eat after a long day of shooting?
Elizabeth: Well, I'm Italian so I love any kind of Italian food: pasta, pizza. But if it's a weekend, I love to have a dirty martini. That's my thing. That's my little reward for doing a scene.
PornCrush: What kind of vodka do you use?
Elizabeth: Kettle One, because they call it a dirty vodka. I was raised right. My dad was in the spirits industry for 35 years. He was like, "Hey, this is what you put in your dirty martini, okay?"
PornCrush: I agree. Ketel One is the absolute best vodka. OK, Elizabeth … thanks for chatting with us tonight. It's been a pleasure getting to know you a little bit. I know everyone is looking forward to seeing how your career progresses.
Elizabeth: Thank you so much for having me. It was nice talking to you.