Just six months into her career, Raven Lane already has a bucket list of performers she'd like to shoot with one day.
"I absolutely adore Ryan Reid," Lane says. "She's so cute and I love her tattoos. I feel like she would be super cool. I love Jill Kassidy. I think she's beautiful. Aidra Fox, Keisha Grey. A lot of guys, too, though.
"I could go on forever."
It won't be long before Lane is at the top of people's wish lists, too.
And that's if she's not already.
Represented by East Coast Talent, Lane shot for first studio scene in March and her popularity has been soaring ever since.
The 26-year-old Las Vegas native was quick to open her backdoor for anal shoots, which led to bookings with elite studios such as Evil Angel and Cherry Pimps. And she's already tangoed with A-list talent such as Isiah Maxwell, Codey Steele and Tyler Nixon.
Mix in a collection of jaw-dropping photo sets and the relatable vibe she presents on social media, and it's easy to see why Lane is climbing up the rookie charts in a hurry. She's got a smile that can change someone's day.
"With porn, I don't need to change who I am," Lane tells PornCrush. "It's a come-as-you-are' kinda thing, as opposed to a lot of places I've worked.
"So I like that I don't have to suppress certain parts of myself that a lot of other jobs would probably ask me to suppress. I can dress how I want most of the time. I can show off my personality."
The feedback has been glowing for Lane, who visited the PornCrush studio this week for an edition of "Ready to Bust."
Hope you enjoy.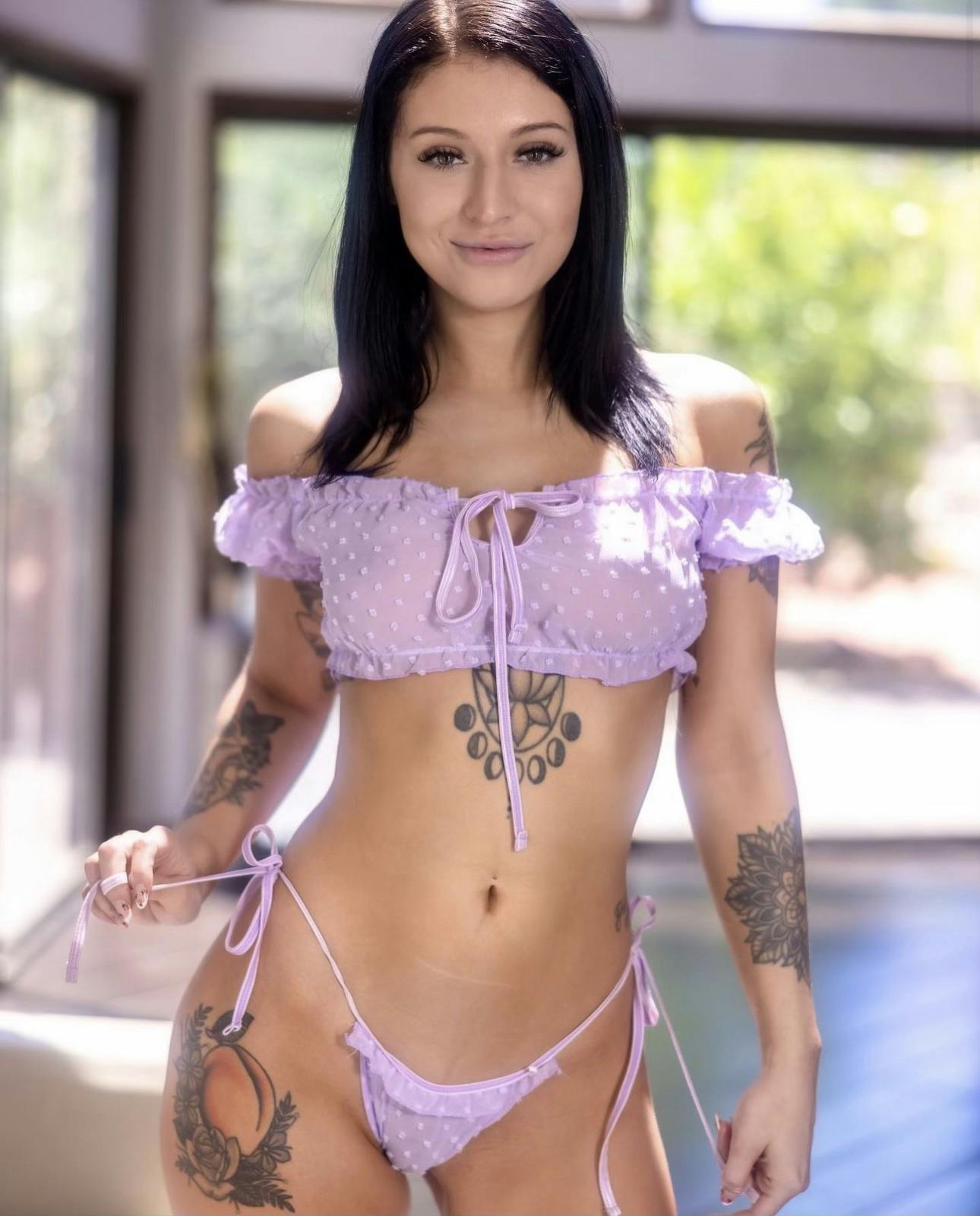 PornCrush: Tell us a little about your background and where you grew up.
Raven:  I live in Vegas, but I actually spent most of my life in Nashville, Tennessee. I was born originally in Los Angeles. And then when I was nine, we moved to Nashville. And then I lived most of my life there. And then in these last recent years, in my 20s, I decided to move to Vegas.
PornCrush: Whenever someone mentions Nashville, a bunch of different thoughts come to mind. Country music, great weather, good food. It's one of my favorite cities. What did you like about it?
Raven: (laughing) Good barbecue! I still have a lot of good friends back there. It's still a good time. I love visiting because when I go it's just so pretty and green. I run around with my friends all day and get kicked out of bars. We go to parks. Smaller-town stuff. It's different from Vegas. If you go to the grocery store, or the bar, you're most likely going to run into someone you went to school with or someone you somehow know. But in Vegas, it's not like that as much. So that's something that I do kind of like about Nashville. I still call it home. I kind of feel like part of me is there just because my friends are there.
PornCrush: How big of a country music fan did you become while living in Nashville. Or was it not your thing?
Raven: I never hated it, but it never piqued my interest too much.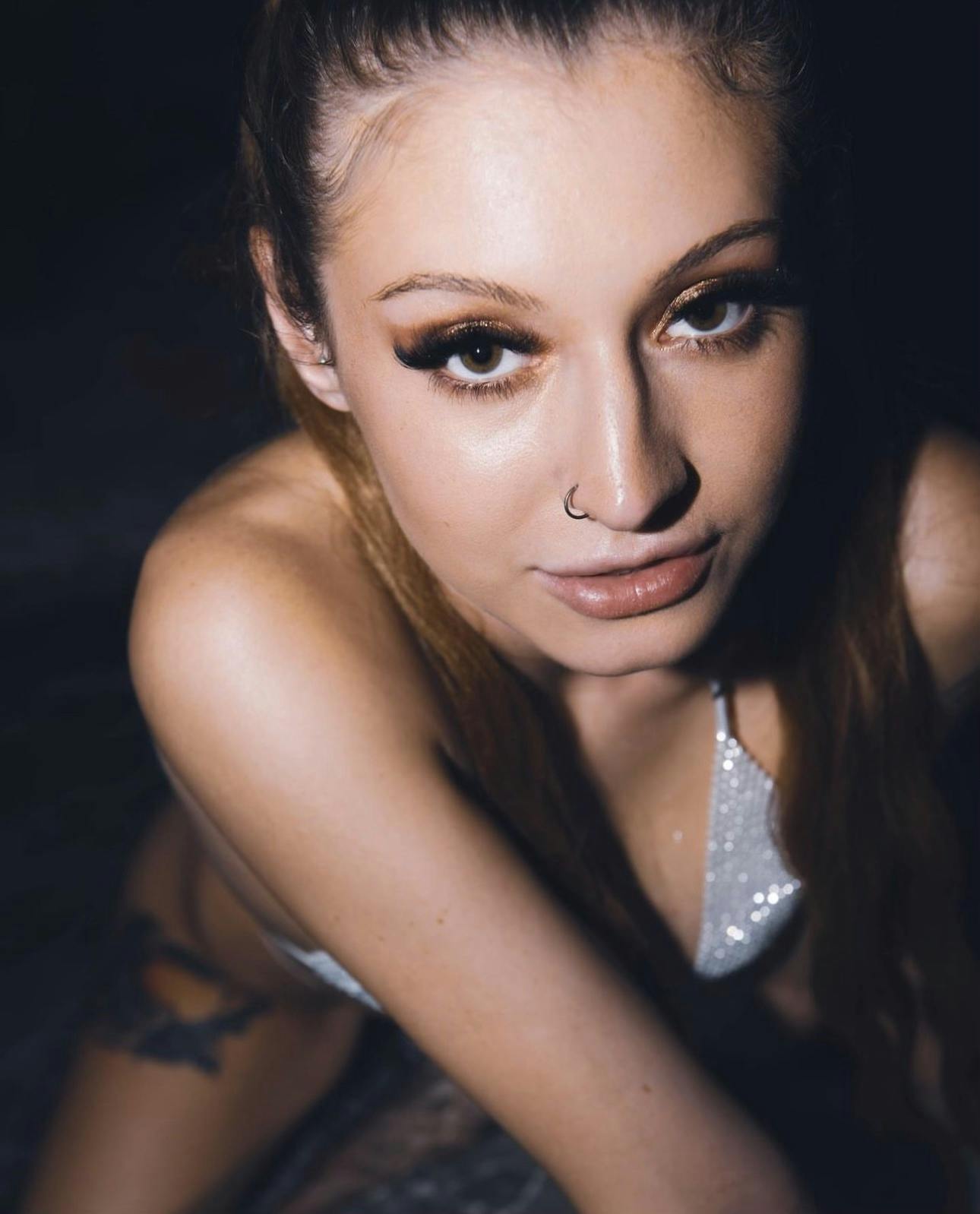 PornCrush:  What were your passions and interests as a kid, as a teenager? When you thought about your life, what were your initial plans for your future? What did you want to do?
Raven: Honestly, I'm a really spontaneous person, so I never have been one of those people that was like, 'Oh, at this age i'm gonna do this, and then I'm gonna get married,' or whatever. I've gone through a bunch of different phases over the years. But the teenage me … I was a good student, especially in my later years, especially as a junior and senior. For the most part I just focused on school.
I had one boyfriend all four years of high school, so I spent a lot of time with him. Or with friends. It was normal, basic stuff. Even thought it's off and on, I've always been into working out. So I'd work out a lot in high school. I did track for a year, sprinting. I was super fast.
PornCrush: OK, so you graduate high school, spend a little bit longer in Nashville, and then move to Vegas. Why was Sin City a good fit for you at that point in your life?
Raven: I've always been super close with my family and they moved out here first. So I would always visit and I just liked it a lot. And then it just kind of aligned perfectly with what I do for work. So I just took that leap.
PornCrush: So many people move to Vegas and immediately go wild and crazy. They start partying and hitting the clubs? Did you go through a phase like that?
Raven: No. I honestly don't go out a lot. I've gone to maybe, like, three clubs total the whole time I've been in Vegas. I'm not really a big partier. Not that I'm against it. It's fun. When I first moved to Vegas, the only real difference I noticed is that weed is legal here. I would buy a lot of weed. So I would just smoke weed and relax in my free time.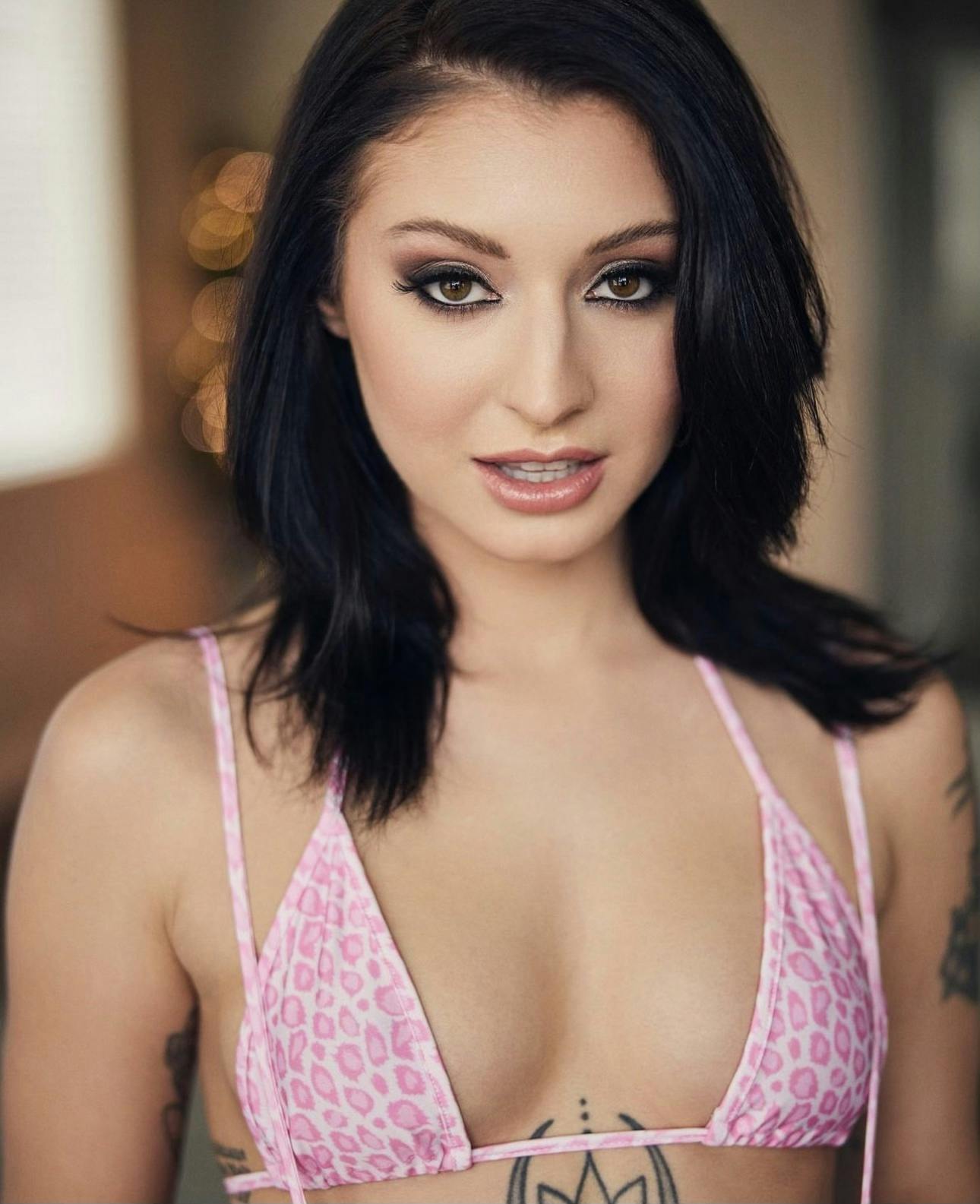 PornCrush: I know you were working really hard, too—logging lots of hours as a server in restaurants and bars. What was that lifestyle like? Were the jobs difficult?
Raven: There were times when it could be frustrating like any job, but I had fun at the same time, mainly because a lot of my coworkers were lifelong friends. So you get to work and tell jokes with your friends and make money. That's how I looked at it. It wasn't bad. I felt like it was good character development, to be honest. You deal with a lot of different personalities and people from different walks of life. So that can be good for anyone to do. Because whatever job you do, you're most likely going to have to deal with people, like it or not.
PornCrush: Did you ever get pissed off and explode on a customer who was being a jerk? Or were you good at keeping your composure?
Raven: I never have exploded on a customer. I probably would have lost my job. But I definitely had times where I would get really frustrated. I'd usually go into the walk-in cooler, because it's sound proof. I'd just stay in there for a second and chill out and reset. After that I was good.
PornCrush: This past March you began shooting studio porn. What indications were there earlier in your life that the adult industry might be in your future?
Raven: It definitely was something that I had thought about for probably three years before I actually did it, just because I wanted to make sure that I really knew what I was getting into. I always was very confident with the way I dress and the way I present myself, as far as being a sexy girl goes. I always had that energy, so I don't think a lot of people were surprised that I ended up doing it just because it kind of was a long time coming.
For the past four years, I've been doing nude modeling. So people were already used to the fact that I am naked on the Internet. So there were stepping stones to doing more and more, you know. So yeah, I'm not surprised. I'm very happy with my decision.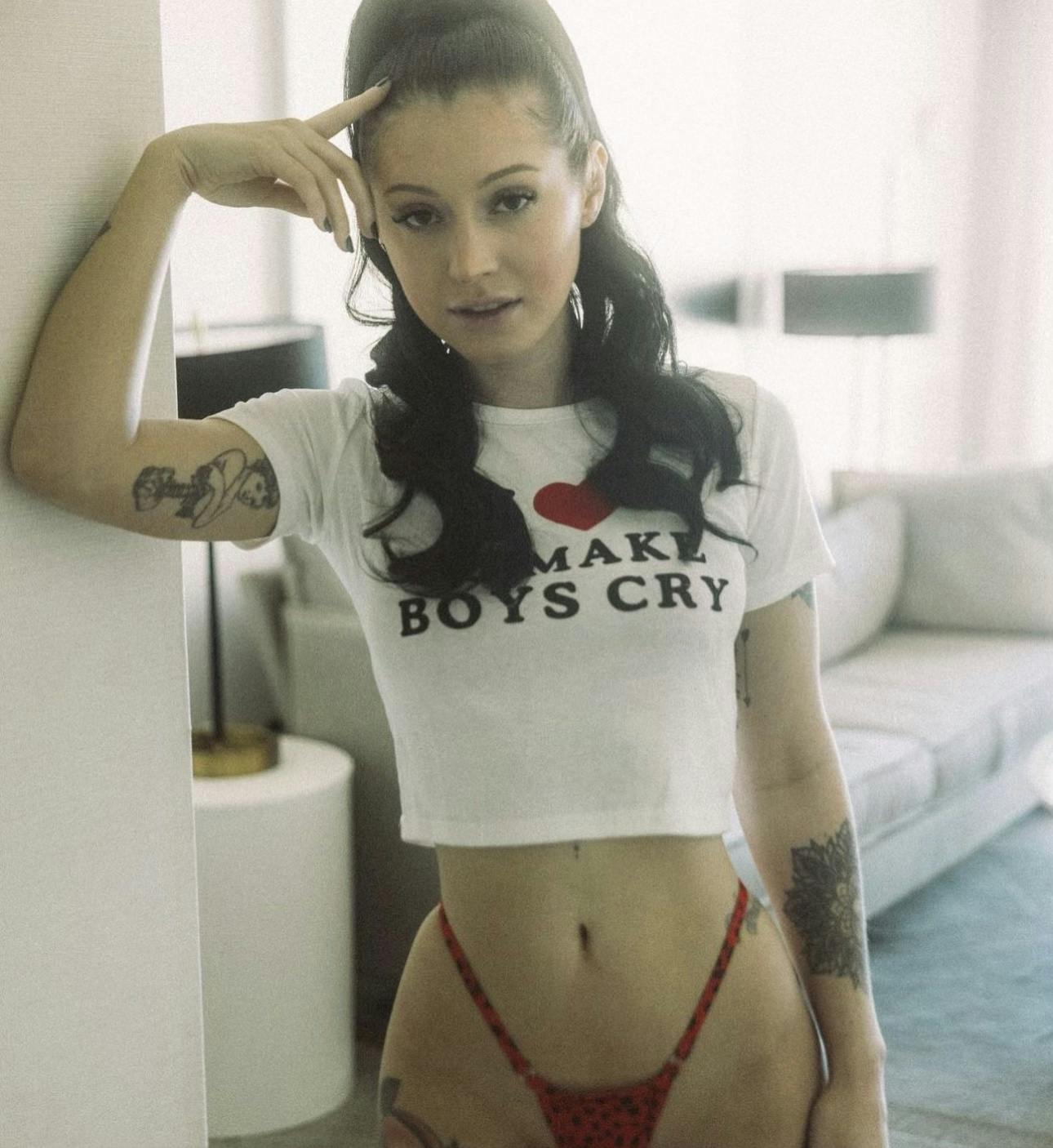 PornCrush: Do you remember the first time you saw any sort of adult-related material? A magazine? A video? 
Raven:  I was with a friend, and we were being trolls and ended up on some random website. We were teenagers and thought it was funny. I didn't even comprehend it. About two years later we started watching it more. The first time I actually (got aroused) was from a girl-girl video. I really enjoyed it. I still find that interesting to this day, because I've always dated men. But yet that was my first choice when I was scrolling—a video with women.
PornCrush: You mentioned having the same boyfriend throughout high school, but did you have a phase in your life where you really explored your sexuality and hooked up with a lot of people?
Raven: I've gone through a lot of phases in life. I had a lot of points where I was in monogamous relationships, and we would end up breaking up and then I would have a little 'single' phase. Those 'single' phases are when the crazy shit went down. I remember the restaurant I worked at shut down during quarantine and everyone was out of work. I definitely fucked a few of my co-workers around that time. We had this select group of us that hung out for months right before everything locked down. There were a couple of guy friends that I was definitely hooking up with.
PornCrush: You know, even though I'd been hearing your name for months, the first time you really caught my attention was on Ryan Hussie's podcast, "Turned On"—which is a damn good podcast, by the way. You told a story about hooking up with someone in a parking garage.
Raven: Yeah, it was on the top level of the parking garage. I was in Nashville. It was a coworker, but he was also my boyfriend at the time.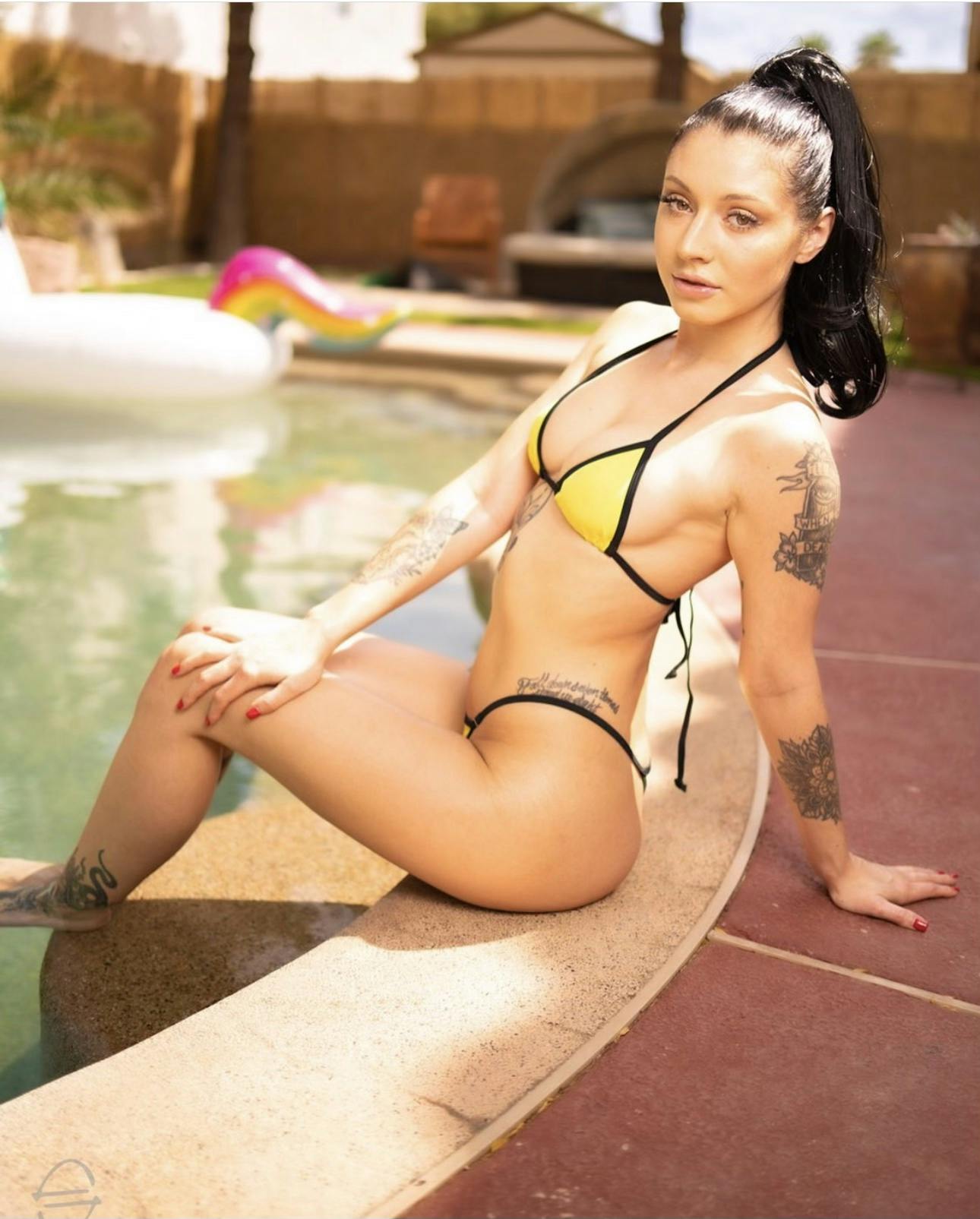 PornCrush: So were you in the car or outside of it?
Raven: It was on the side of the car because there was no one up there. It wasn't like super late, but it was like after we got off of our shift. So I would say probably 10:30 or 11 at night.
PornCrush: Still early enough to have that risk factor, which makes it hot. So … when you finally decided to make the leap into mainstream porn, how did it happen? Were you dabbling in OnlyFans and ManyVids first? Or camming? Take us through the process.
Raven: It was very slow. I remember when I first started nude modeling, my friend and I discovered Patreon. That was the first platform I used and I was like, wow, you can actually make money from doing this. At first I just thought it was fun. I was just intrigued by it. And then I found out about OnlyFans in 2019 or 2020.
It was right before the pandemic hit and I hopped on that train. So that was super helpful. Then like I did a few small collabs, little things like that. And then this year, I started doing (studio porn) full-time. A few companies hit me up. I thought it was a joke at first. I was like, 'How did you find me?' It sounded too good to be true. But then I shot for one of them and it ended up being legit. That's when I realized, 'Wow, I could really do this.' Then I started looking at agents online.
PornCrush: There are definitely some good ones to choose from.
Raven: A few had hit me up throughout the years (when I was modeling), but I wasn't ready yet so I never followed through. I started looking at East Coast Talent. I applied online and never heard anything. But then they found me on Twitter. It was pretty cool. Perfect timing. I got on the phone with them and I resonated with them the most. I like how they run things. I've been with them since February and everything has been really good.
PornCrush: Everyone always wants to hear about a girl's first scene. What was yours like? Did you have a lot of anxiety?
Raven: I've always been a little bit of an anxious person, just naturally. But I was also really excited. I knew I was around good people. They were good at making sure I felt comfortable, which helped a lot, too.
The first scene everyone probably saw was for Exploited College Girls. Another one of my firsts was for Braless Forever. They're awesome. I was more nervous before I got there. Once I get to a location and talk to everyone and figure out how things are going to go down, I feel 10 times better.
PornCrush: I know you've only been shooting for five or six months, but how much of a surge in momentum have you felt here recently?
Raven: It's been exciting. It's really fun just because I feel like I'm a very hyperactive person. So I need something to focus my time on. So I like being able to consistently shoot every month. And if there's ever a month where mainstream shoots are slower, I can pick up photo shoots or collabs or whatever other stuff I'm trying to do at that time. I like that it's given me more freedom to do what I want, to have my own schedule.
PornCrush: Yeah, it's a nice little life right now; I've gotta think, without question. Are there times when you get a script and you think, 'This is the scene for me,' or 'This is gonna be a good day.'? Where do you think you truly flourish and do your best as a performer?
Raven: I've definitely had a few scenes where I'm like, 'Oh, when that comes out, that's going to be like, like really good.' One that recently came out … the whole outfit was purple. It literally felt like I picked it out myself, but they picked it out. Even my nails. It was all perfect. It was for Cherry Pimps and the vibes were really good.
To be honest though—and I'm not just saying this—I don't dislike any of the scenes I've done. There are definitely some where I'm just like, 'Oh I felt so confident that day' and like it definitely shows in the video, for sure. The more confident I feel about my hair and makeup that day … it really helps, if that makes sense.
PornCrush: It's interesting to hear you talk about your outfits and the way you look, even dating back to when you were in your late teens and early 20s—before you got into porn—and trying to dress really sexy. I can tell that's a big thing for you. What type of stuff did you wear back then?
Raven: I just really like to be really comfortable. But I also like to dress cute. So mainly crop tops and stuff like that. If it's hot outside, especially now that I live in Vegas, I'm in barely any clothes a lot of the time because I just want to be comfortable. So yeah, mainly crop tops more than anything.
And also, I don't wear bras, like, ever. That's kind of my thing. It's just a crop top, no bra and comfortable shorts or high-waisted jeans or something that makes my butt look good.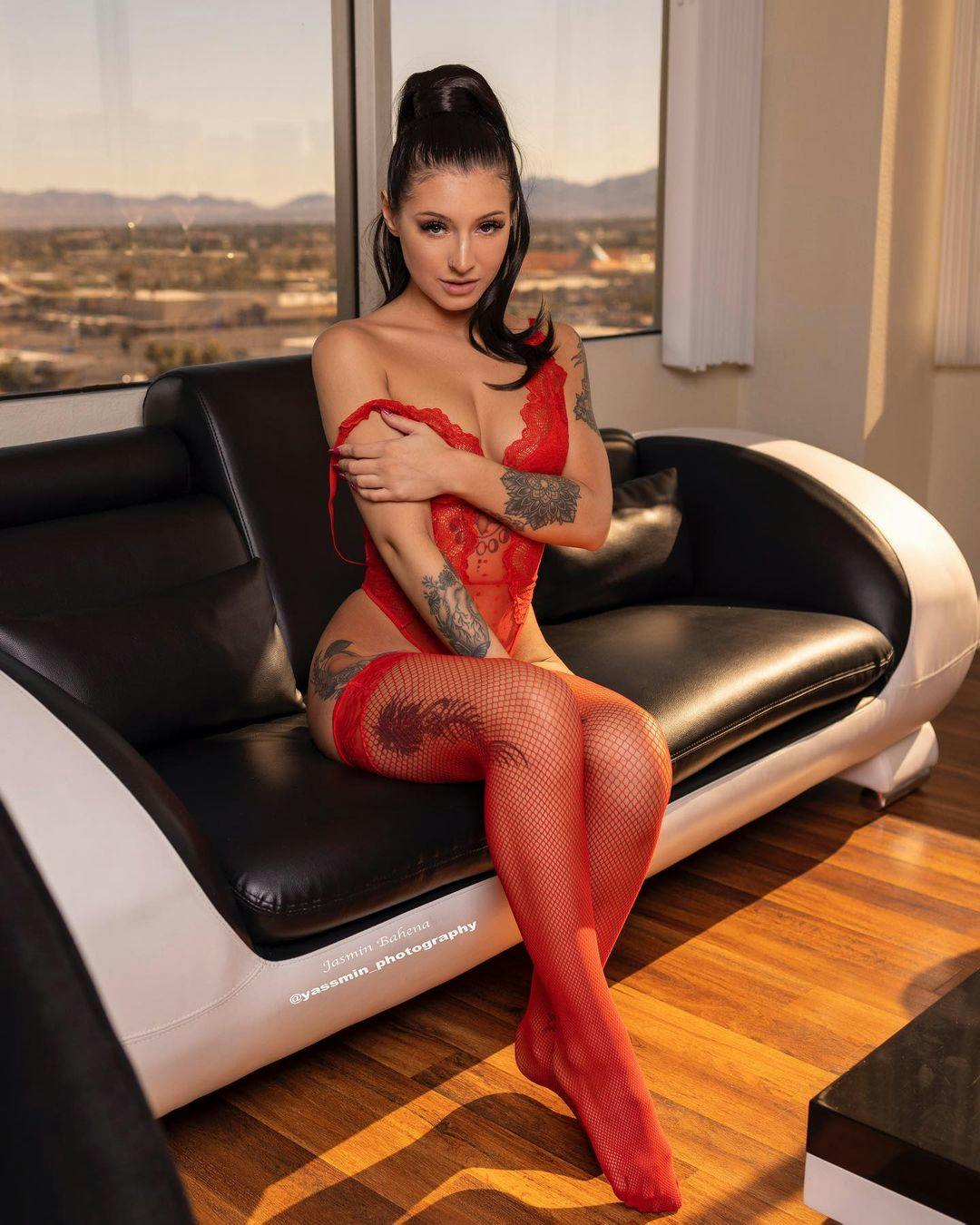 PornCrush: I definitely think you've been taking some of the top still photos, some of the top pretty-girl photos, in the entire industry the past few months. Hopefully some of your new fans reading this will check them out on your Twitter and Instagram.
Another thing about you is that you're tatted up. I mean, nothing crazy, but you do have a good amount of tattoos that I think look great. Still, tattoos are a polarizing topic in the industry. Have they caused you any problems when it comes to losing scenes or not getting booked for certain things.
Raven: A lot of the companies that have shot me have told me they really liked them. There's maybe a few that don't prefer tattoos, but not too many. I mean, there's definitely been some backlash but I feel like there are pros and cons to everything. So at the end of the day, I'm me. If they want to work with me they will, if they don't they won't. That's just kind of how I look at it.
PornCrush: What does it feel like to have so many men fawn over you and lust after you?
Raven: It's cool, it's interesting. It's a rush sometimes, like when something new comes out and seeing their reactions and stuff … it's cool. It's a weird mental thing, too, you know. But you get used to it after a while.
PornCrush: What does it do for your confidence though? I mean, I've gotta think it makes you feel pretty good.
Raven: There have probably been days when I haven't felt my best and then someone sent me a really nice message and I (felt better).
PornCrush: What's a compliment that you like receiving? I mean, besides just, 'you're hot' or whatever, which I'm sure you're told all the time.
Raven: I've gotten a few people who have watched my stuff that say my personality shines through, or like something along those lines. Those comments always make me happy. Or like, like maybe a compliment about my smile or my eyes or my tattoos.
PornCrush: One of the first questions people ask new girls is, "When are you going to do anal?" But you actually did anal pretty much right off the bat. Is that something you'd done a bunch in your personal life? What is your comfort level with it?
Raven: It was already something I was pretty comfortable with, to be honest. I already knew that wasn't an issue for me. So it wasn't too big of a deal for me. I just love my anal scenes. I feel like some of my anal scenes are my favorite.
PornCrush: Do you set goals for yourself as a performer? You said you've always kind of been spontaneous, that you take stuff day by day. But when it comes to your career, what are you thinking right now?
Raven: I do have a lot of things I'd like to accomplish. I always evaluate. I like to go month to month, and I try to look back at how much I'm growing each month and see how much my decisions are impacting things and paying off.
My thing is, I just want to keep momentum going and not burn out after a few months or years. I'm in this for the long haul, you know. I'm all about making this a lasting thing for myself and doing things the right way.
PornCrush: Right, so you're just going at a steady pace, not overdoing it, not shooting six scenes a week or anything crazy.
Raven: Yeah, a few months back, I almost felt like I was burning myself out with the amount of collabs I was taking on and stuff like that. So now it's all about balancing stuff and making sure I don't neglect myself—or my personal life, either … like time with family and friends and stuff like that.
PornCrush: Collabs are tricky. I saw you tweeting about that the other day. Sometimes guys just don't send the content, or they take forever. I'm just it's tough to monitor who is good to shoot with, and who isn't.
Raven: Yeah, you've really got to vet people and ask a lot of questions. That's what I've learned before agreeing to anything up front. A few months back I was probably more susceptible to stuff compared to how I am now. I think I'm a little bit more apprehensive. Not necessarily in a negative way. I just like to protect myself. I ask a lot more questions.
PornCrush: OK Raven, let's do some quick pops.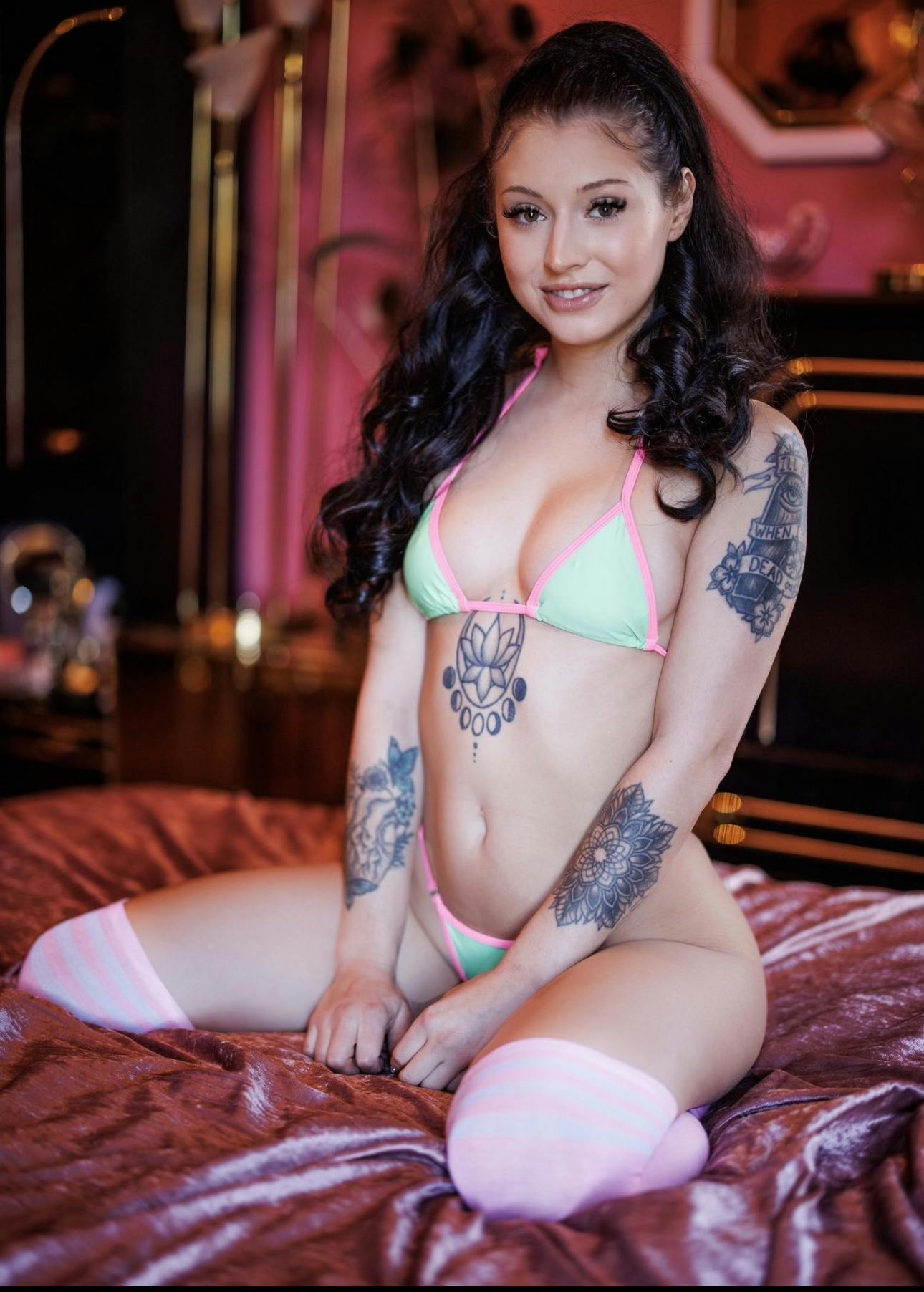 Quick Pops 💦
PornCrush: What's your biggest turn-on in a guy?
Raven: It wouldn't really be anything looks-wise. I feel like it would be if they're super ambitious and they like taking care of the woman.
PornCrush: What about a turnoff? Is there something a guy can do where you'll just be like, 'Oh, he's not for me'?
Raven: Guys that won't work. Guys that don't have anything they're passionate about.
PornCrush: What's your biggest sexual turn-on? What's something that can happen that will really help you orgasm and get off? Something that'll put you over the top?
Raven: Eye contact and dirty talk. The more intimate it is, the more I'm into it. I like guys who moan. That helps me get way more into it.
PornCrush: What about positions? Do you have a favorite sexual position?
Raven: I like doggie a lot, but I also hate that you're not looking at each other. But I do love that position. I don't know, I'm basic. I like missionary just because kissing and like, you know, just being close to each other.
PornCrush: If you're going to masturbate, do you have a certain type of porn you watch?
Raven: I actually haven't gotten off to any porn other than my own in the last four or five months.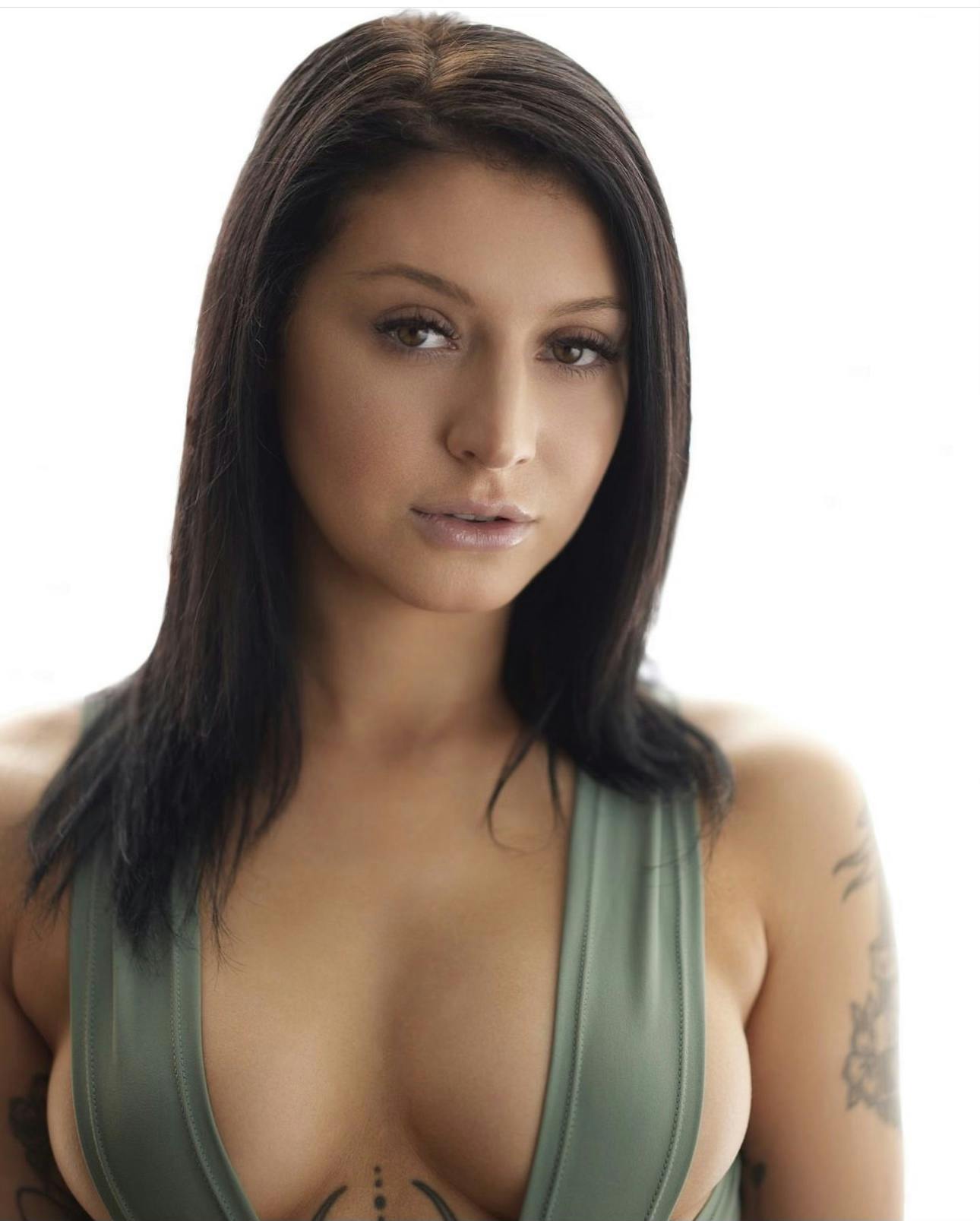 PornCrush: When you watch your own stuff, are you critiquing yourself and saying, 'Oh, look at this angle I took,' or 'I could do this better.' Why are you watching it? Because it makes you horny or because you're studying it?
Raven: I've had times where I do look back at stuff and I'll pay attention to certain poses and stuff like that for future reference. But I also do it for enjoyment sometimes. It turns me on more because it's like, 'Oh, that's me.' 
PornCrush: This site is called PornCrush, and I know you've gotten to work with a lot of good people so far. But are there performers that you have your eye on that you'd like to get a shot at someday, guy or girl?
Raven: The list kind of goes on forever. I absolutely adore Ryan Reid. I think she's so cute and I love her tattoos. I'd love to get to work with her on a studio shoot or a collab one day, or just anything involving her. I feel like she would be super cool. I love Jill Kassidy. I think she's beautiful. Aidra Fox, Keisha Grey, a lot of girls.
A lot of guys too, though. I already shot with Isiah Maxwell. I adore him. I'd work with him any day. Or Tyler Nixon. I really do want to eventually work with Chris Diamond, as well. We've talked a little bit, so hopefully we'll be able to make something happen.
PornCrush: What's the strangest OnlyFans request you've ever received for a custom video?
Raven: A lot of the ones on OnlyFans aren't too weird, but the ones on Twitter sometimes are a little out there. I got one on Twitter last year from a guy wanting a foot fetish video. I was like, yeah, I can do that. And then he asked for this ASMR thing of me crushing crawfish with my feet. Like, live crawfish. I ended up not doing it, obviously.
I was like, 'That's one request I'm not going to be able to fill.' He came back multiple times, too. I was like, 'Oh, there's the crawfish guy again. He's back.'
PornCrush: What's something that you really love about the porn industry and being a porn star?
Raven: I like that it's given me a platform where I can enter as who I already am. I don't need to change who I am. It's kind of like a come-as-you-are kinda thing, as opposed to a lot of places. So I like that I don't have to suppress certain parts of myself that a lot of other jobs would probably ask me to suppress. I can dress how I want a lot of the time. I can show off my personality. I get to pick and choose what I do, my boundaries. So I definitely love the freedom, especially compared to other jobs I've experienced.
PornCrush: Is there something that you wish was different? If you could change something about the industry, what would it be?
Raven: I would just hope that it keeps getting more accepting of different looks. I feel like there's so many gorgeous people in the world that haven't been showcased enough, people from different walks of life with different looks. I would love to see more of that.
PornCrush: As a self-proclaimed foodie, what's it like living in Las Vegas, where visitors are probably always hitting you up for restaurant recommendations. Where do you send them?
Raven: I love sushi and stuff like that, so I'll order from Sushi Fever a lot. Or Thai food. There's this one place called Natalia's Secret Kitchen that's really good. And there was this one restaurant I went to in the Westgate Casino called EDGE Steakhouse that was amazing. So good!
PornCrush: Yeah. Westgate's an underrated hotel. I like the Westgate. I'll venture over there to place a few sports bets every now and then. Do you spend much time on The Strip going into casinos and stuff?
Raven: No, if I get invited to something, I'll go. But I stay in my little corner for the most part.
PornCrush: You've said you're big into traveling, too. What's a vacation spot that you like?
Raven: I love Mexico. We went to Cancun and we also went to Cozumel. That was super fun. I really want to go back to Cancun.
PornCrush: You stay in such good shape, physically. And I know a lot of porn stars will tell you, it's tough maintaining that figure. Do you spend much time in the gym? Does it come natural? How do you maintain that physique?
Raven: I have always been very on and off with fitness. I'll be doing really good for a while, and then I'll get super busy and kinda feel like I'm slacking off on it. So I'm trying to get back into the groove. I definitely enjoy working out. I feel like I can actually tell a difference in my mood like when I'm doing it
But then I also have a high metabolism. I've always been naturally slim. Now my thing is that I want to get more muscle, you know? More tone.
PornCrush: Last thing, any pets that we need to know about? A lot of times in these interviews, people always want to talk about their dogs or cats or tarantulas or whatever they may have. 
Raven: Yeah, I actually am a cat mom. I have five cats. One of them is old as hell. I got him in fifth grade. We found him. And now I'm in my mid 20s and he's still alive.
PornCrush: So when you wake up in the morning, are they all five in bed, all surrounding your face and body? Or are they just sleeping various parts of the home?
Raven: They all have their own areas, or like sometimes they will come in and out of my room. But mostly they all to go to their own little areas. There are cat beds all throughout my house. Or they sleep on window sills and shit.
PornCrush: Okay Raven, I really appreciate you doing this. And like I said, we've been wanting to get you on the site for a long time. You're absolutely crushing it. I definitely want to check in with you in a few months to see how things are going. But thanks again for your time.
Raven: Of course. Thank you.