It was a phone call Serena Hill never wanted to make.
Earlier this week—just a few days before her anticipated debut scene for Blacked—the surging porn newcomer had to cancel for health reasons.
Hill didn't have an STD.
She didn't test positive for COVID.
And she wasn't suffering from flu-like symptoms.
Instead, it was a pesky spider bite—on her butt cheek, no less—that kept Hill from shooting with Anton Harden for Blacked, Vixen's top-grossing production banner.
"I've been spending a lot of time in the backyard because it's so nice here in LA," says Hill, a Florida resident who is in Porn Valley this month to shoot. "The weather is amazing compared to home right now. And I don't know … I guess something got into my pants.
"I went to the doctor and got some antibiotics. They said it's definitely a spider bite. I was so upset. Just my luck! I hope we can reschedule."
The chances of that happening seem high.
Hill, a silky-skinned 25-year-old with an all-natural body, has created quite a buzz since entering the adult industry in January. She's shot nearly 30 scenes for studios such as Team Skeet and Bang Bros, earning high praise from directors and colleagues alike.
"There's nothing not to like about her," says Donnie Rock, who has worked with Hill multiple times. "She shows up on time, has a great attitude and an incredible body. And most important of all, she wants to be there. She loves sex."
PornCrush caught up with Hill earlier this week to talk about her journey into the adult industry, her sexual likes and dislikes—and much more. Hope you enjoy.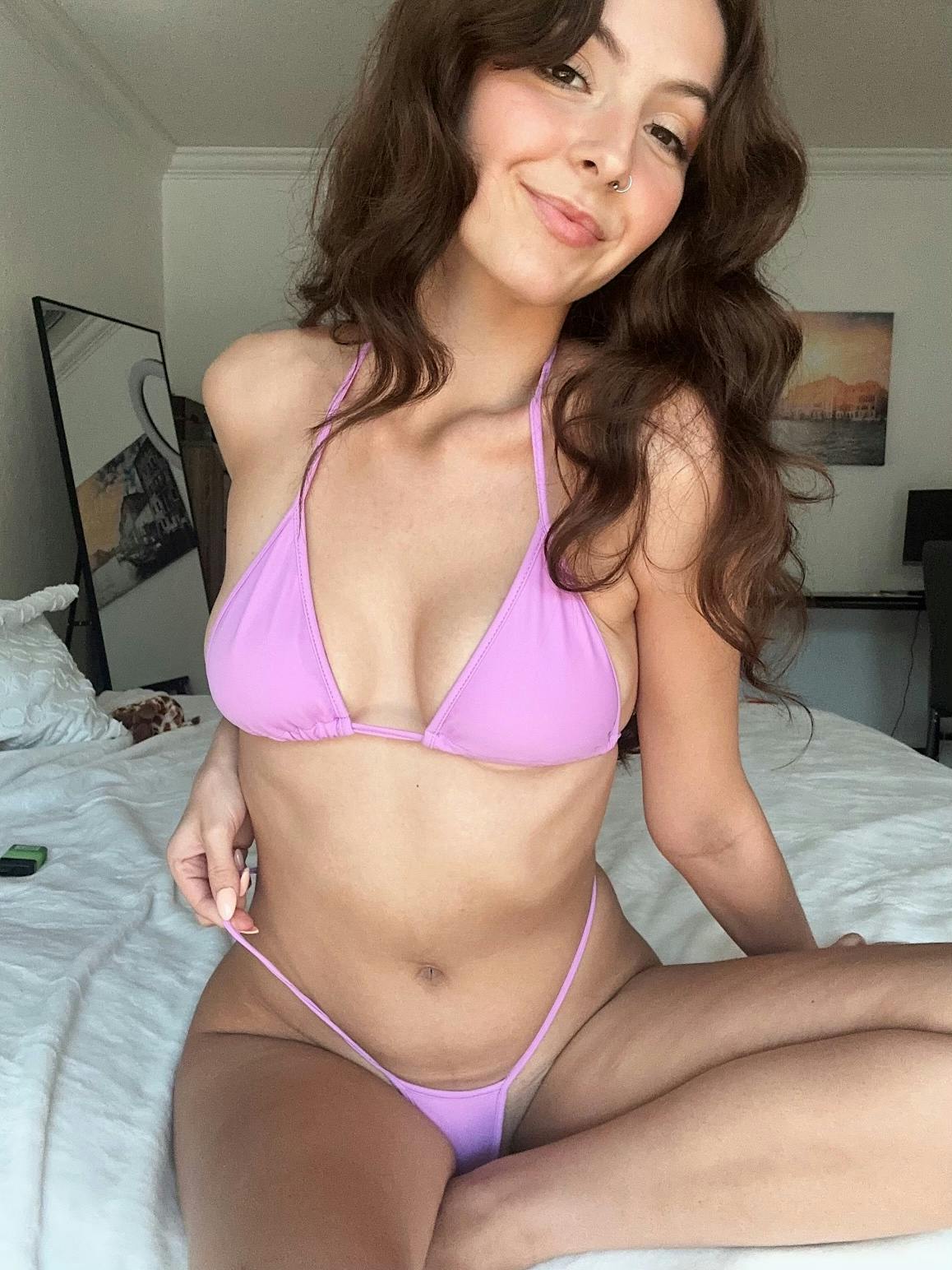 PornCrush: Tell us a little bit about your upbringing.
Serena: I wasn't born in Texas, but I was raised there. And it was kind of a chaotic family. I have five siblings and I'm right in the middle. I grew up acting and going to school.
PornCrush: You shared with me offline that acting was a passion of yours at a young age. How did that start?
Serena: My mom just threw me an acting class when I was five. I had never even thought about it. She just thought that I would be good at it and I ended up loving it. We signed with an agency and I took classes at the agency. And then they also did competitions and things.
PornCrush: How does an acting competition work?
Serena: There's a lot of people usually, but the judges are usually other agents, maybe agents in LA or something that would wanna work with you. So they see you perform and they're just like, yeah, I would work with them.
PornCrush: What types of opportunities did that lead to?
Serena: A lot of the opportunities come when you're younger, definitely as a kid. So I almost signed with some agent in LA and auditioned for a movie, but it didn't end up happening. So I just lived a normal life and did theater and community productions during middle school and high school. I've performed in front of thousands of people.
My freshman year of high school, I had to get my throat slit by my mom. It was very dramatic, so that was fun to to perform. Special effects, you know, fake blood. All of the props and crazy things that go into a performance.
PornCrush: What was it that you loved so much about acting?
Serena: I like the performance. I like to pretend to be someone else. I think that's what I liked the most—really getting into a character.
I'm definitely an exhibitionist when it comes to, like, fucking. So this has been fun to kind of get to like be on a (porn) set and have a script.
PornCrush: How has your background helped in the adult industry?
Serena: I memorize things pretty quickly. Just showing up to set and learning all my lines right then, that's pretty easy for me. I've also done a lot of improv in acting growing up, so that's a big part of porn sometimes. I think people like to work with me because, you know, I get it done.
PornCrush: Were there signs, maybe in your teens or early 20s, that the adult industry was something that might be in your future?
Serena: No, I probably wouldn't have predicted it. This boy in high school said one time when I told him I wanted to be an actor, he was like, yeah, maybe a porn actor. So I don't know, I guess someone else predicted it. But I've definitely always been very sexual, so once I got older, I realized that could be an option for me.
PornCrush: What happened when you turned "older," maybe around the age of 18?
Serena: I definitely started hooking up a lot. I was like, 'I'm 18!' I had sex already, and now it was time to just explore and figure out what I like.
I mostly just slept with people I worked with. And also Tinder, you know I did Tinder when I was like 18 and I've done dating apps, hookup apps, whatever, on and off over the years.
PornCrush: So were you working at a restaurant?
Serena: Yeah, I was in the service industry for like seven years. So from when I was 17 to just recently, like last year. Oh, I mean, restaurant people are horny. So there would definitely be people that would hook up behind the ice machine or something.
PornCrush: Really? What would happen?
Serena: I mean, I never saw that, but people would tell stories, so. I mostly would just hook up in the car in the parking lot outside my job. That was when I was pretty young.
PornCrush: What about Tinder? What kind of success did you have there?
Serena: Tinder, Bumble, all that, it's pretty easy for me. For most women there's a lot of options. There were a lot of men. You just had to choose one.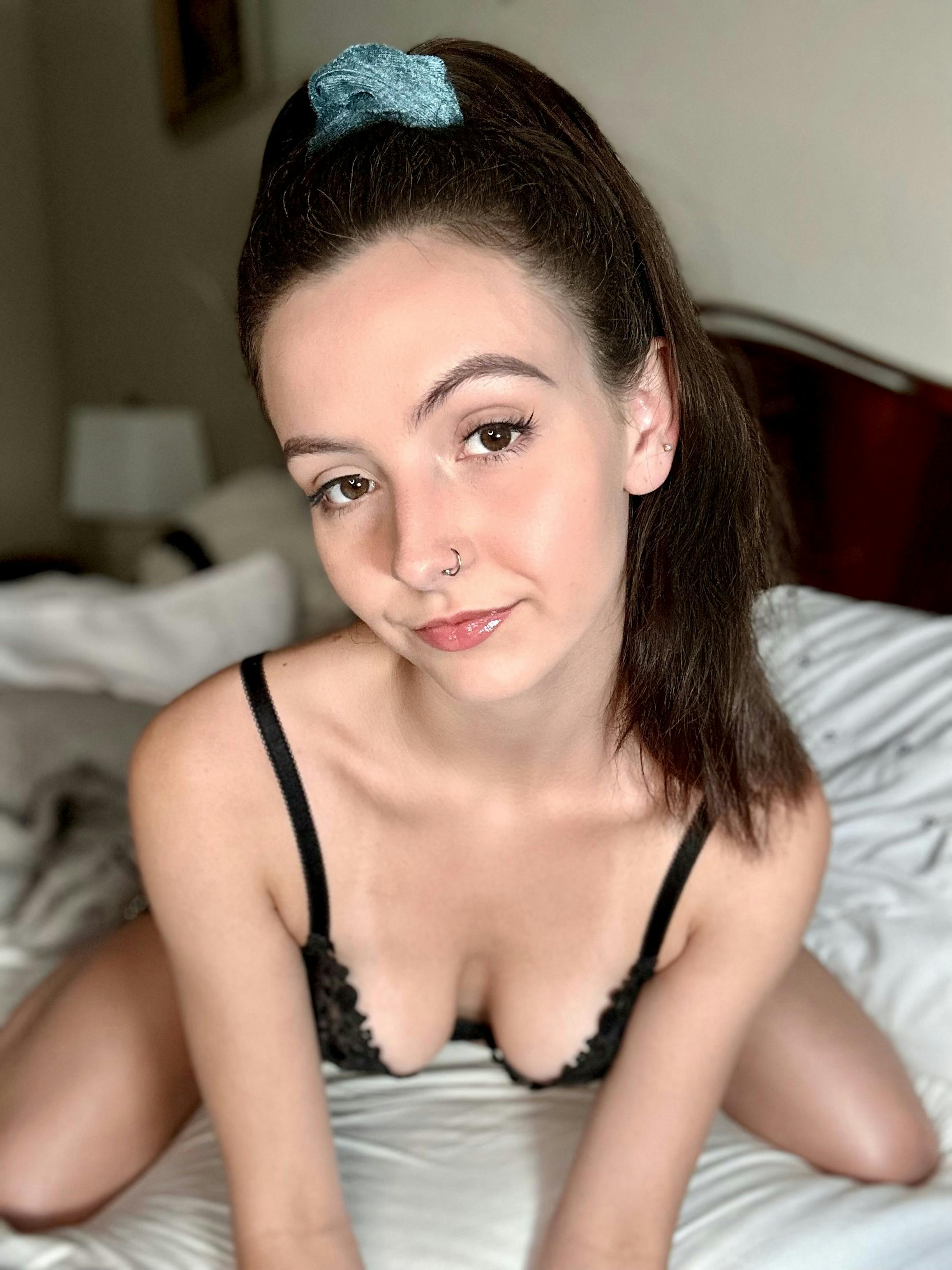 PornCrush: Any Tinder horror stories?
Serena: Not really any horror stories. I've never met somebody that was a horrible person or they didn't look like their photo. There was one who just came over randomly and talked to my roommate and we all just sat there. But other dates I would say I definitely have hooked up with all of them.
PornCrush: I know you eventually decided to launch an OnlyFans account. What went into that decision and how did it go once you got it up and running?
Serena: Well, when I was 19, I started selling nudes and stuff on Twitter. So once OnlyFans really started getting popular, I made one just to kind of like, I don't know, make some extra money every now and then. And then I eventually decided I wanted to do sex work full-time. I've done it on and off over the years and never really fully committed to it. Until now.
PornCrush: What type of sex work?
Serena: Selling nudes, sugar daddies, you know, sending them nudes. They send me money and things like that. Mostly all online. I've never really met up with anyone. There was I think one person I met up with in person. He paid me a hundred dollars to watch me suck my boyfriend's dick in a bathroom. He was into the in-person-watching kinda stuff.
PornCrush: What were your nudes going for? Like what do people sell nudes for on Twitter?
Serena: I guess it depends. Some people would do bundles, you know like 15 photos for $30, or something like that. Now I charge a lot more for custom videos. Those are always fun. 
PornCrush: Yeah, we'll get into that here shortly. But, you know, eventually, though, within the last year, I think you said in January, if I'm not mistaken, you decided to make the leap into studio porn. What happened that made you take that step?
Serena: Well, I met a porn director named Ike Diesel. He's been in the industry for like 13 years. I was just looking for people to collab with, and we met up and he just told me I should do porn, He said I'd be great. He called my agent and was like, "Hey, you want her?" I was definitely interested. 
PornCrush: Everyone has a memory or a story about their first scene, their first time on set. Can you go through your first day with us, you know, when you shot your first scene, and what you remember?
Serena: Well, I had a casting couch scene, but that one's more, you know … you just show up and you get fucked on a couch. So my second scene, that one was a longer day for sure, and more cameras, cause it was a VR shoot, too, so a lot goes into those.
It was fun, I did a cosplay and I had to act for the first time in years. It was very interesting, a pretty big challenge for what I consider to be like a first official full scene. But it was very fun, I had to wear a wig, oh my god. A wig, wardrobe, got my makeup done for the first time, it was very, it was very cool.
PornCrush: You felt like a princess, I bet. They were treating you like a celebrity. What was that like?
Serena: Yeah. And I got some dick. It was a great day.
PornCrush: That's the cherry on top, I guess, right? What about nerves and anxiety and things like that go along with having to fuck in a room with tons of people standing around and, you know, being on camera?
Serena: I like fucking in front of people, so I don't really care too much about that. I guess I get a little nervous, you know, just because you're worried about doing a good job. But other than that, I'm very comfortable.
PornCrush: Are you the type that watches your stuff and really critiques yourself once it's out?
Serena: Oh yeah, I watch all my stuff. I just sit on Twitter and look at photos, videos. My boyfriend makes fun of me. He's like, are you watching your porn again? I'm like, yeah. I look good. It's hot.
PornCrush: You have such a beautiful, natural physique and body. Do you think that not being enhanced or tatted up is playing well in your career? I know a lot of fans like that natural look. How have you sensed that that's been a benefit to you?
Serena: It definitely has been a benefit. I mean, everyone in porn really needs to take care of their body. You have to. Because you're around a lot of people. Some (fans) … they like natural, I also think they're going to accept and like people who have had stuff done. But people definitely appreciate a natural body, too.
PornCrush: Do you put a lot of effort into staying fit and maintaining your physique?
Serena: I try to eat healthy. I don't really work out, I need to, because you just feel tired, you know, when you don't work out. So I need to start doing that. But I mostly eat healthy, I drink a shit ton of water. That helps a lot, especially, you know, with keeping things hydrated.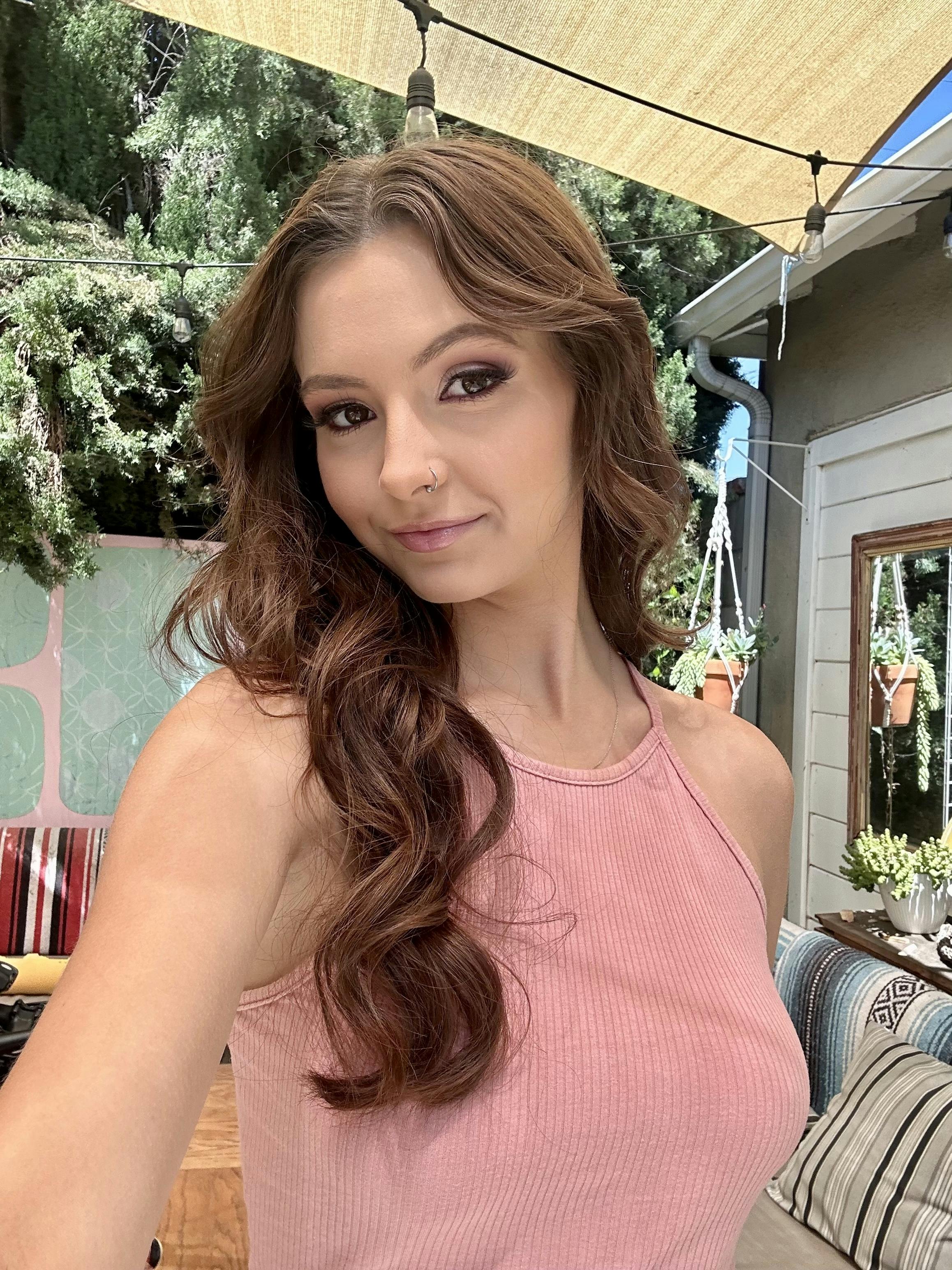 PornCrush: Tell me a little bit about the work you've been getting. You said you shot nearly 30 scenes now since January. How pleased are you with how things are going?
Serena: A lot of Team Skeet, Bang Bros … I have enjoyed all of my scenes. I love what I do. I was supposed to shoot for Blacked tomorrow but I got a bug bite, a spider bite (on my ass). I've been spending a lot of time in the backyard because it's so nice here in LA. The weather is amazing compared to Florida right now. And I don't know … something got in my pants.
I went to the doctor and got some antibiotics. They said it's definitely a spider bite. I was so upset. Just my luck.
PornCrush: Have you grown close with anyone in the industry, people that you may lean on for advice or just or just girlfriends hang out with a lot?
Serena: I think a lot of the girls, yeah, Anytime I meet a girl on set, we're always trading socials, getting each other's numbers. It's nice when we travel, too, because you have someone to see whenever you go to a different state. I've met a lot of girls from other agencies too, which is nice.
PornCrush: When you look ahead, maybe for the rest of the year, or two or three years down the road, what are some goals that you set for yourself and things that you'd like to accomplish?
Serena: I'd like to work in LA more for sure. I mean, everyone says there's a lot of shoots here. So I mean, I'm here right now and hopefully my situation will clear up and I can shoot again. I'd like to work with the big companies in LA.
I mean, Brazzers … I don't know, I'm so new. Do I even have a Brazzers look? Is there a Brazzers look? Because I look very young, I play a stepdaughter and a stepsister quite a bit. It's fun. You're just having sex at the end of the day.
PornCrush: I envision you working for companies also like Adult Time and some of their brands like Pure Taboo.
Serena: I still need to learn like a lot of companies because honestly I never really watched a lot of porn before doing this. I've just been a sexual person and masturbated to my imagination. My sex stories, my real life sex stories. I just masturbate to them. I have plenty of material.
PornCrush: With that being said, let's jump into the fun segment of this interview: Quick Pops.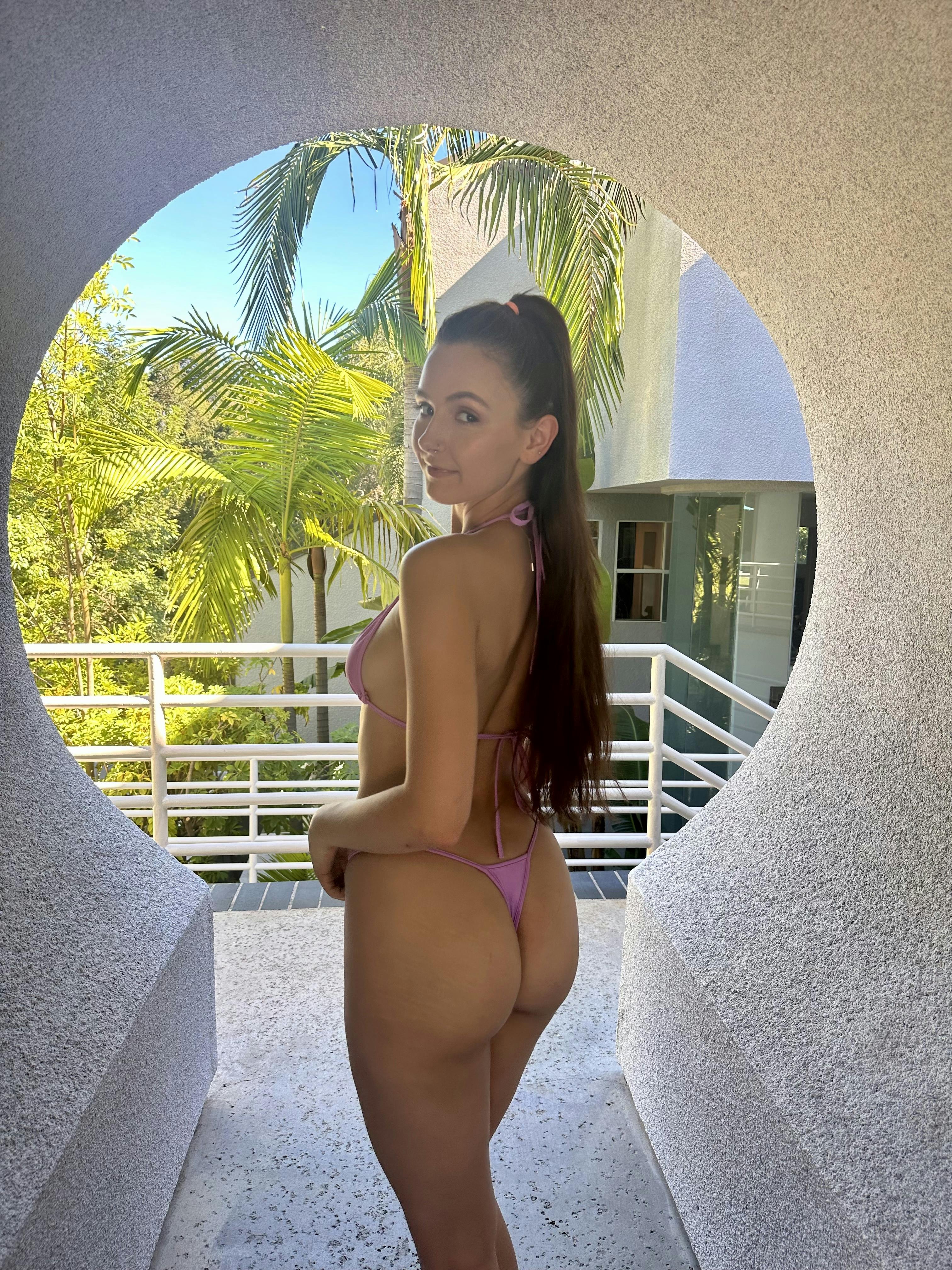 Quick Pops 💦
PornCrush: Let's say you were single; what would be the key to landing a date with Serena?
Serena: Money. I don't know, take me to dinner. Be an interesting person. I'm not very picky. I'm very easy actually. Maybe not for a long-term relationship, but for just going out with someone. I like to get to know people. So, take me out, treat me well. I'm pretty easy going.
PornCrush: What about turn-ons in a guy? It can be physical or something else?
Serena: I like glasses a lot. I like a nerdy guy. I'm not picky when it comes to what people look like. Personality-wise, I definitely like humor. So if you're funny, you know, I think any girl just immediately gets horny when a guy makes her laugh. At least for me, so.
PornCrush: What about turn offs? Things that guys that can do that where you're just going to be like, no, thanks.
Serena: I think everyone says hygiene, you know, like not taking care of yourself odor-wise. But other than that, turn-offs like again personality-wise, just people who are entitled or just rude. I'm a really chill person. I don't get angry about a lot so when people are very aggravated I'm not into it.
PornCrush: You said sometimes you masturbate to all the sex stories in your head. What's one that stands out that might be a go-to for you on a lonely night?
Serena: Usually it's, you know, whatever is currently going on. Whoever I'm fucking or my last time I had sex. Maybe the first time I ever squirted, because it was really hot, but also I didn't know what happened. I was like, sorry.
PornCrush: Wow. You didn't know what happened?
Serena: We were in the bathroom and he's fucking me on the bathroom counter, so like that was pretty hot, and then I just squirted everywhere and he was really into it so I was really into it. I didn't even know that was a thing at that point. That was years ago.
PornCrush: Earlier when we talked, you said, "When I turned 18, I turned into a whore." Was there a hookup or maybe a crazy encounter you had, maybe  in some risky place, as you were meeting random guys that stand out.
Serena: I've had sex in a lot of hotel rooms, that's for sure. But yeah, hooking up in the car before or after work. I almost had sex on a golf course. That was supposed to be my first-time story, but it didn't end up happening. All the other times, I don't know, I feel like I've just fucked anywhere in the house, on the floor, the bed, the couch, the shower.
PornCrush: What about threesomes? Did you ever have any of those before you got into the industry?
Serena: Not really a full threesome. I went skinny dipping with my boyfriend and our friend and one thing led to another and we kind of started making out with each other. He fucked me a little bit and he didn't fuck her and I fingered her. But that was pretty much it. And then we went inside because someone was watching. It was really late. It was like five in the morning so we were like, you know, let's just go to bed. We're a little drunk.
PornCrush: Did you have much experience with females before you got into porn and what are your thoughts on it?
Serena: I had never fully had sex with a girl until porn. I mean, I knew I wanted to. I just never had the chance.
PornCrush: That surprises me. But now that you're having the opportunities to do it, are you into it?
Serena: Oh, of course. I love women. One of my favorite things about being in porn is being around a lot of hot women.
PornCrush: What do you like about being physical and sexual with a girl? What's the best part of it?
Serena: I feel like a lot of girls, if they're really into women, they know how to eat pussy. And I just love tits.
PornCrush: What type of porn do you watch to get off?
Serena: I have my go-to. I really like free use, so that's a go-to category. And then I would just say cum sluts. I like cum, I have a really big fetish for cum, so I just like seeing people have cum on them. Or on me.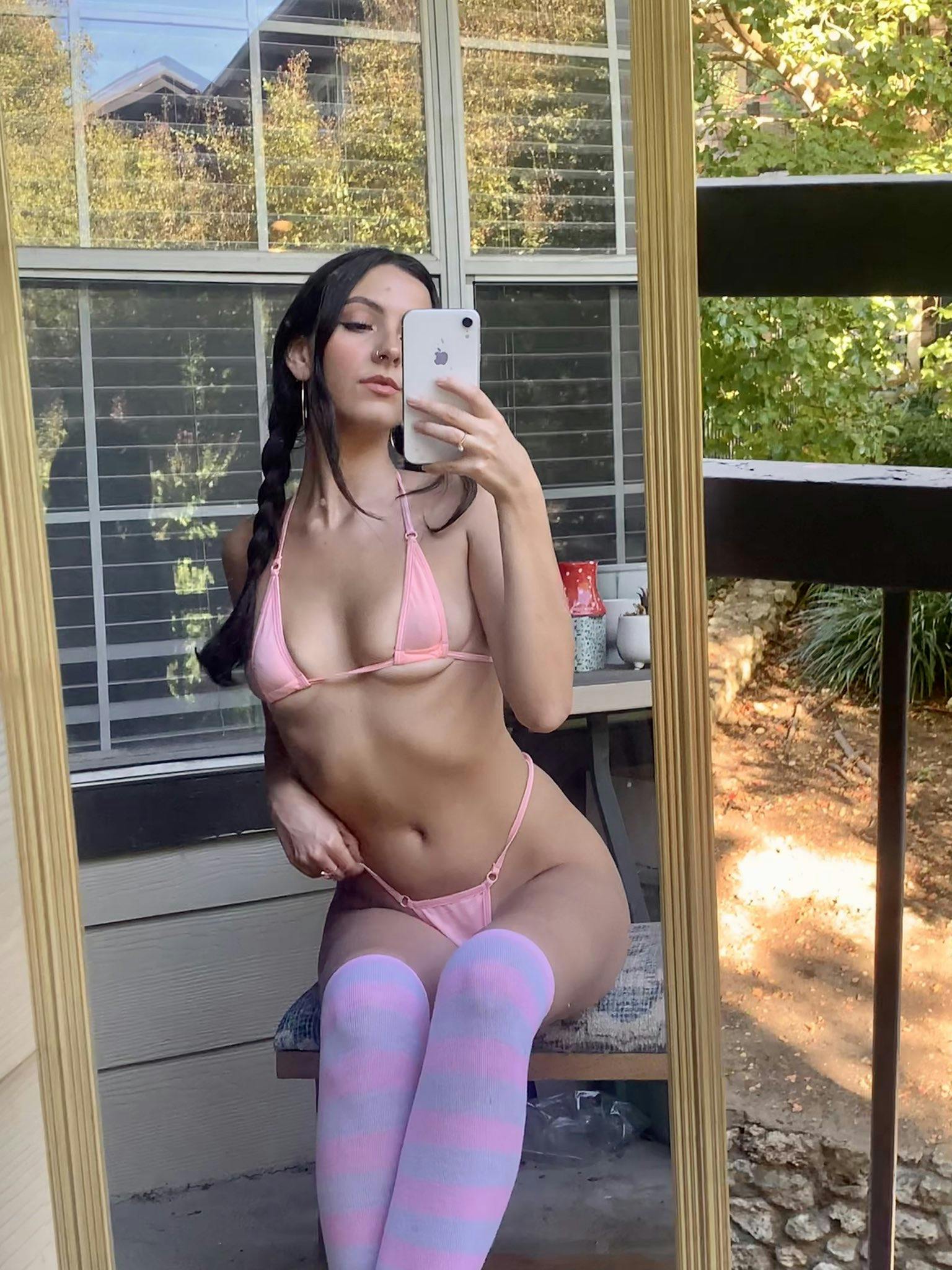 PornCrush: Is there something that puts you over the top when you're close to having an orgasm?
Serena: I would say cum. Thinking about cum is always gonna do it. But I can cum on command, like... I just do it, you know? Especially in scenes. I'll be getting fucked and rub my pussy and I'll cum right then and there, even after 30 seconds. Pretty quick. I love penetration too, so I can definitely come from that.
PornCrush: You told me you've had some sugar daddies in the past, but that you never really met many of them. How did that work?
Serena: No. I mean obviously they all wanted to meet with me, but I just, I don't know, I never went through with it. I didn't have any cute sugar daddies, you know? Like I love older men, but I have standards.
PornCrush: So you'd just befriend them and maybe have an online or a texting relationship with them?
Serena: Yeah, I text a lot, but you know, the one sugar daddy I had for the longest time, he was just always texting me like, "I love you, I'm in love with you." It was too much for me. I'm like, "You really don't know me, and you're not in love with me, I promise."
PornCrush: This site is called PornCrush and I'm sure that there's some people in the industry that you'd love to work with, maybe that you haven't yet. Is there anyone that you've kind of got your eye on as a potential scene partner down the road, whether it's a girl or a guy?
Serena: Kay Lovely. I'm obsessed with her. She's gorgeous. Alex Jones for male talent. He's pretty attractive. There's a lot of people, honestly. I would just fuck everybody. That's the goal of mine maybe, to fuck everybody.
PornCrush: Do you have a celebrity crush?
Serena: That one might be hard. I feel like the older I get, the more I hate celebrities. I like Lady Gaga a lot. She's maybe the only celebrity I like.
PornCrush: Outside of porn, what's the oldest guy you've been with?
Serena: Before porn, not too old, like 30.
PornCrush: Has having sex with guys in their 30s and 40s been awkward for you? Do you mind it?
Serena: No, 40s is my sweet spot. I think I've only had sex with one guys in his 50s.
PornCrush: There's guys in porn that are probably in their 50s. You don't even realize it because they look good and they take care of themselves.
Serena: Right, they look young, and I hear them say their birthday and I'm like, "Oh wow, I never would have even guessed that you're 60."
PornCrush: Have you had a particularly memorable day on set, where you left on Cloud 9 because things went so well?
Serena: Usually I'm walking away very hungry. But yeah, I would say the shoot I had this past Friday with Donnie Rock. It was a free use scene and I personally like free use, and I feel like me and Donnie have good chemistry so it was just fun, you know. I walked away feeling very horny.
PornCrush: Any horror stories from set? Have you had any terrible days?
Serena: Just one. There's one person who crossed a boundary of mine but it wasn't anything too dramatic. That just wasn't the best day, but the scene still went well, and honestly, I didn't even think anything of it until later on that day. So, nothing too bad. Everyone's been really great and very respectful.
PornCrush: Would you say you're a size queen, or do you care?
Serena: I'm not picky. I like dick and I will accept many sizes of dick, but I will say my pussy can handle a pretty big dick fairly well. So my pussy is a size queen maybe. She stretches pretty nicely. I'm surprised sometimes.
PornCrush: Are we gonna see you working with Dread or someone like that coming up? Would you be up for it?
Serena: I mean, honestly, I would love to. Maybe I just need to make that happen.
PornCrush:  What do you love the most about being a porn star?
Serena: Having sex. I can fuck really easily. I'm horny all the time, you know? But I like to act, too. I always like to act, so even though it's porn acting and it's not like the most high brow, it's still fun to dress up and have to pretend to be doing something.
PornCrush: Is there anything that you would change or that you wish was different about the industry?
Serena: I wish there were more women in charge. I'll always say that. Because sometimes even with things like wardrobe, no offense to the men or anything, but what men do you know that are buying clothes for people? So when they buy clothes in porn, it's not always horrible, but sometimes it's like, is this really accurate? My dad tried to do that to dress me when I was younger, so I know.
PornCrush: You mentioned your dad … is your family supportive of your career, or are you keeping it a secret?
Serena: No one knows. I mean, it's not really something I'm trying to hide. My family and I, we don't really talk much anyway. Not because we're not super close or because we really hate each other. It's just because no one knows how to talk to each other. So I'm surprised they haven't found out yet. I'm just waiting for someone to tell them. I'm well into my adulthood, so there's not much my parents can say or do at this point.
PornCrush: You said when you leave set, you're really hungry. What's Serena's go-to meal after a long day of sex?
Serena: Oh god, I'm starving. I eat small before, but not really that much. Because you know, you brush your teeth, and then you're fucking so you're not eating much. I always want Mexican food after. And a margarita.
PornCrush: OK, Serena. That should do it. It was great getting to know you a little bit. You're doing great work and making a great impression. Let's catch up again in a few months.
Serena: Of course. Thank you so much.