She prides herself in being able to handle a demanding workload, but—even for Sisi Rose—this was just outrageous.
In mid-July, the surging adult star glanced at her calendar and realized there were 30 bookings on her schedule.
Thirty!
Not in one month.
But in one week.
Granted, these weren't porn shoots or photo sessions. Instead Rose had returned to her hometown near Syracuse, New York to log some hours at the microblading studio she opened in 2019.
Rose had put the business on hold when her adult film career took off in March. Her clients, she says, were getting restless—and Rose was beginning to feel guilty.
"I didn't want to completely be like, 'See you later' after I started porn," Rose says. "It was a nice little thing to do."
Not just for her loyal customers—but for Rose, too.
"It made me feel like a regular person again," she says.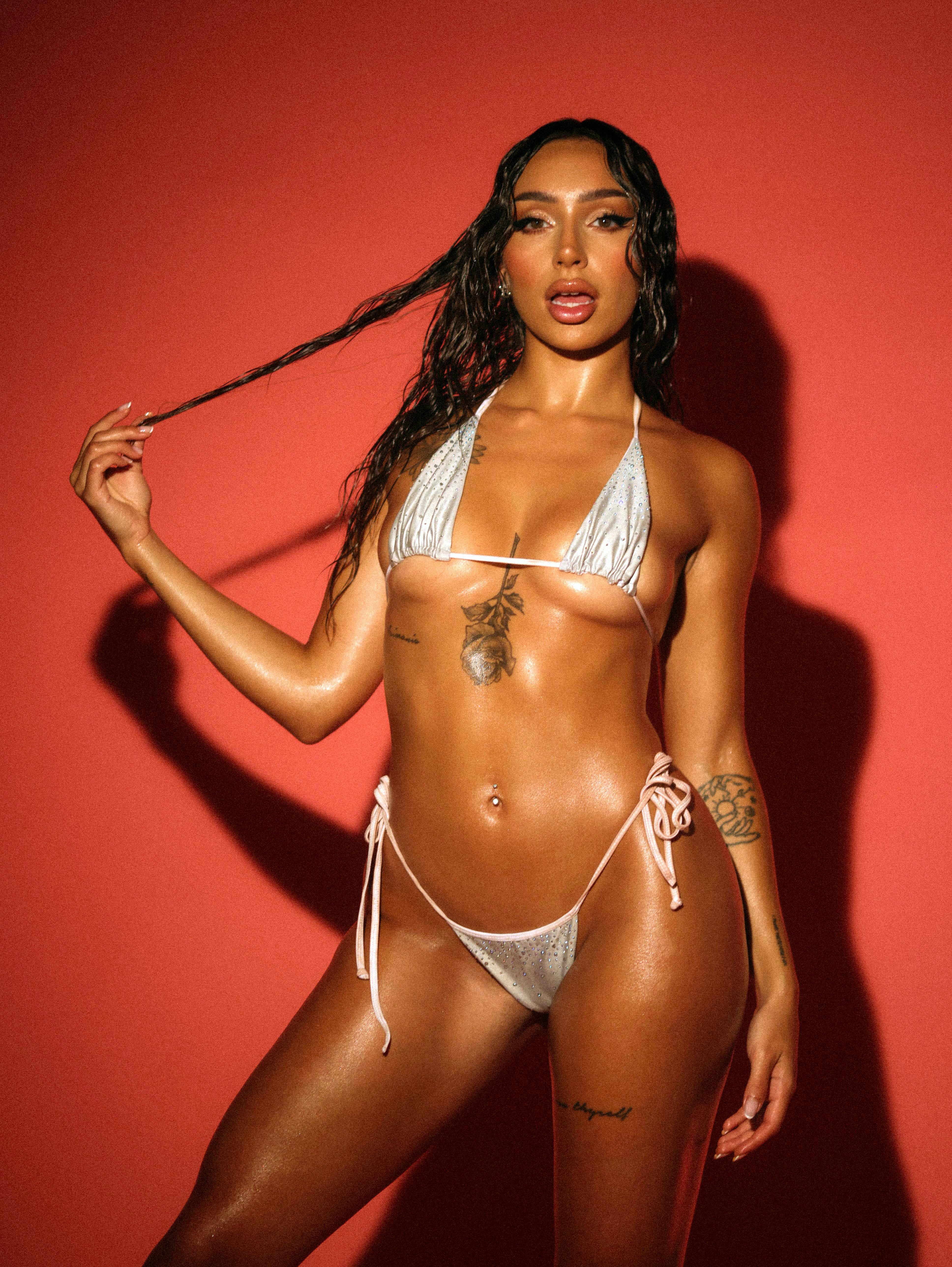 No one could fault Rose for craving a brief escape to normalcy. Since joining the adult industry last spring, her life has been anything but ordinary.
Porn conventions and content trade in Miami; studio shoots and industry parties in Los Angeles; online chats and OnlyFans customs. In just five short months, the 26-year-old—who bears a striking resemblance to Kim Kardashian—has become one of the most in-demand talents in adult entertainment.
Ten-year industry veteran Damon Dice says he knew Rose was special before the cameras even started rolling in their scene back in March.
"The second she walked in the room," Dice says, "I thought, 'This girl has what it takes to do something big.' She's got an 'it factor' that's hard to describe.
"Most new girls are timid and shy. But Sisi has a swagger, a confidence in everything she does. She knows she's good and she definitely carries that with her."
Rose's tango with Dice was just her second studio shoot, and the fact that it was for Brazzers—one of the most powerful brands in porn—tells you everything you need to know about Rose's appeal. Most performers enter the industry with a dream of working for Brazzers that often takes years to achieve. And that's if it happens at all.
Rose, though, started her career with a Brazzers shoot and spent her first two months in the industry working exclusively for MindGeek banners.
"Someone joked and said, 'Oh, you skipped the line?'" Rose says. "I was like, 'I guess so.' I feel like that's essentially what happened."
A few years earlier Rose never would've predicted a future in adult films. A Dean's List student, Rose graduated from college with four degrees—in psychology, philosophy, cognitive science and health science—and eventually opened her microblading studio. Lashes, eyebrows, lip blushing, semi-permanent tattooing … online reviews of Rose's services and skill are as glowing as they come.
"I was very passionate about it—and I still am," Rose says. "My goal was to expand my business and buy a bigger studio. I wanted to train people to do what I was doing so they'd be the same caliber as me."
Rose's thought process began to change a few years ago when she started dating a guy with a porn addiction. Whether he was streaming videos on his phone or watching DVDs on his television, Rose says her boyfriend was constantly viewing adult content in her presence.
"He was unapologetic about it," she says. "He didn't give a fuck."
For the most, part Rose didn't, either. "I was down for it," she says.
Even though she described herself as a "relationship girl" in her youth who rarely hooked up with random guys, Rose had long considered herself a sexual person. She dated an 18-year-old when she was 14, and subsequent boyfriends in her late teens and early 20s had trouble satisfying her sexual appetite. She could never get enough.
"I'd wear them out," Rose says. "They were like, 'You always want to have sex,' or, 'Leave me alone, get the fuck off of me.' They couldn't take it anymore."
In the porn-addicted boyfriend, Rose finally found someone that could match her in the bedroom. "He was a nymphomaniac," Rose says, "so he was more my speed." The couple watched videos together constantly, often using them as foreplay. Other times it was just for entertainment.
As she consumed more and more content, Rose began to envision herself in the scenes she was viewing. She wondered if she'd be able to have the same arousing effect on viewers that stars such as Sasha Grey, Lana Rhoades and Jenna Haze were having on her.
When Rose broached the idea of becoming a porn star to her boyfriend, he laughed and told her it would never happen. A few months passed and Rose brought up the topic again, this time telling him she was serious. She wanted to shoot porn.
"Yeah, right," he said mockingly. "Whatever."
Not long after that, Rose and her boyfriend parted ways and she launched an OnlyFans account, where she mostly posted nudes and solo videos. Word of her exploits spread quickly throughout her small hometown of 17,000 people. The shame and criticism Rose received was hardly deflating.
If anything, it fueled her.
"I thought to myself, 'What would be the ultimate thing I could do to emphasize how little I care about what anyone thinks?'"
The answer, Rose quickly concluded, was to become a full-fledged porn star.
It didn't take long for Rose to find an agent to line her up with a bundle of shoots, including a handful for Brazzers. But shortly before her debut, Rose got cold feet and canceled all of her scenes. Her career in the adult industry, it appeared, was over before it started.
"I felt pretty shitty about it," she says, "but I just wasn't ready."
Rose continued to grind away at her microblading studio while using OnlyFans a a side hustle. She also became a bit of a social influencer, posting sizzling pictures on Instagram that would eventually lure more than 100,000 followers. One of them was iconic male performer Keiran Lee, who reached out to Rose and asked her if she'd like another shot at shooting for Brazzers.
This time, Rose didn't hesitate.
"I was like, 'Oh, they still want me?'" she says. "And he said that, yes, they did. So it kind of happened organically. I shut the door and then it reopened again."
Rose signed with Motley Models and shot seven scenes with Brazzers and other MindGeek banners between March and June of this year.
Her debut scene, "Oiled Up Nuru Rubdown," was with J-Mac. Rose says she was nervous as she drove to set that day—not just because it was because of her first shoot, but because of the hype surrounding it.
"The director was egging me on a little bit," Rose says. "He was like, 'Yeah, she's super hot, but can she perform? Let's wait and see how this goes.' That gave me a little burst. I was like, 'I'm going to fucking show you, buddy.'"
Later that night—hours after she'd wowed everyone on set—Rose received a text from the same director. He said he was going to contact the higher-ups at Brazzers and recommend that they sign Rose to an exclusive contract.
"It obviously went better than he expected," Rose chuckles. "It made me feel pretty good. I was like, 'I think I'm built for this.''"
Rose moved from New York to Miami as her bookings increased. Instead of entering into a long-term agreement with Brazzers—an official offer was never made, she says—Rose ventured out in June and began shooting for some of porn's other big-name studios: Team Skeet, Naughty America, Sexlikereal and BANG!, to name a few.
As of press time, Rose had appeared in nearly 40 scenes, including two with Dice, who has become one of her mentors.
Dice compared Rose to Kenzie Anne, noting that she's entering the industry as a ready-made performer with a maturity and work ethic that's at a different level compared to most newcomers. He noted that Anne was 28 when she joined the business. Rose is 26.
"Girls that have a little more life experience and sex experience are going to have an edge over the younger ones," Dice says.
"With most new girls, I'm not going to go too crazy with them on their first shoot. They've got to get used to that high-intensity porn star sex, which is a lot different than sex at home. But she had what it took. I went full out, and she did, too. She matched my energy.
"Another thing that stands out is her dirty talk. Most new girls aren't dirty talkers, but she's got that down pat. That's probably her strongest quality."
Motley Models president Dave Rock says he couldn't be any more pleased with Rose's efforts during her first six months in the business. In Rose and newcomer Layla Jenner, Rock says his agency has "the two hottest girls in porn right now."
While her studio shoots have been great, Rock says he's equally impressed with Rose's efforts in all the other areas that are important when building a brand.
"When she gets days off she doesn't even want them," Rock says. "She'll shoot all day and then go home and film OnlyFans content. Then she'll wake up the next morning, do an OnlyFans live show, go shoot another scene and come back and get online again to post more on her page.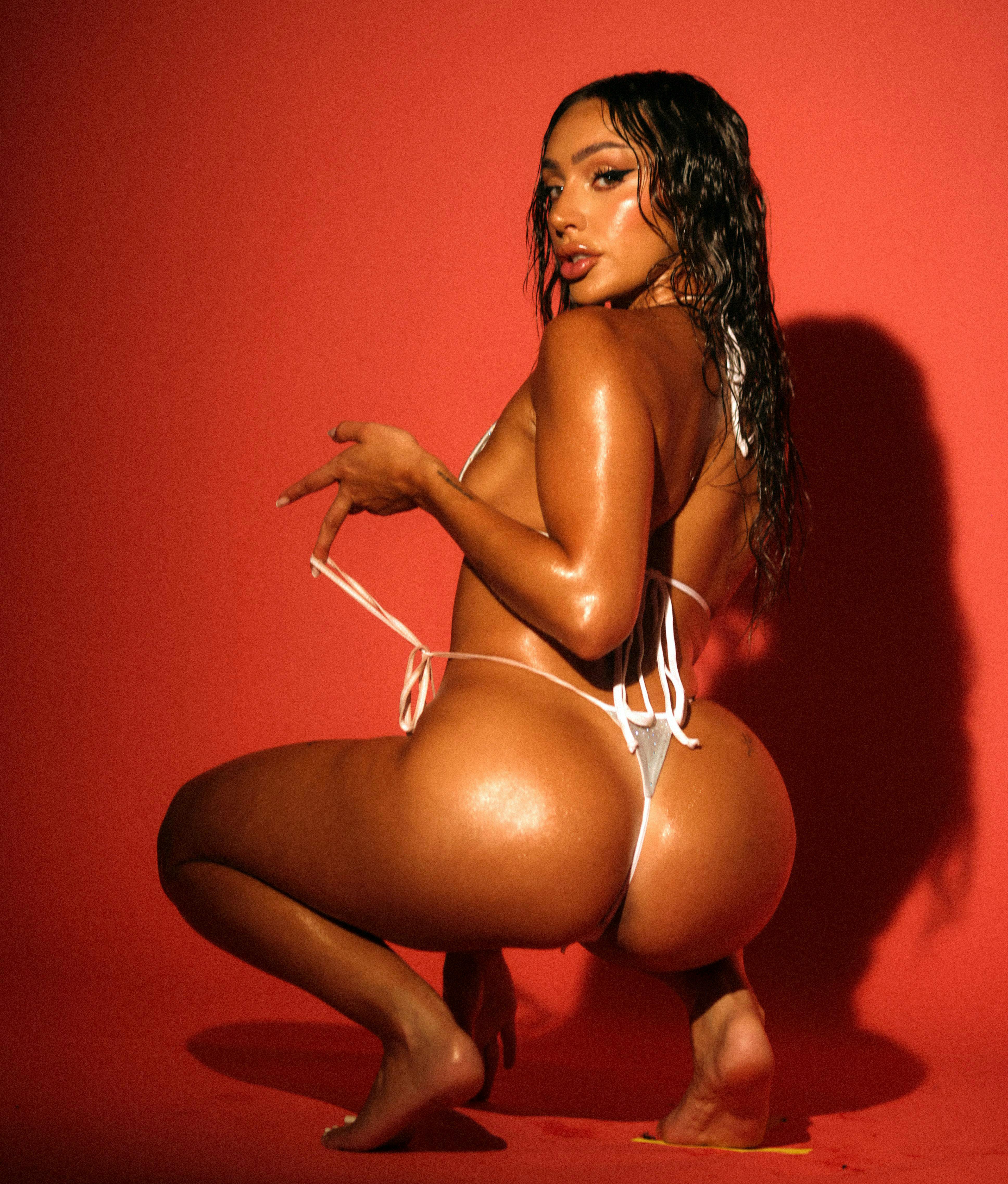 "Her work ethic is almost unmatched."
Rose's relentless nature has been a staple of her personality since age 16, when she juggled three jobs while also going to high school. She says her drive stems from growing up in New York, where "hustle culture" becomes ingrained in one's character.
Just like it did during her teens and early 20s, the grind is paying off for Rose. With each and every scene, she's elevating her brand and reputation. Whether it's Johnny Sins after an OnlyFans shoot or a male performer such as Jules Jordan or Zac Wild following a studio scene, people industry-wide are singing Rose's praises.
That includes AVN Hall of Fame director and former performer Pat Myne, who fawned over Rose after directing a recent gonzo scene with her and Chris Diamond. In a post-shoot text to Steve Legos, the Chief Marketing Officer for BANG!, Myne couldn't stop gushing.
"OMG! You sure got this one right!!!!" the message read. "Just shot one of the BEST BG scenes ever!!! She's beautiful! Banging body! And as Nasty as anyone in porn!"
The fact that Rose left such a lasting impression on Myne shouldn't be all that surprising. Her favorite type of shoots, she says, are gonzo-style. 
"In my mind, if you're a performer, that means you really like to fuck," she says. "The sex I have on camera is the exact same sex I have (in my personal) life. It's just me and the guy going to town.
"I'll talk really dirty and they're getting really nasty, too. When they're really getting into it—just being a little nasty freak, like I am—I'm like, 'Yeah, this is it!'"
Speaking of freaky, Rose says she's not opposed to doing anal scenes in the future, as she's no stranger to backdoor sex. But that will come later. For now, Rose is focused on building her brand, working as much as possible, staying healthy and fit—and enjoying the journey.
Even though she has a place in Miami, Rose spends about half of her time in Los Angeles and may make Porn Valley her permanent residence in 2024.
"It's funny," she says, "when I was around 21 I got 'LA' tattooed on my butt and said, 'I want to live there in a few years.'"
She'd certainly be surrounded by friends, as Rose's energy and upbeat personality have endeared her to performers both inside and outside of the Motley Models stable.
Still, while Rose says she's felt embraced by the industry thus far, she realizes her rapid ascension could spark jealousy among a handful of performers who may think she didn't "pay her dues."
"I know some people in the industry are competitive," Rose says. "But I try not to see it that way. I have my own thing going on, and everyone else has their own thing going on. I'm in my own little element over here. I wish everyone the utmost success."
That even includes Rose's ex-boyfriend—the one who said she'd never shoot porn.
"I always told him, 'That's going to be me one day,'" Rose says. "He'd just say, 'Fuck off. No it's not.'"
Rose laughs.
"Now he probably watches me."
Inlaid videos in this article courtesy of @halstondirector
Photos courtesy of @azrucams
Watch our full exclusive video interview with Sisi Rose