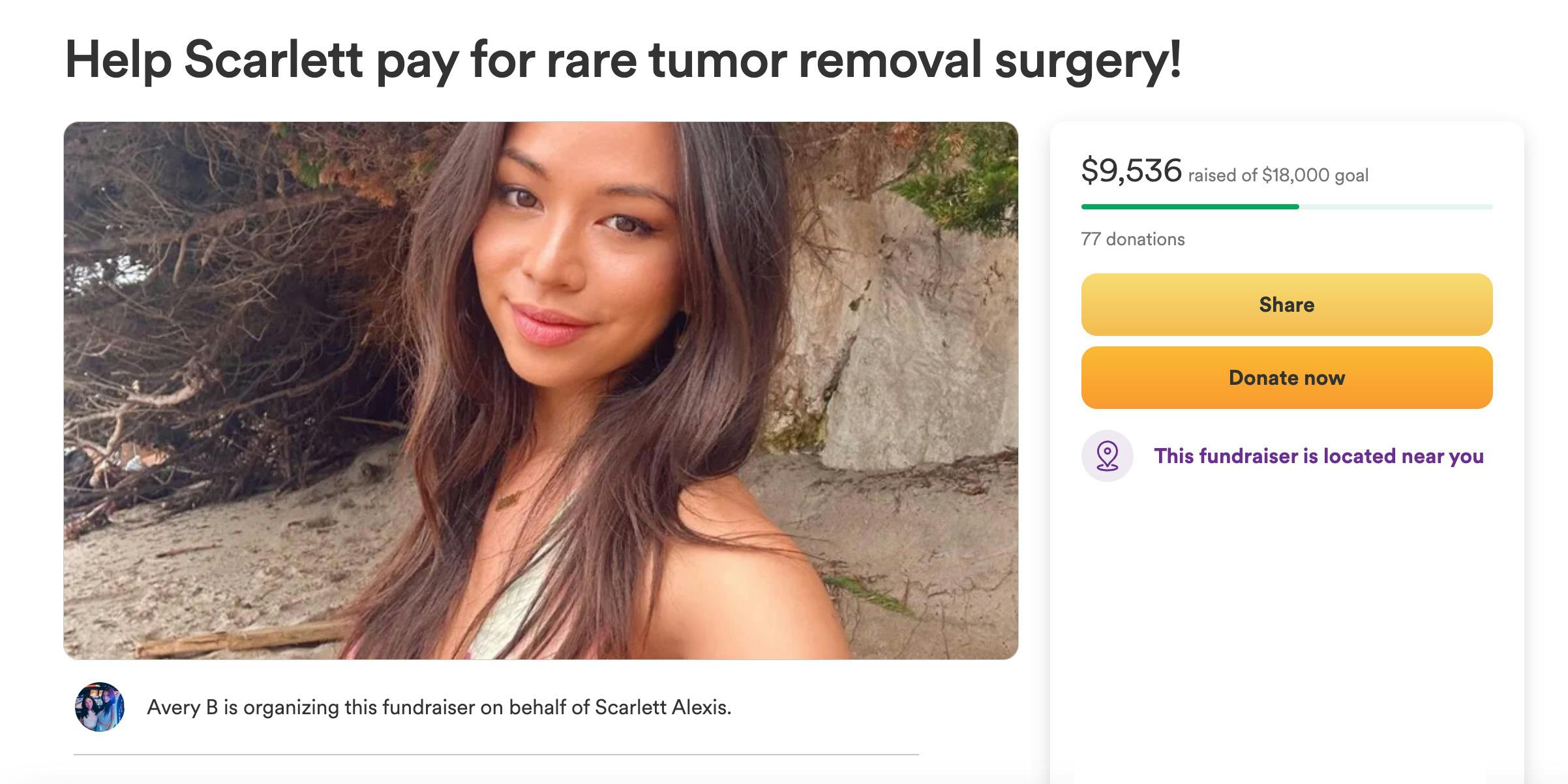 LOS ANGELES—Adult performer Scarlett Alexis will undergo surgery at Cedars Sinai Medical Center today to remove three tumors in her breasts that doctors feared would become cancerous if left untreated.
Alexis, 24, said she began noticing the lumps when she was 17, but thermal imaging exams and ultrasounds performed over the next few years didn't indicate any signs of cancer.
Still, one of the lumps in her right breast grew rapidly. And over the past year—when Alexis' breasts naturally increased by a full size—the lump became painful.
"I can feel it growing inside of me," Alexis told PornCrush Thursday. "Even when I'm sleeping, I can feel it. I have to put a pillow below it. Last month I thought, 'I can't wait any longer. I need to get this checked out again.'"
Doctors at Cedars Sinai performed another ultrasound on Alexis last month and discovered seven masses in her right breast and five in her left. Nine of them were classified as fibrocystic tissue, which is non-cancerous. But the other three lumps—which were much larger—were deemed to be tumors.
"They said when a tumor gets to be three centimeters or larger, they get very concerned and want to remove it," Alexis said. "The big one is eight-and-a-half centimeters. The other two are four or five."
Two of the tumors are in Alexis' right breast, and the other is in her left. Alexis—who does not have breast implants—said the lumps were diagnosed as Phyllodes tumors.
"That's a very rare condition," Alexis said. "Less than one percent of tumors are Phyllodes. They don't form where breast cancer usually forms. Instead of the ducts, they form in the tissue. They don't respond to typical cancer treatment, like chemo.
"The average lifespan once you get diagnosed with Phyllodes tumor is five years. So it's very important that they caught it and can remove it before it gets to that point. They told me there was a risk that they could come back, which could cause my body to get cancer. But that risk is a lot lower than keeping them inside of me."
While doctors are confident the surgery will be a success, Alexis said she expects her life to change after the surgery. She will undergo mammograms every six months to make sure the tumors haven't returned, and she will focus on living a healthy lifestyle, exercising and doing everything she can to fend off cancer.
Alexis expects to return to work in January. She said her doctor is aware that she is an adult film star and that every precaution will be taken to ensure that her breasts don't change in appearance.
"I have this really awesome female doctor," Alexis said. "I told her what I do for a living, just so she knows the stakes. I didn't feel discriminated against or judged. She was really cool about it. Obviously, cancer is a concern, but it affects my career, too.
"She said my breasts shouldn't change in size. The tissue will fill in the space. That was a relief to know. They're going to be super careful. They have to make three different incisions."
Alexis entered the industry in 2022 and has quickly become one of its brightest stars. She's worked for nearly every elite studio in the business and has recently seen an increase in bookings for acting roles in feature films. Last week, she received nominations for Best New Starlet (from AVN) and Best New Performer (XBIZ).
Even more impressive is the respect Alexis has earned through her character and presence off-camera. Performers and directors treasure her kindness and professionalism. And those closest to Alexis praise her for being a thoughtful, genuine friend.
One of them is performer Avery Black, who launched a GoFundMe campaign within hours of learning of Alexis' condition.
"If you've ever had the pleasure of meeting Scarlett, you know that she is one of the most generous, kind and sweet souls," Black wrote on the GoFundMe page. "She's sure to have left an impression on your heart, as she has with mine. This has been a very hard time for her since she's been diagnosed and we all wanna keep that beautiful smile she has on her face."
Black said the funds will help Alexis with medical bills and living expenses while she is unable to work. The campaign had generated nearly $10,000 at press time. Brazzers donated $1,500. Kira Noir, Alex Jones and Dharma Jones are among the performers who have made generous contributions.
Alexis said she had no idea Black was launching the fundraiser and was at a loss for words when she found out.
"I was so overwhelmed that I almost cried," Alexis said. "That was such a sweet thing to do. And the things she said on there … she's such a great friend.
"I'm so moved by all of the support. I was not expecting so many people to reach out to me. It's really nice to feel so supported by the adult community. People I didn't even know I'd made an impact on reached out to me and said some really thoughtful things."
Alexis said the fundraiser helped keep her spirits high as today's surgery inched closer.
In a text to PornCrush early this morning, Alexis wrote: "Big, big day. Just a few jitters. It'll go well, though. I know it!"