When Melissa Stratton entered the adult industry as a cam girl in May of 2021, the former graphic designer was afraid to show her face.
Each night, when she chatted online with fans from her Midwest home, Stratton positioned herself so that the computer screen cut off her image from the mouth up.
"I'm probably one of the most insecure people you'll ever meet," Stratton tells PornCrush. "I just sat there showing my mouth and my boobs. I talked and I'd flash. I didn't know if I would like it—but I ended up falling in love with it so quickly."
Porn fans are glad she did.
Nearly two years later, Stratton is one of the fastest-rising stars in all of porn. The shy, timid tendencies she displayed during her early days on Chaturbate have given way to a sultry, confident aura that leaves first-time scene partners in a euphoric trance—and directors scrambling to book her.
And re-book her.
"I'd shoot her every day if I could," AVN Hall of Fame director Mike Quasar says. "She's a once-in-decade type of performer."
Now 33, Stratton entered the industry later than most. And judging by her background it would've been hard to predict a career in sex work during Stratton's early years. She laughs about how her ambition as a child was to be a librarian or secretary. She also had a passion for ballet.
"I wasn't very cool," she says.
Most of Stratton's childhood was spent as a military brat. Her father was in the Air Force, so it wasn't uncommon for the family to move from state to state. For a significant time period she even lived in Alaska.
By the time Stratton reached high school, though, her parents had planted roots in Salt Lake City, Utah. It was a fitting location considering her mom and dad were Mormon.
By her late teens, it was obvious Stratton would have difficulty adhering to the strict Mormon lifestyle. If anything, her looks would make it virtually impossible.
At age 18, Stratton was fired from her job at a credit union after just one week. Her boss explained that his wife had come into the office and grown insanely jealous after witnessing him work alongside the head-turning teenager.
Stratton's father—who had arranged for her to get the job—called the union's higher-ups and reported the discriminatory termination. Her boss was immediately axed and Stratton returned to work the next day.
"It taught me a lot," Stratton says. "For one, don't let people push you around. But also, be aware of how people perceive you. I'd never viewed myself in that way. Before that I'd just always assumed no one was interested in me."
By her early 20s, Stratton was working for a group that did graphic design and direct mail for automotive companies. Whether she was attending trade shows or visiting dealerships, Stratton consistently found herself in male-dominated environments where—once again—she was the center of attention.
She said she was 23 when she had sex with her boss, who was in his late 40s, when he delivered paperwork to her office one night after hours.
"He started throwing some attention my way," Stratton says. "I was like, 'This is kind of hot.' I was thinking, 'I've never had sex on a desk. I've never done anything, like … naughty, you know?'"
Over and over, Stratton remembers repeating the same phrase in her mind. Seize the moment! Seize the moment! And then she did.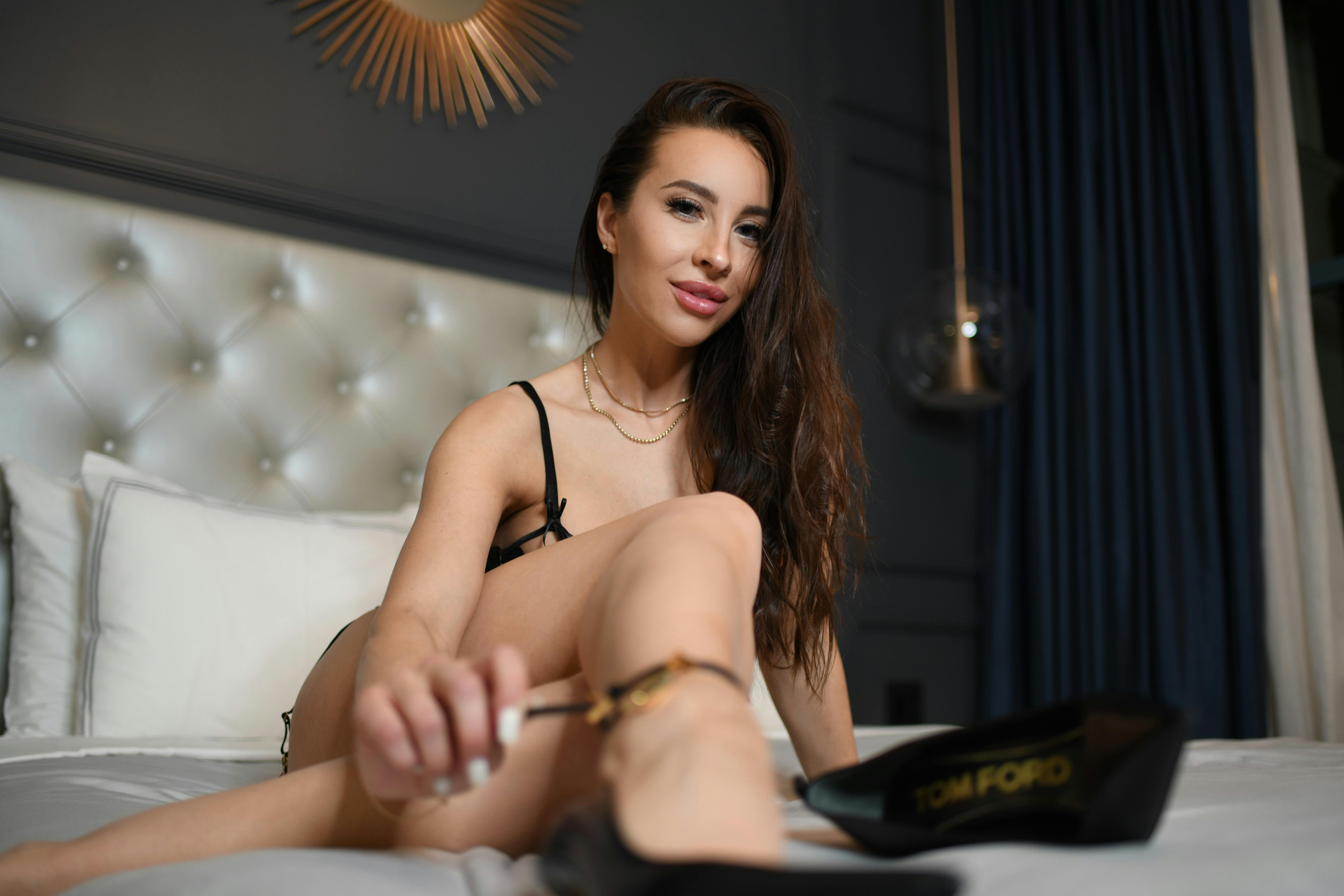 "He learned over and picked me up," Stratton says. "He carried me over to a conference table, and we banged out on the table."
Ten years later, Stratton is living out those fantasies on porn sets nearly every week—and now she's getting paid for it.
"I'm definitely a closet freak," Stratton says. "Anyone who knew me back then would be surprised to find out what I'm doing now. It's not something I really broadcast. I don't talk about it much in my personal life. That's why I talk so much in my work life. Because I normally have no one else to talk to."
Stratton has been represented by Motley Models since transitioning into studio porn in May of 2022. Company president Dave Rock says he knew he wanted to add Stratton to his roster within moments of connecting with her via Zoom.
"To me she's the Christie Brinkley of porn, the supermodel," Rock says. "She's perfect. Her skin is perfect, her lips are perfect, her cheeks are perfect, her eyes are perfect. Her hair, her teeth, her nails, her toes … everything is always on brand.
"There's really no one over the age of 30 that looks like she does. She works out when she's here. She eats right. She's a professional."
Along with her appearance, Stratton also garners rave reviews for her passionate, seductive nature in sex scenes. Stratton describes herself as a "sub" and a "pleaser." She says she does her best to connect with the male talent before the cameras start rolling.
"I'm a talker," she says, "so part of my pre-scene ritual is to try to get to know my partner a little bit. I want our sex to be as good and authentic as possible. It's easy for me to like people.
"I think that's why my partners enjoy scenes with me and why I enjoy this work. There's a lot of realness to it. We're able to build a rapport really quickly, and it's awesome. The passion isn't fake."
Stratton has certainly left an impression on male star Ryan McLane, with whom she's shot multiple times. Quasar, the director, says every time he hires McLane, he asks if Stratton is going to be his scene partner.
"I'm very sorry, Ryan," Quasar recently joked to McLane, "but I'm not Match.com. You're going to work with whoever the fuck I put you with."
McLane was, however, lucky enough to be paired with Stratton in her biggest role to date. Stratton plays the lead in "Platonic," a Sweet Sinner film released March 8 that was directed by Quasar.
The movie—based on real-life experience by Quasar—features Stratton and McLane as longtime best friends who'd never gotten physical in their relationship. McLane, though, becomes jealous when Stratton begins a romance with a mutual acquaintance. In the end McLane and Stratton express their feelings for one another.
And you can guess what happens next.
"That's the only part where the story is fudged a little bit," Quasar says. "I actually never got to bone my friend. We're still platonic."
Quasar says Stratton couldn't have delivered a better performance.
"She knew all of her lines and her delivery was accurate," Quasar says. "Sometimes you have a person who seems really witty and articulate when you're talking. But then you give them lines and they freeze up and read sort of robotically. Melissa was very natural the whole time. She loved that it's a true story. She thought that was funny."
Stratton is appreciative that Quasar cast her in the role—"He's given me way more opportunities than I probably deserve," she says—and is hopeful it will prompt others to consider her for similar features.
Quasar says studios should be attracted to Stratton's versatility. At 33, she's able to flourish in the role of a MILF. But she also has the youthful appearance and exuberance needed to portray younger characters.
"She's beautiful," Quasar says, "but that's only part of it. She's just the type of person that you want to be around. It's as simple as that. Her energy is so joyous that it's like, 'Man, I can't wait to work with you again.'"
Stratton, who still resides in the Midwest, is planning to make more frequent trips to LA in the coming months. She shot 20 scenes last year and has set a goal for 60 in 2023.
And that doesn't include the content Stratton produces for her OnlyFans account.
Last month Stratton and fellow Motley girl Kayley Gunner filmed an OnlyFans scene in a Range Rover, frolicking completely nude in the back seat as they were driven around the streets of Los Angeles.
Stratton hasn't viewed the footage yet but plans to watch it soon—even if it makes her shudder.
"I'm constantly critiquing myself and my performance," Stratton says. "I want to be better. I want to do what the best are doing. 
"I didn't have a lot of experience with porn when I got in. Nor was I very confident about my body and my performance. How to look at the camera, or not look at the camera … how to connect with my scene partners. It's really hard, really difficult.
"I still find it really cringy to watch myself have sex."
Quasar isn't buying it.
How, he says, can someone so stunning—and so talented—not grasp the magnitude of the gifts they possess?
"Literally every single guy on set falls in love with her," Quasar says. "But she's still always like, 'Oh my God, not me. You're talking about me?' She's either the most humble woman who has ever lived, or she's the shrewdest character I've ever encountered."
Quasar pauses and laughs.
"I think she knows exactly what she's doing," he says. "She just playing with all of us."
Information from Melissa Stratton's YouTube interview for "Backstage Pass with Dave Rock" was used in this article