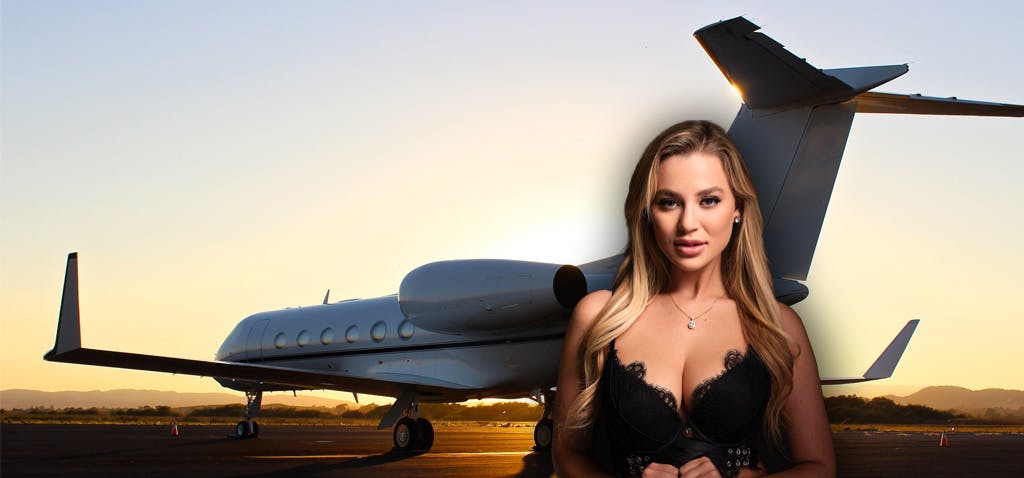 Blake Blossom's porn career is soaring to new heights.
Literally.
Blossom on Saturday filmed what may be the most daring scene of the year to date—a virtual reality romp inside a four-seater private plane over the skies of Las Vegas.
"I'm finally a member of the Mile High Club," Blossom tells PornCrush. "The whole thing was crazy as fuck."
Shot for AlexNashVR, the threesome scene also includes Angel Youngs and John Strong. Blossom said she and Youngs took turns blowing Strong and then riding him in the cowgirl position on a twin mattress during the 19-minute flight.
"Our heads were smacking against the ceiling," AVN's 2022 Best New Starlet says with a laugh. "It was insane. Angel even fell over at one point because the turbulence was so bad."
Not just bad.
But brutal.
Blossom says she and Youngs began experiencing nausea midway through the shoot. And when the turbulence reached a frightening level near the end, Blossom tossed her cookies.
"I've never experienced something like that," Blossom says. "I've had mini-panic attacks, but this was the first time I had a legit, full-on panic attack. My arms went completely numb. My palms were sparkling with sweat. My whole body lost feeling and my heart was pounding so fucking hard. It felt like somebody threw a bucket of hot water on me. I had to snatch John's puke bag from him so I could get sick."
Blossom sighs.
"So yes," she says, "we had to bring the plane down early because I threw up."
No matter.
Blossom, Youngs and Strong finished the shoot at a residence close to the airport. Despite the snafus, Blossom is confident the scene will be hot enough to garner attention come awards time.
"I think it's going to be the VR scene of the year," Blossom says. "I don't think anyone has ever taken VR to lengths like this.
"Hopefully it inspires more people and companies to have more fun with VR. People are slowly expanding by shooting outside or by shooting by a pool. They're expanding out of that three-walled room."
The daredevil scene is yet another bullet point on what was already a strong 2023 resume for Blossom, who is widely regarded as one of the top performers in all of porn.
Blossom plays the lead in "See You Next Saturday," a recently-released feature from Missa X that also stars Lilly Bell, Will Pounder and Ryan Driller. She's also been cast in"Scissors," an upcoming project by Harry Sparks. And this week, she wrapped shooting for a movie by Seth Gamble that Blossom says is hush-hush for now.
However, Blossom's biggest source of pride is the soon-to-be-unveiled threesome she filmed for Brazzers with porn icon (and mentor) Angela White and elite male talent Zac Wild. Blossom says the scene—which featured lots of oil—was rough in nature and forced her into a submissive role, a fun deviation from her comfort zone.