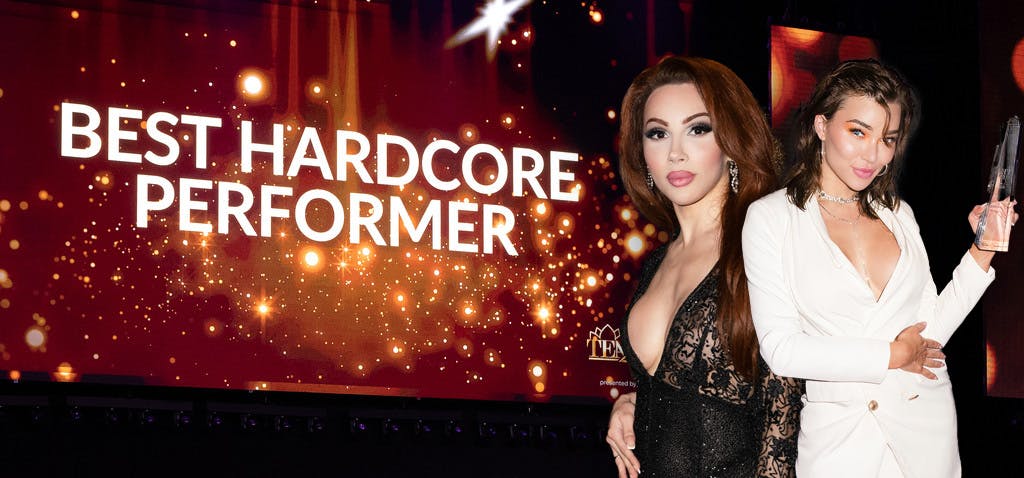 HOLLYWOOD, Calif. — Ariel Demure walked toward the exit of Hollywood's Avalon nightclub Sunday clutching a can of Bud Light with her new prized possession—a trophy—tucked under her arm.
The former makeup artist-turned-porn star had a tough decision to make.
"I'm thinking Jack in the Box," Demure said. "Denny's is also a possibility. I'm not a huge fan of IHOP, but it's an option."
Picking what to watch on Netflix, deciding where to go on a vacation, choosing a name for your pet hamster … indecisiveness can be maddening. Especially when there's no wrong answer.
It's the same situation voters encountered when determining who should win the coveted Hardcore Performer of the Year trophy at Sunday's Trans Erotica Awards in Hollywood. Unlike Demure and her post-ceremony restaurant dilemma, committee members weren't forced to choose when two names were knotted after ballots had been counted.
Instead of forcing themselves to pick one performer, they rewarded both.
Less than two years after entering the industry, Demure captured a share of the TEA's top honor by tying Emma Rose for the Hardcore Performer of the Year award. Rose took home the honor in 2022 and had nabbed POTY accolades at virtually every major award show in the past 12 months.
The shared title was unprecedented—but not unjustified. Both performers have shot over 60 combined scenes in 2022 and 2023, primarily for A-list studios such as Adult Time, Evil Angel, Gender X, Grooby, and Brazzers.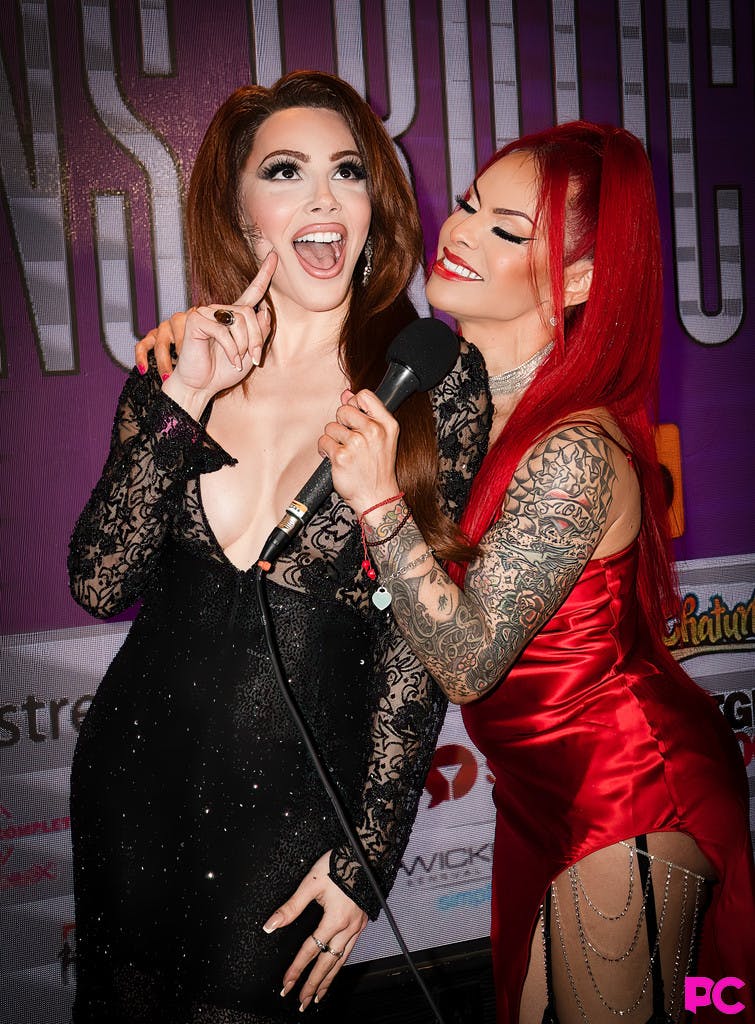 Rose—who recently became the first trans girl to shoot for Dorcel—has received so much mainstream attention recently that she's hired her own marketing assistant. Demure is among the adult industry's top actors in any genre while also earning praise for her ability to thrive as both a power top and a submissive bottom.
"I don't see how anyone could pick between the two of them, especially based off the years they both had," Steven Grooby—the trans content pioneer who started the TEAs back in 2009—told PornCrush.
"I was tabulating the votes on a sheet of paper last month, and when I saw it was a tie, I was actually excited. I was like, 'This is perfect. This is awesome!'"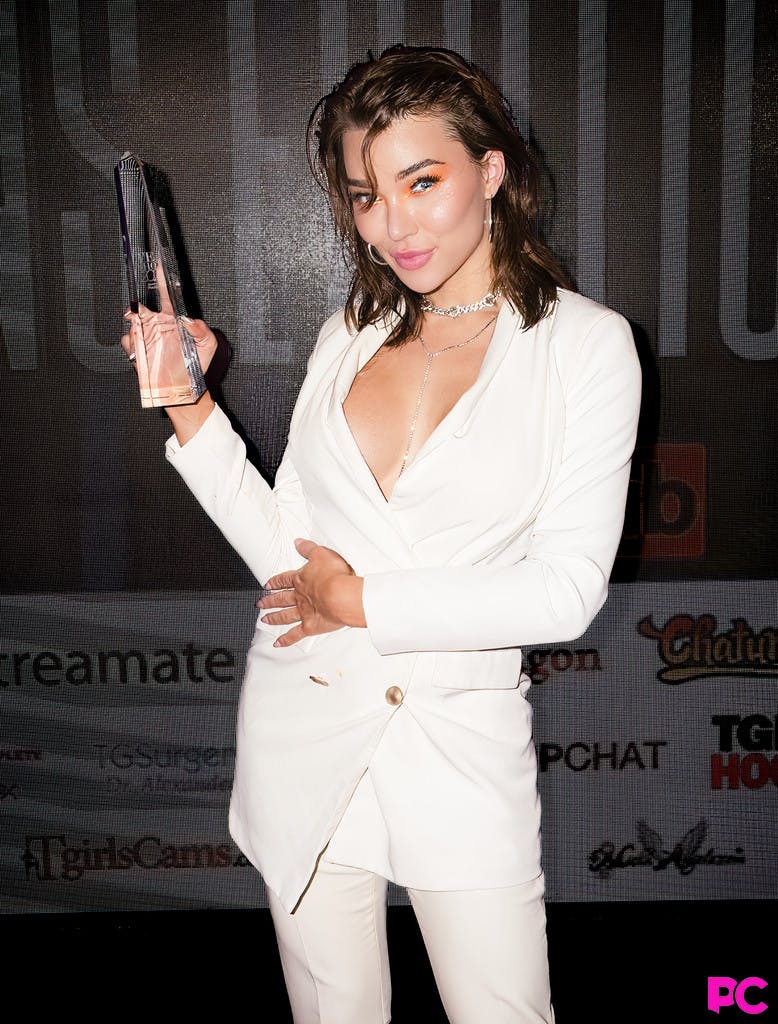 Rose and Demure—who somehow have never shot a scene together—used their stage time Sunday to advocate for more inclusivity for Black trans performers. In a post-show interview with PornCrush, Demure downplayed the significance of her award and instead talked about the trans community as a whole.
"I'm grateful for everything I'm given in terms of accolades," the former high school prom queen said. "But the entire evening was a celebration of what we're able to accomplish (as a community). We're making progress, but we're not done."
Rose and Demure's victory capped off an entertaining, upbeat—and at times, uplifting—ceremony that event organizers touted as the best TEA Show in history. It was undoubtedly the most heavily attended, as a record 500-plus guests descended upon the Avalon, with some traveling from as far as Germany, Brazil and Thailand.
Hall of Fame cis performer Asa Akira—an ambassador for PornHub, which sponsored the show—was among the luminaires on hand for the event, which was hosted for the fifth straight year by trans icon Domino Presley. Also a talented musician, Presley and her band, "The Gurls," was one of three musical acts to open the show along with Jane's World (which features surging trans talents Gracie Jane and Brittney Kade) and Teyana Trendz.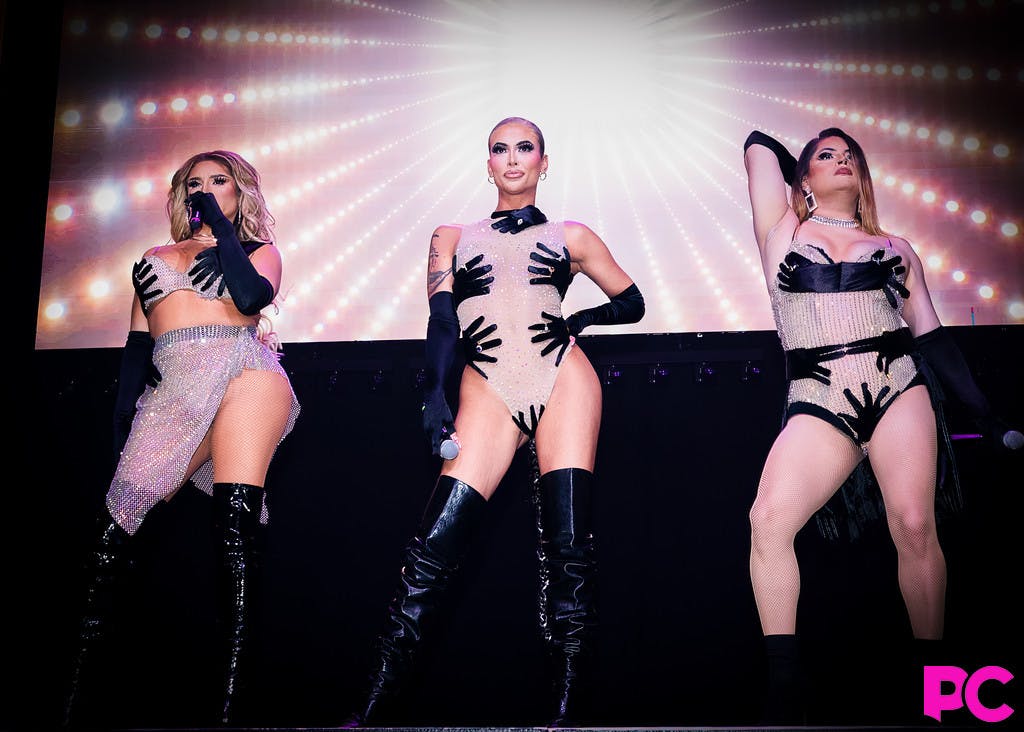 With a ponytail that dangled down to her Achilles, Presley did a masterful job once again in her role as "Mistress of Ceremonies," using her sass and dry wit to make attendees cackle multiple times during the three-hour ceremony. And if there were murmurs from inattentive guests during someone's acceptance speech. Presley put an end to it. Fast.
"Please shut the fuck up when people are talking and show them some respect," Presley playfully barked more than once. Presley said her experience performing in drag shows taught her to be a commanding presence in front of a large audience.
"Domino knows how to control a crowd, and she's emotionally invested in this show," Grooby said. "She did a great job.
"Overall, this was the smoothest show we've ever done. Everyone was happy, and there were very few sour grapes. There were some really big-name winners, and there were also some winners who are really hard workers but aren't massive stars yet.
"I really appreciated that those people were recognized and got the respect they deserved."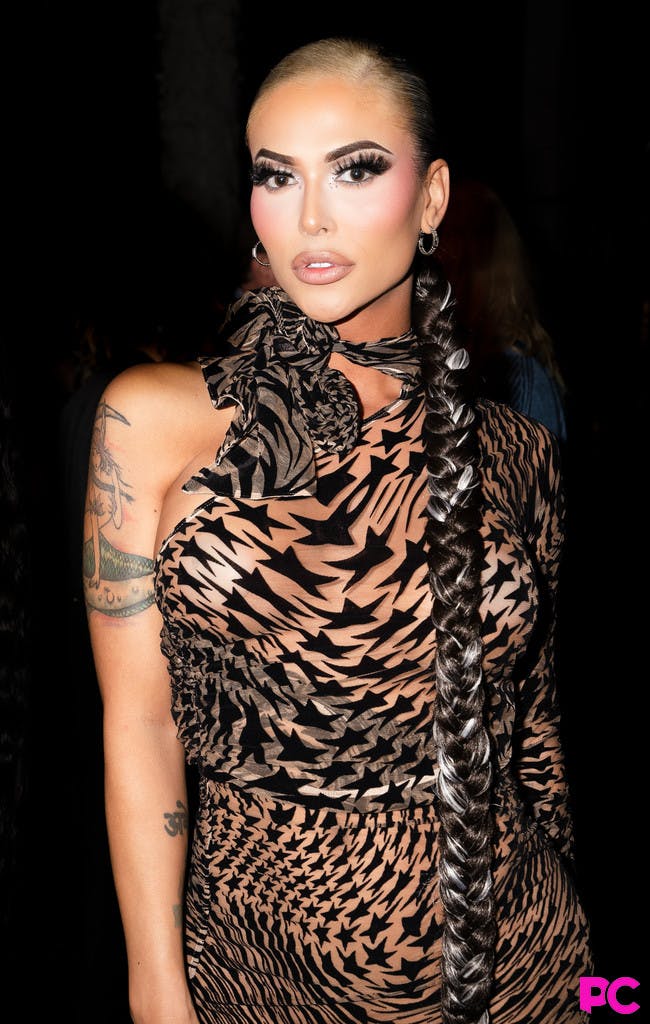 One such performer was Nyxi Leon, a Tampa-based brunette who's among the most underrated trans performer in the business. Leon—who has worked almost exclusively for Grooby Productions for the past five years—was named Best Content Creator.
Another popular winner was Canadian star Bailey Archer, who won for Best Non-U.S. Performer. Archer's work had been limited to camming when she attended her first TEA Show as an unassuming newbie in 2022. One year later, Archer generated one of the loudest ovations of the night during what may have been the show's most moving acceptance speech.
"This award is not just for me," Archer said. "It's for every trans man, trans woman, anyone who has gone through the shitshow of being treated like crap, treated like you're nothing like you're worthless and you're not deserving of love. But then you get to a point in your life when you're like, 'I can make the choices, I can call the shots, I can make a different life for myself.'"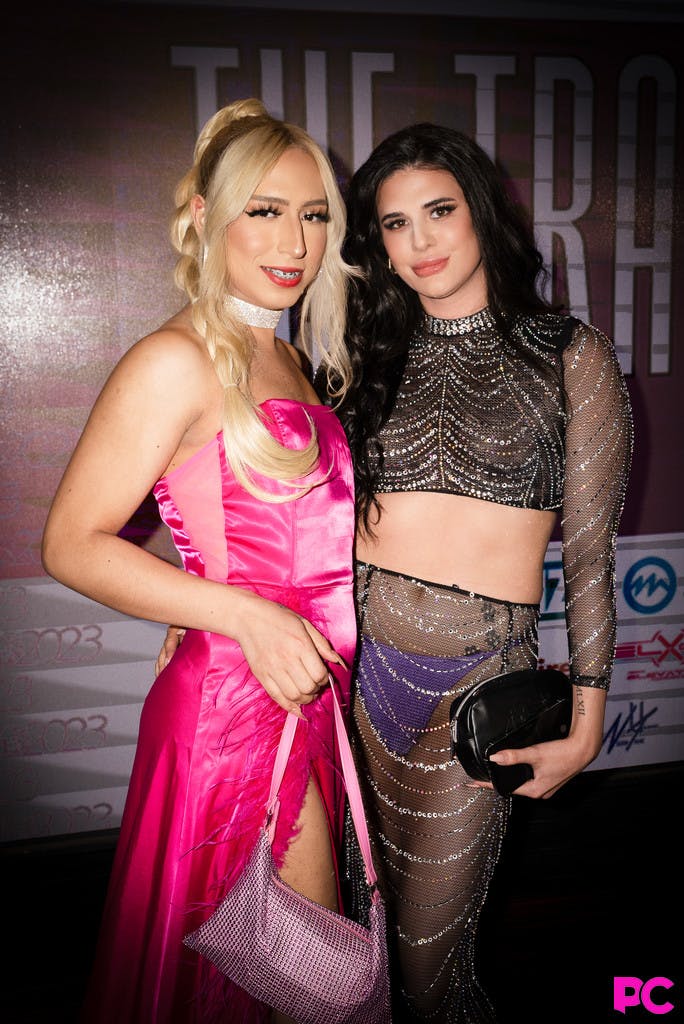 Winning the Fan's Choice Award for the second straight year was Izzy Wilde, who was working 50 hours a week as a gas station manager when she decided to enter the adult industry three years ago. Wilde could be in store for even bigger things in 2023, with more confidence and energy than ever following her facial feminization surgery (FFS) in November. Her ad in the TEAs commemorative program read: "With a brand new face comes a whole new taste."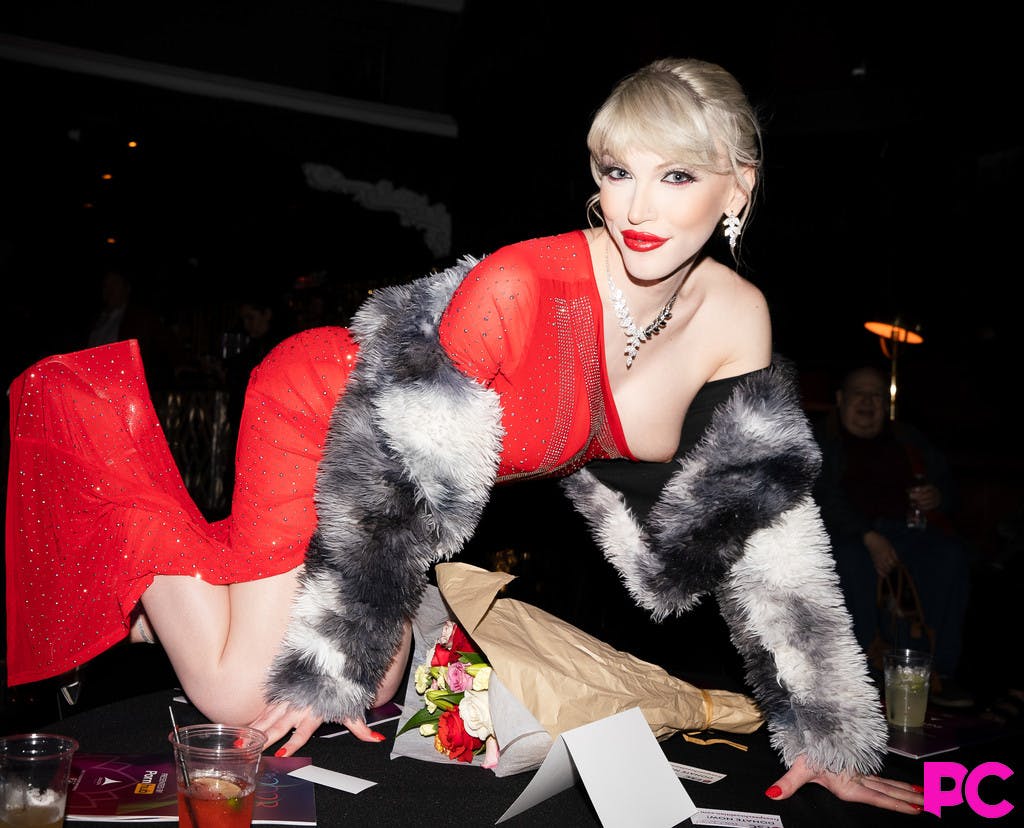 Joining Wilde and Rose as a repeat winner Sunday was Jade Venus, who secured Best Solo Model honors for the second consecutive year. Venus—who is regarded as the best power top in the business—was arguably the most prolific performer in all of trans porn in 2022, with more than 70 studio scenes to her credit.
"It's been amazing and overwhelming at the same time, but in a good way," Venus, AVN's 2022 Trans Newcomer of the Year, said about her experience in porn thus far. "(The adult industry) boosts confidence. It feels empowering."
Considering her talent and work ethic, it was hardly a surprise that Venus won more awards than anyone Sunday. Along with Best Solo Model, Venus also scored notched victories in Best Threesome/Moresome Scene (with Eva Maxim, Jessy Dubai and Vanessa Vega in TransAngels' "Bad Girls 4 Ever) and Best Girl-Girl Scene (with Tori Easton in Gender X's "TNT 3"). The girl-girl win had special meaning for Venus and Easton. The Montana natives have been best friends for more than a decade and came out together during middle school.
"It was the first time we've ever fucked, and we won an award for it," Easton quipped.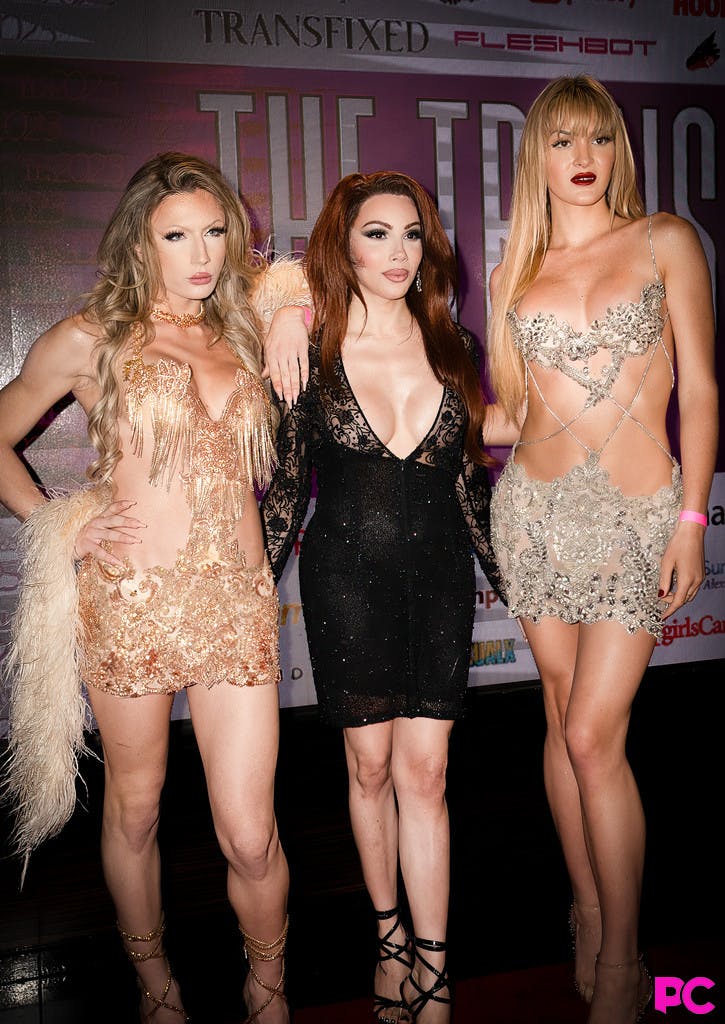 Other than Hardcore POY, the most-anticipated category at the TEAs each year is Best New Face, an award that has propelled past winners such as Natalie Mars, Chanel Santini, Daisy Taylor, Emma Rose and Brittany Kade to immediate stardom.
This year's winner, Zariah Aura, is already on a similar trajectory. Aura attended her inaugural TEA Show in 2022, just weeks after shooting her first scene.
One year later, the charismatic, 5-foot-10 brunette has been named the first-ever Grooby Ambassador and is quickly becoming one of the more in-demand performers in the genre. Aura tallied a TEA-Show high eight nominations Sunday, but she said the Best New Face trophy is the one she wanted the most.
"Wow! What an impact she's made in not even a year," Grooby said of Aura. "Obviously, she's gorgeous looking and a great performer. But she's also a super-nice person. She has a great personality. These are the sort of people we want working with us."
Aura told PornCrush that she "walks through life like it's a runway."
"Yes!" Aura said. "Live like that! Show your best self! Enjoy it, and dream big because if you believe it, you can make it happen!"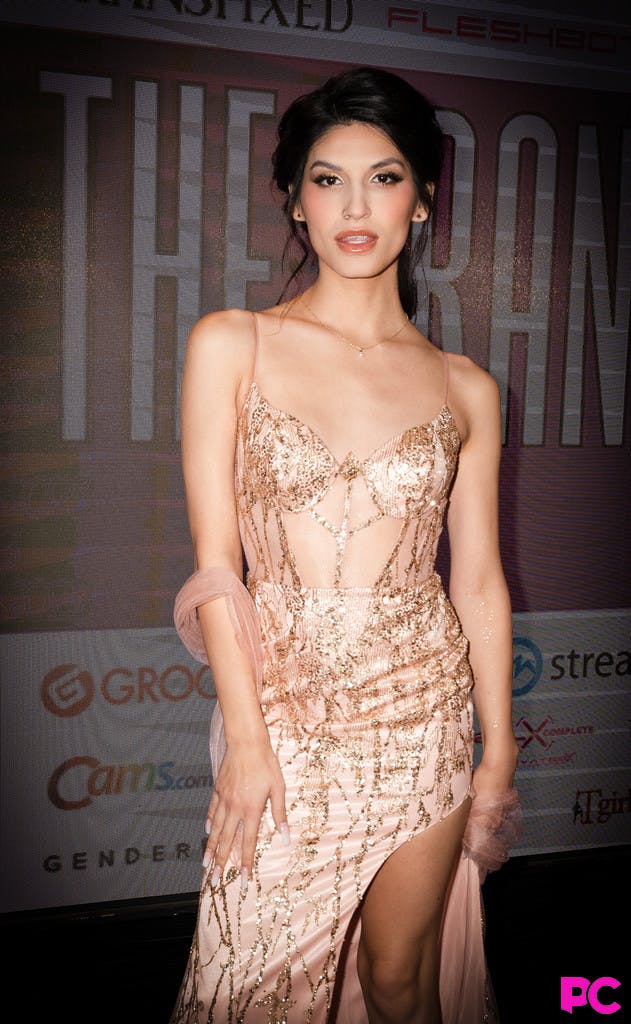 Aura hinted that one of her goals in the next 12 months is to build a resume that puts her in the running for Hardcore Performer of the Year in 2024. Aura certainly has the talent, beauty, and drive. But it won't be easy.
The trans sector of the adult industry is stronger than it's ever been. Elite, proven talents such as Jane, Kade, Wilde, Venus, Easton, Maxim, Kasey Kei, Khloe Kay and Lola Morena are only getting better. The super-popular Daisy Taylor is set to return, and newcomers like Aura, Amanda Riley, Paige Turner, Itzel Saenz and Ember Fiera are coming on strong.
Still, on Sunday night, with trophies in hand, two performers were elevated above the rest. Rose and Demure are the best of the best in the trans porn industry.
For now, at least, there's plenty of room at the top for both.