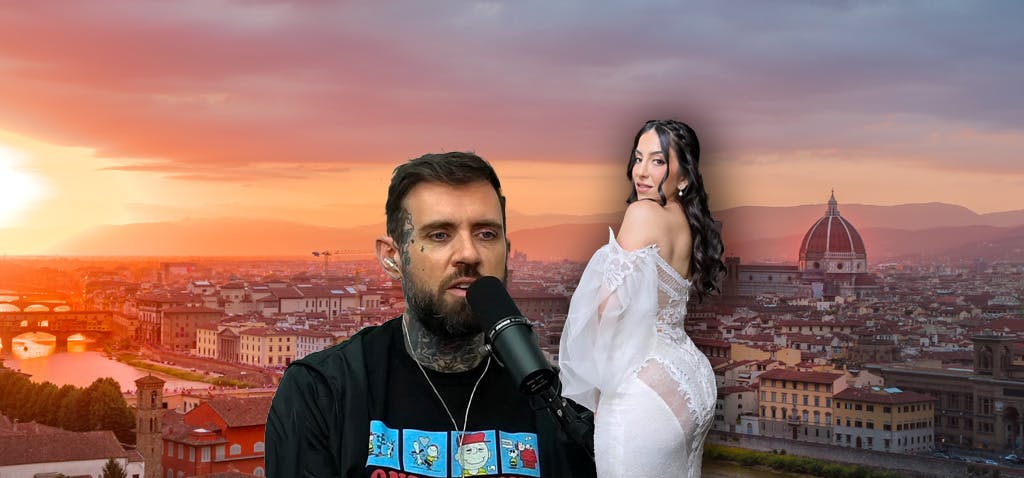 It's official.
Adam Grandmaison and Lena Nersesian—known to their fans as Adam22 and Lena the Plug—are now husband and wife.
The couple was married Thursday near Florence, Italy, before an intimate crowd that included adult stars Alina Lopez, Kazumi, Ryan Reid, Sky Bri and Rara Knupps.
Guests dressed in formal attire for the 6:30 p.m. ceremony—a scenic, outdoor affair at Castello di Celsa, a historic castle in Tuscany that has stood since the 13th century.
Grandmaison wore a traditional black tuxedo with a white shirt and black bowtie. Nersesian was dressed in a beautiful white strapless gown. Flanked by huge floral arrangements that included hundreds of pink roses, the couple exchanged vows overlooking the breathtaking landscape of Siena.
Grandmaison, 39, and Nersesian, 31, began dating in 2016 and welcomed a daughter in November of 2020.
Grandmaison is the host of No Jumper, one of the most successful podcasts on all of YouTube. with nearly 4.6 million subscribers. No Jumper focuses largely on rap and hip-hop culture and features interviews with well-known stars as well as underground talent on the rise.
In the fall of 2021, Grandmaison and Nersesian launched Plug Talk, an adult-themed podcast with guests that have included Riley Reid, Angela White, Blake Blossom and Emily Willis. The interviews conclude with the hosts having a threesome with their guests, with the footage available on OnlyFans. The channel boasts nearly 84,000 subscribers.