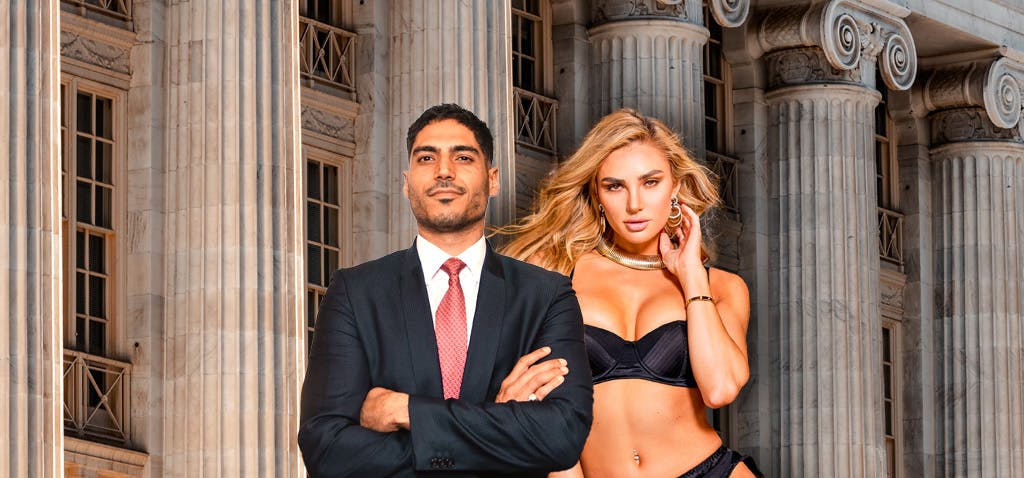 The attorney for Kenzie Anne said Tuesday that the retired performer's decision to file a class action lawsuit against Vixen Media Group was less about personal gain—and more about sparking a change in how the powerful adult studio treats its talent.
"(Anne) has made it very clear that she's here not just for herself, but for everybody—and so are we," David Bibiyan, Anne's attorney, told PornCrush in an exclusive interview. "Any resolution needs to have a meaningful recovery for everyone."
Filed on April 20, Anne's lawsuit claims Vixen abuses and mistreats its performers by consistently violating California labor codes. It also argues that Vixen performers should be classified as full-time employees based on the influence and control the company attempts to impose on the lives, bodies, and careers of its talent—and also because of the excessive amount of time they are often asked to devote to projects without any additional compensation.
By instead listing them as independent contractors, the lawsuit alleges, Vixen is denying its performers the "fair pay and benefits" to which they'd be entitled as employees.
Even before Anne contacted him, Bibiyan said he'd heard rumblings that numerous performers were unhappy with their experiences with Vixen. But because of Vixen's influence within the industry, they were "giving in to conditions that were less than acceptable."
"The biggest problem that we ran across in looking at this case is that so many people are so scared of the Vixen group," Bibiyan said. "They seem to have such a market share—or at least a powerful name—in the industry that everyone seems to make their way over there to advance their careers.
"What's great about (Anne) is that she seems to have enough leverage and power—now that she's retired, and even beforehand, being such a name—that she's not scared to step up. She was a rare find."
If Anne's case is upheld, it could lead to a significant payout by Vixen. Not just to Anne but to scores of other performers who—knowingly or unknowingly—worked for Vixen while labor codes were being violated. It could also spark industry-wide change among studios regarding how they treat and classify their talent. Vixen is hardly the only studio that classifies its performers as independent contractors.
"I don't foreclose the fact that there is a larger industry problem," Bibiyan said. "If an employer treats their employees really well, they're unlikely ever to bring this up. That's where Vixen seems to have run afoul."
In the lawsuit, Anne alleges her Vixen contract stipulated she be available to work nights, holidays, and weekends, with filming sessions that "may take as long as ten hours." During the term of the agreement, Anne was to "maintain" her "physical appearance," including Vixen Media Group's "reasonable personal grooming requests." According to the lawsuit, if Anne wanted to change her physical appearance, including obtaining a tattoo or piercing, she was required to get written permission from VMG.
The lawsuit alleges that, even after the agreement, Anne had to agree to promote Vixen Media Group's websites and brands on her social media to the best of her abilities, at Vixen's direction and under their guidelines and recommendations.
According to the lawsuit, when Anne requested her personnel file, the company threatened to sue her because of purported losses stemming from two medical infections that forced Anne to take a break from shooting, including one from an "unauthorized plastic surgery," an accusation Anne claims is false.
"Certainly, there is a problem with the way they are lining up their contracts," Bibiyan said. "Imagine not even having the autonomy over your own body, where you're breaching your contract if you get an infection. That is problematic."
Especially, Bibiyan said, because Vixen's performers are independent contractors and not employees, a classification that should limit the studio's control over its talent.
Bibiyan compared the situation to a pest control agent one might hire to rid a home of termites.
"I don't tell him how to do his job once he leaves my house," Bibiyan said. "What if I gave him a contract that says, 'You can't work for my neighbors. You can't work for anyone else in this town. And you need to let me know about everything else you do.' How would he be independent? He'd be an employee at that point.
"In California, we're very protective about not letting people call others independent contractors because we provide so many rights to our employees."
From performers and agents to directors and studio presidents, Anne's lawsuit generated a buzz throughout Porn Valley that has only increased over the past few weeks. While her supporters have been vocal on social media, others have quietly questioned whether Anne's suit holds merit, with the common refrain being, "If she didn't like the contract, she shouldn't have signed it."
When posed with that question by PornCrush, Bibiyan alluded to the power and influence Vixen has in the industry and how working for the studio can help elevate a career."
"Most people don't have the power of the big companies, the bargaining power," he said. "If you don't work for Vixen, it's very hard to get nominated for awards and to get paid as much as you can in this industry. You can call it a choice, but what meaningful other choice is there?
"I used to represent doctors. The American Board of Surgery would say, 'It doesn't matter if we make someone ABS Certified. You don't need certification from us.' But no hospital hires someone who isn't ABS certified. You actually need it to make the money you deserve to be making as a surgeon. Even though, technically, it's not a requirement. It's a similar situation here. I'm sure this happens to so many people. Hopefully, we're able to make modifications that are felt industry-wide."
Anne, 30, is a former mainstream fashion model who had zero experience in adult film when she signed an exclusive contract with Vixen in November 2020. Her first scene was released the following April, and over the next two years, Anne shot approximately 12 scenes for Vixen's various production banners.
Anne retired last month, telling PornCrush: "I loved my time in the industry. I don't want to leave porn hating it. I don't want to be one of those girls who is like, 'Porn should be illegal. It's terrible!' I had a great time. I got to learn about myself sexually in a safe environment. I worked with great people who have great attitudes who enjoy their jobs every day. Those are the memories I want to take with me."