There's speed.
And then there's sprinter's speed.
For most of her youth, Alexa Payne had the latter.
Time after time during high school—through her senior year—Payne found herself on the track in her tiny Texas town, training for hours as the unforgiving southern sun pelted down on her back.
Eight years later, Payne blushes when asked to name the track events in which she competed. No, not the distance races like 1,600 or 3,200 meters. Not the hurdles, the long jump, the discus throw, or the pole vault.
So fleet of foot was Payne that she represented her school in the 4x100 relay—a marquee race showcasing the speediest speedsters at each meet.
"Track was a big part of my life for a long time," Payne says. "I loved training, loved competing."
Now 26, Payne pauses and smiles.
"Unfortunately," she laughs, "I'm not that fast anymore."
Maybe not as a runner. But when it comes to porn, Payne has exploded quickly out of the blocks. As her burgeoning career surges, she approaches every obstacle like the final turn on a track. When tensions rise and pressure mounts, Payne propels into high gear.
"My ultimate goal," Payne says, "is to build my brand as big as possible. I mean, who wouldn't want to be the next Abella Danger? I'm not saying that will happen, but it's nice to have something to shoot for."
A Dallas native, Payne has connected on all targets since entering the industry in August. The 5-foot-5, raven-haired stunner has already shot for companies such as Brazzers, Reality Kings, New Sensations, BangBros and Naughty America and has done content trade with A-listers like Johnny Sins and AVN Awards co-host Reya Sunshine.
A scene for another high-end studio was recently filmed and is in production—Payne vowed to remain hush-hush—and last week, Payne was flown to New York City to feature dance at Sapphire Gentlemen's Club. From there, it was on to Los Angeles and Las Vegas for more shoots.
"I'm trying to connect with as many people in the industry as possible," Payne says. "I love asking people for tips and advice. If there's someone I really want to shoot with, I'll message them on Twitter. I'm not shy.
"The worst thing they can do is say 'no.'"
As much as she enjoys sex, Payne hardly seemed destined for a career in the adult industry as a teenager. Payne grew up in a small town about 30 miles northeast of Dallas. Each night she fell asleep to the howls of coyotes. "Partying" meant congregating in a secluded field to build a bonfire.
Payne had the same boyfriend all four years of high school—"the guy I thought I'd be with forever," she says—and never experimented outside of the relationship. But things changed after graduation. With her beau moving away to attend college and Payne remaining in Dallas for cosmetology school, the couple decided to split.
"Once that happened," Payne says, "I went buck wild."
Anxious to explore her sexuality, Payne downloaded Tinder and started meeting up with men for dates—and, eventually, sex. Many of her experiences were great, she says. But there were some forgettable hookups, too.
"The worst," Payne says, "was when I'd be excited because the date would be going well and the guy was hot. But then we'd go back to his place, and I'd be disappointed by what was down there (between his legs). He'd be too small.
"After that happened a few times, I started making guys send me dick pics before I'd go out with them."
Payne's life took a turn during a trip to Miami to visit a friend. While attending a house party, she met a man who was in the swinging lifestyle. He and Payne began dating, and one of their favorite things to do was frequent swinger's events.
Whether it was an orgy with friends at someone's house or a crazy night with strangers at a private club, Payne and her new man were feeding their sexual appetites and experiencing things Payne never would've even imagined a few years earlier.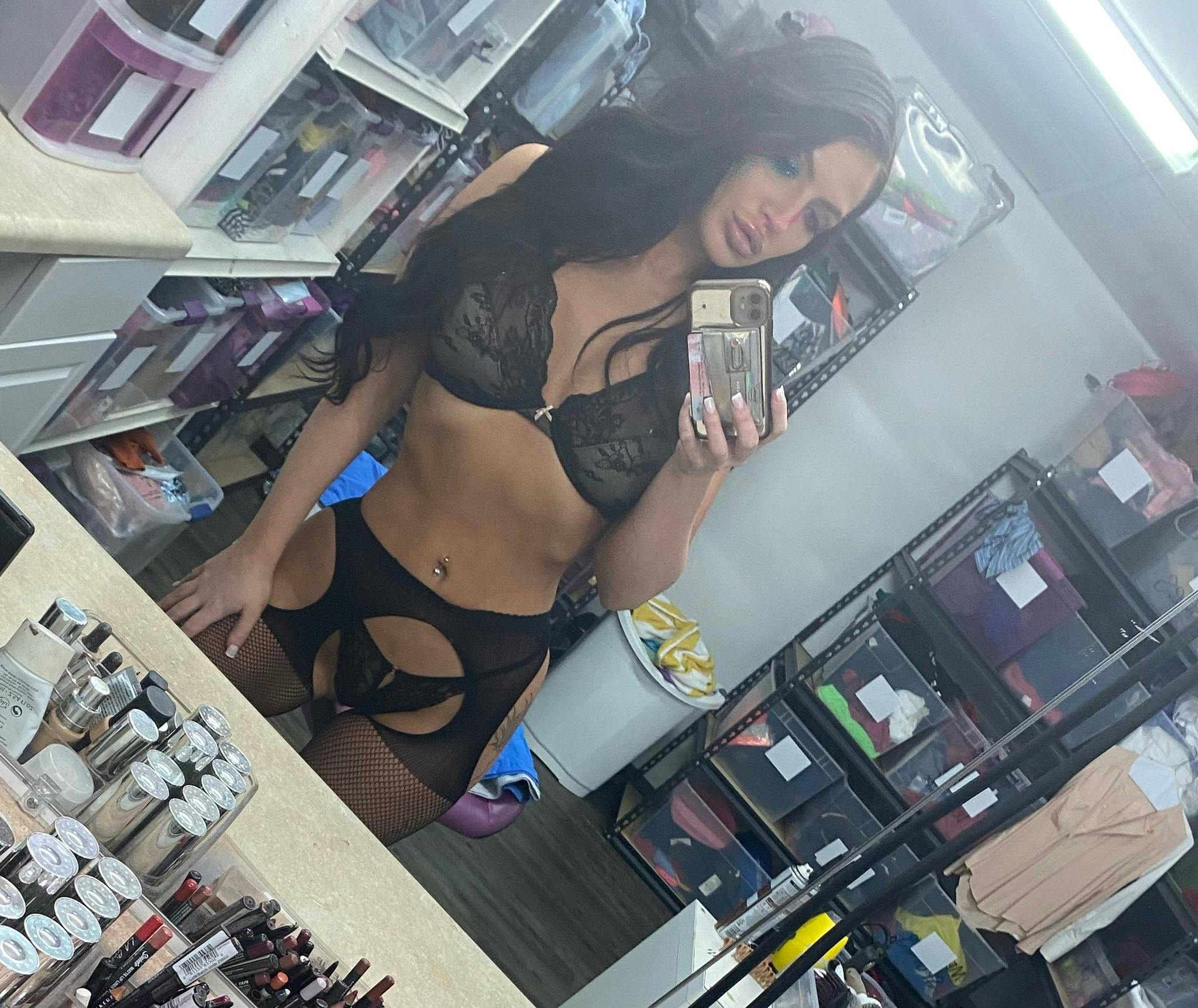 Payne's only gangbang to date, she says, occurred at a swinger's club in Florida.
"Two other guys showed up," Payne says, "and my boyfriend asked if I thought they were cute. I was like, 'Yeah, tell them to come over here.' We were in a room, but we kept the curtains open so people could watch. It was so hot. The first thing I said when I left was, 'I want to do that again!'"
As the escapades continued, Payne and her boyfriend launched an OnlyFans account and filmed their sexual encounters. Using only a cell phone, their production value wasn't high-end or flashy. But—largely because of Payne's sexual energy, alluring face, 34D breasts, and other assets—the site was "making enough money to pay the bills."
In her free time, Payne often found herself watching porn—she was particularly drawn to rough scenes—and began entertaining the thought of entering the adult industry. Then she met former porn star Evelin Payne at a swinger's party.
"She fucked me with a strap-on," Alexa Payne says matter-of-factly.
After the festivities, the two talked, and Evelin gave Alexa the advice and encouragement she needed to transition into studio work. Within days of hiring 101 Modeling as her west-coast representation, Payne flew to Los Angeles to film her first scene: a boy-girl-girl with Tee Reel and fellow newcomer Maxie Mellow.
"Tee Reel was great," Payne says. "He walked me through everything and made sure I felt comfortable. Walked me through the steps, the positions to get in, the angles …
"I'm not going to lie. I liked being in front of the camera. I thought I'd be nervous, but I wasn't at all. Everything was very natural to me."
As soon as she walked off the set, Payne says she felt an "adrenaline rush." She immediately texted her agent.
"When can I shoot again?"
Payne's life has felt like a whirlwind ever since. She's worked with established performers such as James Angel, Donnie Rock, and J-Mac—who climbed halfway up the outer edge of a staircase, squatted down, and throat-fucked Payne, who was still standing on the floor.
Payne played a MILF in a scene with Apollo Banks, despite being only three years his elder. And, of course, she worked with one of the biggest names in porn in Sins, the most-watched male talent in the world, according to PornHub.
"He's such a cool person, such a nice person," Payne says of Sins. "So respectful. I liked a bunch of his photos on Twitter. I had a huge crush on him. I was already doing a few scenes in Vegas. It worked out perfectly.
"He also gives off such good chemistry, such good vibes. He makes really strong eye contact. It's easy to see why he's so popular and is ranked so high."
The feeling is mutual.
"She likes it ROUGH …" Sins tweeted along with a picture of himself and Payne following their scene.
When she's not traveling for work, Payne spends most of her free time producing content for her social media channels. She boasts just under 40,000 followers on Instagram and Twitter, numbers that should skyrocket if she keeps up her current work pace.
Payne also prides herself in running her own OnlyFans account, regularly exchanging messages with subscribers and fulfilling requests for customs. Most of the content on her account features her boyfriend and, sometimes, other creators they meet in the Dallas area.
"He doesn't get jealous at all," Payne says. " I guess I got lucky. He supports me. We shoot a lot of different stuff here. We'll do couple swaps. Or he'll video me shooting with somebody. Or we'll do boy-girl-girl or girl-girl.
"It's harder to find people out here. I typically like to shoot with people in the industry. You know what you're getting into, and you know it'll turn out good."
Payne—who won't shoot with anyone who doesn't have a current test—is planning to move to Florida in May to be closer to other performers and creators.
"I'll always come back home to Texas," Payne says, "but people here don't really know about porn. No one knows what I do. No one is going to see me on the street and say, 'Hey, that's Alexa Payne, the porn star.''
Payne laughs.
"I wouldn't care if they did, though. I'm proud of what I do."