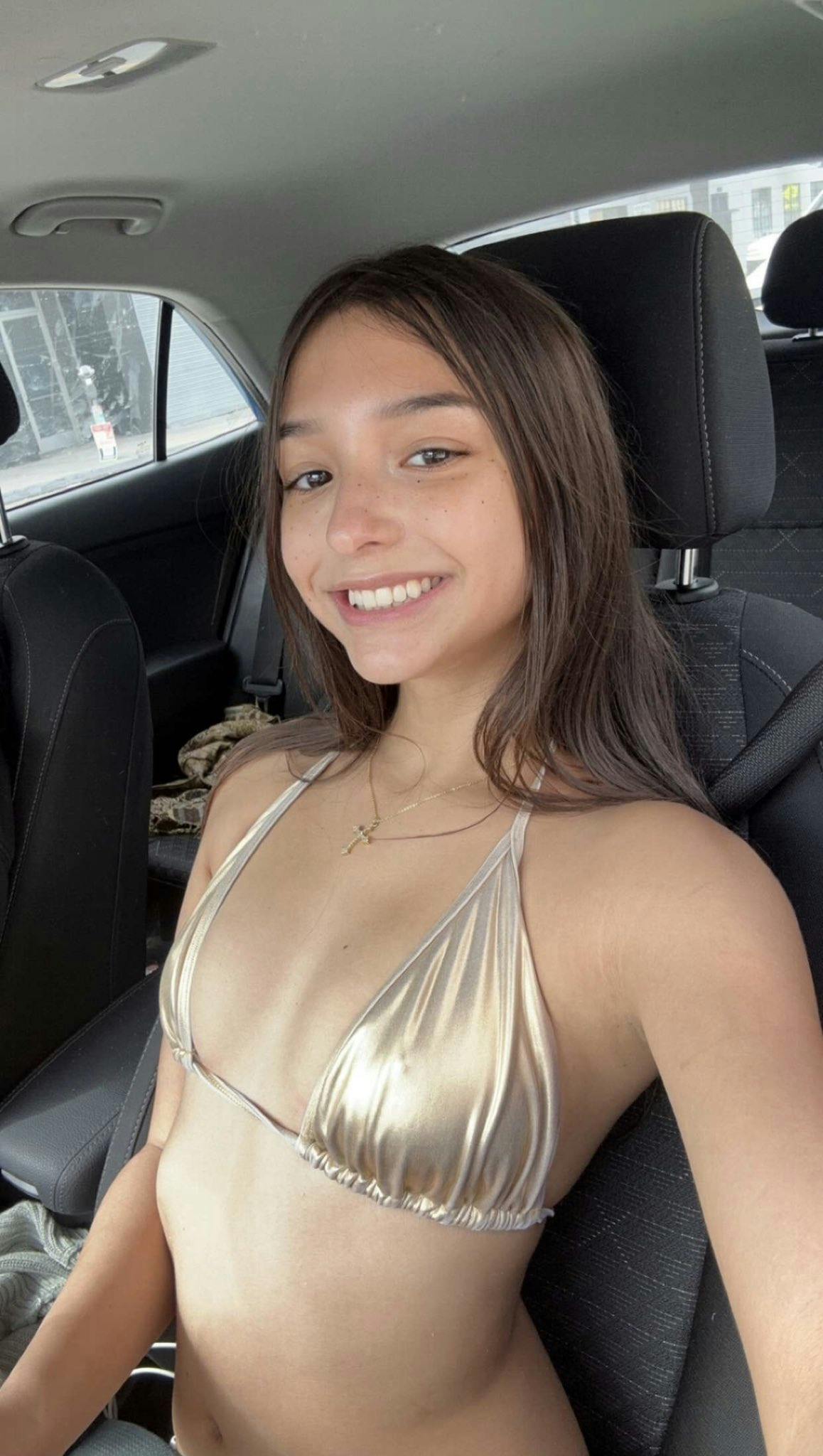 Fast-rising newcomer Layla Jenner recently got her first taste of the discrimination often experienced by sex workers.
Jenner—who shot her debut scene in May, just days after graduating from college—says she was forced to close her checking account at her hometown bank in Lubbock, Texas after employees there discovered she was a porn star.
"They were like, 'We know what you've been doing in California. You should probably close your account and find somewhere else to bank,'" Jenner tells PornCrush. "I couldn't believe how rude they treated me. I get mad just thinking about it."
Jenner, who is 19,, says the confrontation occurred late last week after she realized her Zelle account had been frozen. Jenner, who was in California at the time, called Happy State Bank in Lubbock to inquire about the issue and was told that fraudulent transactions had been detected.
"But they couldn't tell me what they were," Jenner says. "I looked into it (online) and there were no questionable transactions. They were all legit. I knew what all of them were. Still, they told me they were canceling my Zelle account."
Jenner asked the bank to write her a check for the entire sum of her account and mail it to her in California. But she was told a check could only be sent to the Lubbock address listed on her profile. Jenner, though, moved out of Texas last month.
The following day, Jenner's 78-year-old grandmother went to the bank in person and requested that all of the money be transferred from Layla's account to her own Zelle account, so she could then immediately send the money to Layla. The teller refused.
"Instead, they suspended her Zelle account, too," Jenner says. "My grandmother put me on the phone (with the teller) and I asked her why she did that, and she said, 'We're not going to involve (your grandmother) in what you're doing. We know what you're doing in California.'"
Jenner says her grandmother knows she's shooting porn and is supportive of her career choice.
"I was like, 'How dare you assume my nana doesn't know what I'm doing—she knows exactly what I'm doing.'" Jenner says. "You could hear them trying to give her hints. When someone is being mean to your grandma and you're having to listen to it … you're going to get pissed."
After some terse words were exchanged, Jenner says she calmed down, and the bank finally agreed to transfer all of her money into her grandmother's checking account.
"They said they'd do it 'since I asked nicely,'" Jenner says, adding that her grandmother then moved the money to Chase bank and wrote her a check from that account. She received it via mail Tuesday in Los Angeles.
Contacted Tuesday by PornCrush, Brooke—the branch manager at Happy State Bank in Lubbock who declined to give her last name—says she was aware of the situation involving Jenner but couldn't comment on it specifically.
"I can't speak to that particular situation," Brooke said. "But we do think it's very smart for someone to bank where they live. If you're living in California, I think you should bank in California. Considering we don't have banks there, I think it would make life easier on any customer—not just (Jenner) in particular—to switch banks."
Jenner was indeed planning to switch banks anyway, but she says that's not the point. She's upset that Happy State Bank suspended her Zelle account without any legitimate reason or specific explanation. And even though closing her checking account there may have been a logical choice, the fact that she was forced to do so was discriminatory, she says.
Brooke, the branch manager, told PornCrush she was unaware that Jenner was a porn star.
Jenner isn't buying it.
"(Lubbock) has that small-town vibe," she says. "Lots of people down there know about it now.  And if they didn't know (at the bank), they saw all the checks coming in, all the money—almost every day for the past two months—and figured it out.
"I don't understand why people are so upset about porn stars making money. I can't get over how rude they were about everything. They did everything they could to make things difficult."