Forget the ritzy studio sets.
Or even the comfort of her own bedroom for an amateur shoot.
Instead, surging newcomer Madison Wilde picked a rather unlikely location to record her first piece of adult content.
McDonald's.
Or rather, the parking lot at McDonald's.
Wilde was an 18-year-old employee at the fast-food chain when she decided to treat her manager to a blow job in his Dodge Charger following an afternoon shift. The couple filmed the oral session and posted it on PornHub.
More than three years later, "Hot Latina Teen Blows Manager" has nearly 4 million views.
"I've never seen porn where a girl literally goes underneath the seat and does the whole blow job there," Wilde says. "I was like, 'This is cool.' I liked it. It was a vibe. I wanted to do it again."
And she did.
Whether it was sensual sucking in the Charger or POV sex in her bedroom, Wilde and her manager—who doubled as her real-life boyfriend—continued to shoot their own content until she decided to transition into studio porn about a year ago.
Much like her PornHub numbers, Wilde's career is soaring. The Hussie Models star has already shot with top-tier studios such as Evil Angel, Nubiles, Bang Bros and Team Skeet while working alongside A-list talent like Mick Blue, Ryan Driller and Tyler Nixon.
And even bigger things are on the horizon.
PornCrush caught up with Wilde earlier this week to talk about her days in the high school band, her best skill in the bedroom, her thoughts on anal sex—and, yes, even a little more about McDonald's.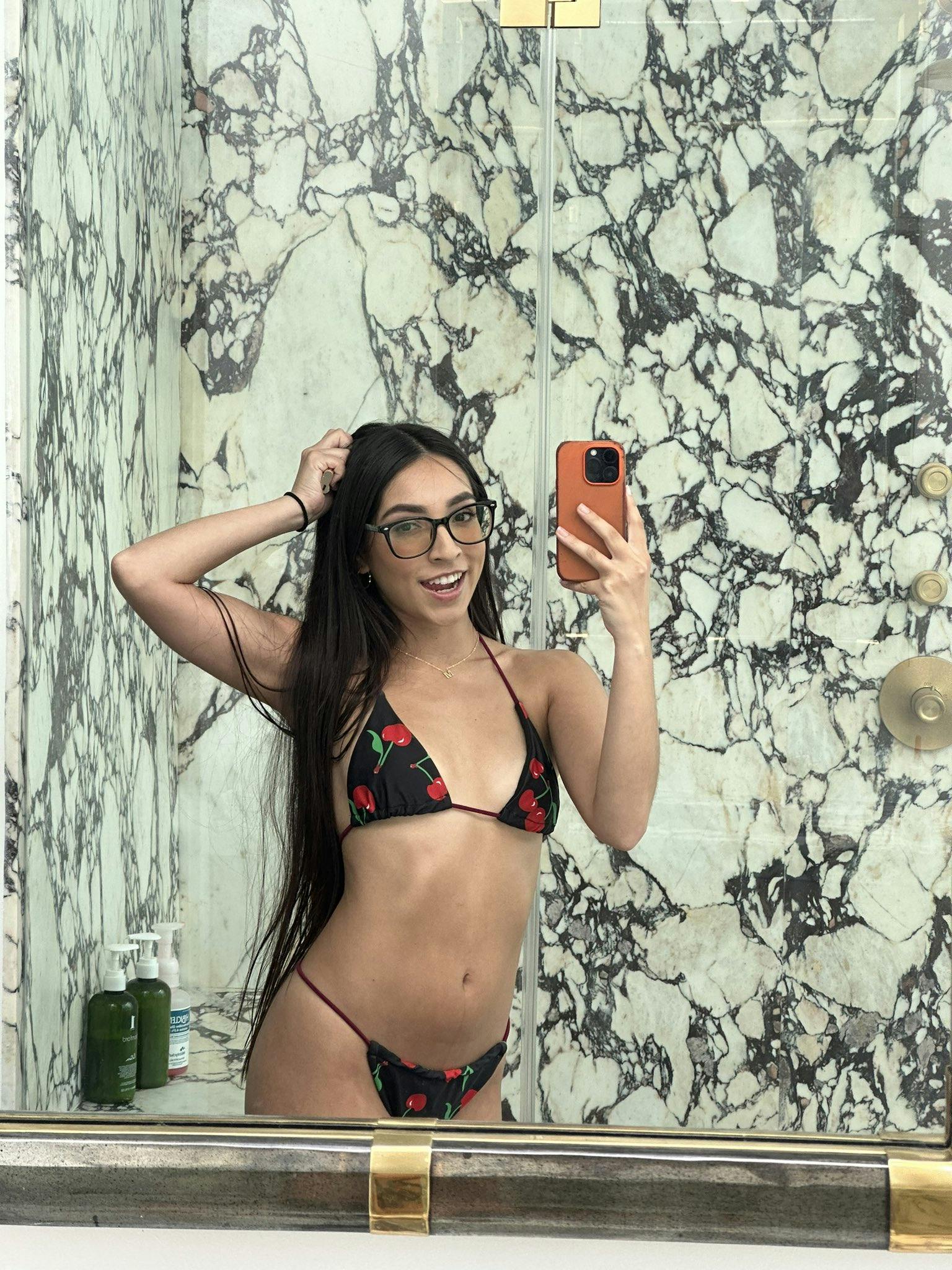 PornCrush: Tell us a little bit about yourself; where you grew up, your interests and passions as a kid, etc.
Madison: I was born and raised in LA and have been here all my life. In high school I was a band kid. I was in the marching band. I played the trombone, the alto sax, the tenor sax, the bari sax and clarinet. I was a little bit of a nerd.
PornCrush: Oh wow, you were versatile.
Madison: Yeah, I was just trying to get around, you know? As far as hobbies? Oh, I liked playing video games. I was a Call of Duty and Zombies girl. I suck at actual online stuff, but I like playing Zombies because it's easy and fun. I'll get  really into stupid games like City Skylines, where it's just yourself and it's a problem-solving game. So I'll spend hours on that and I'll just play the whole day.
PornCrush: What would you be doing right now if you weren't in the adult industry?
Madison: I'd be sad, I'd be in college. I'd be studying with my nose in a book because I wanted to go into obstetrics and gynecology, which is a 12-year program. It goes straight through. When I saw 12 years I was like, no thank you, that's too much of a commitment for me for school before you start your whole career.
PornCrush: What drew you to that field and made you interested in it?
Madison: I used to be in a medical club called HOSA and it basically introduced to you to a bunch of medical professions, a bunch of medical fields, and it would get you ready to join that field if you were going toward that. I really enjoyed it. It was fun. In another world, in another life, maybe.
PornCrush: How did you end up in the adult industry?
Madison: I feel like my story is kind of boring. It was more or less my boyfriend and I just like recording recording ourselves and like posting little videos here and there on like Pornhub.
PornCrush: Well, these weren't just little videos now, Madison (laughing). You really took off. I was looking at some of your stuff … (one video has) 3.9 million views right now. I think the title was "Hot Latina Teen Blows Manager." Is that right?
Madison: Yeah, those were the good ones. Those were the hitters.
PornCrush: Right. Tell everyone about that story and how that unfolded.
Madison: It was all real. My boyfriend, he was my manager at McDonald's when I was 18, but we were dating before then, so it wasn't like I was fucking my manager to get where I was at. But that was part of the story, so it was funny. But, you know, he was my manager. And then COVID came along, and we both lived at different places. I couldn't go over to his house because of his mom, and I couldn't go over to my house because my mom … you know, typical issues with young people. So we would fool around in the car.
And that's when I realized that I could fit underneath his seat, so I was like, "Okay. Let's make this. Why aren't we filming this?" I've never seen a porn where a girl literally went underneath the seat and  did the whole blow job there. I was like, "This is cool." I liked it. It was a vibe. I wanted to do it again.
PornCrush: And we're talking under the driver's seat too. So there's the steering wheel is right behind your head. You weren't leaning over to the side. You were literally under that seat. So was it a bigger car? Was it an SUV-type of vehicle?
Madison: No, it was an American car, it was a Dodge Charger.
PornCrush: When you were blowing him in the car, was it actually happening during work hours, or after a shift?
Madison: Yeah. It either happened after or before. It was all real. Nothing was fake but there was one time where I was almost caught because there was literally like a homeless person that had come right beside the car and walked real slow. I froze for a whole second because I was like, "Oh god. We're gonna get in trouble."
PornCrush: Did you ever hookup inside McDonald's, maybe in the back room?
Madison: I was always too scared because I was a goody-two-shoes. I was a square in my (former) life. But there was these people that literally had sex right next to the Happy Meal toys and I was like, "Oh these poor kids. These poor kids." I was like, "You guys, don't do that next to the toys!"
PornCrush: Your boyfriend at that time, was he a lot older, or similar in age? You said he was your manager.
Madison: We were high school sweethearts. We're still together.
PornCrush: So you make those videos, and they just explode. How did that make you feel?
Madison: I thought it was crazy and then slowly it started to get out. People from our high school found out. I was okay with them finding out, but we had younger siblings that were now in high school and they were getting hit on, they were getting sent some stuff and I was like, "Oh that's not cool." My boyfriend's little brother, people would send him links or screenshots of the videos and I was like, "That's messed up. Don't subject him to that."
PornCrush: How did you deal with the backlash?
Madison: I always tell people when they're like questioning me, they're like, "Hey, I think I saw something." I'm like, "What video did you watch? Did you like it?" And most of the time they're like, "Yeah, I watched the video." And I'm like, "I know you did. You got curious."
PornCrush: At what point did you start thinking, "Hey, this is kind of cool. I'm obviously someone that people are going to watch. Maybe I should make the transition and do this as a career."
Madison: I always wanted to, I just didn't know how to get into the actual industry until about last year. I got introduced to my buddy Tadpole and he introduced me to my first agency. And then that was me getting into the industry.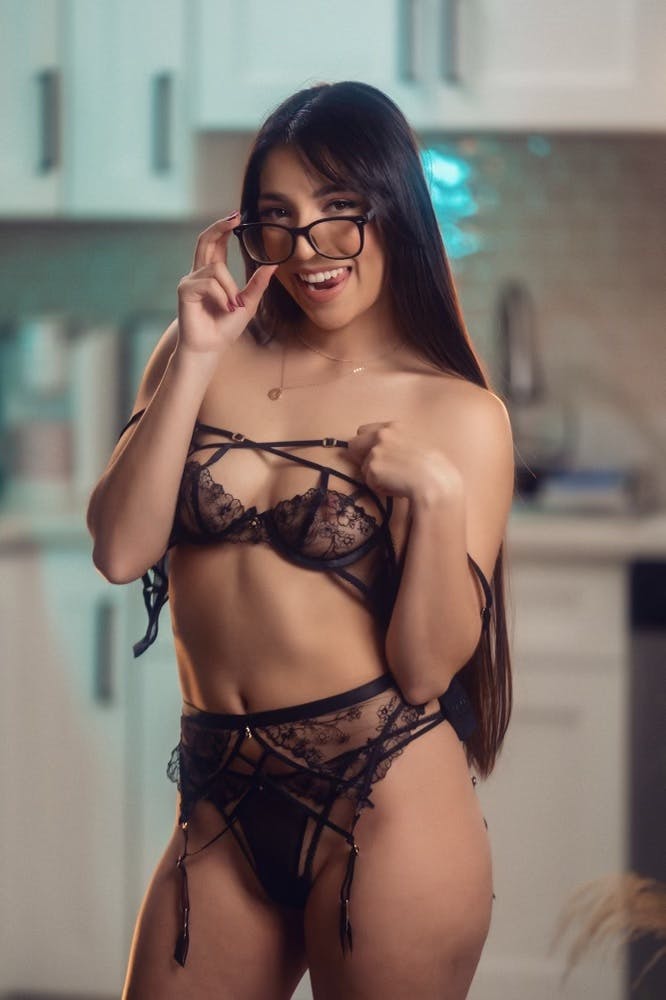 PornCrush: Did you feel at ease right off the bat? What were those first few scenes like?
Madison: I had a few amateur scenes underneath my belt before I got into the pro scenes. But the amateur scenes, I block those out because I feel like it was a different time. But my first pro scene was with Exploited College Girls. It was a whole different experience because they have six cameras, they have a whole bunch of lighting on you. It's not like a regular studio set. They're experimenting with lighting and there are all of these people. Even then, I didn't feel weird. I geeked out because the male talent was somebody that (I'd watched before). He had he had a tattoo and I was like, "I've seen that tattoo." And I geeked out because I was like, "Oh my god. It's Tyler Nixon!"
PornCrush: Did you find that porn sex was a lot different than real sex? Were you still able to enjoy sex on a studio set as much as you were in real life?
Madison: Well, I think I'm a little different, because my boyfriend was really the only person I've had sex with ever before I got into porn. So going into porn, I was like, "What are all these positions? What is this?" I was like, "You guys are making me feel things I've never felt before. This is a good time. Let's keep doing this!"
PornCrush: Did you and your boyfriend watch a lot of porn together before that? You said you knew of Tyler Nixon. Did you have people in the industry that you fanned out for, or just anyone you liked a lot?
Madison: I don't think so. I was into watching it back in the day, but then I kind of strayed away from it, especially the first few months of me being in porn. All the glamour has been taken away, I see how everything's done now, and I'm like, "Aw, this is all fake." I'm telling all my friends, "Do you know this is what actually happens?" I was dropping all the little secrets on them.
But now I watch it and I'm like, "Oh, I wonder how they cut this out, I wonder how they went around this." I think pretty cool now.
But him and I … I like watching porn together, I think it's really fun, but I'm a person that likes to watch the storyline and he likes to watch for like mostly the (sexual) acts. I'm good just for the story, I don't need to see the rest of the video.
PornCrush: What type of scene or genre really brings out the best in you?
Madison: I feel like I was really good at like BJs— or at least my (amateur) BJ videos. I I really liked them. I thought they were really good. But porn BJs are definitely way different. Just because I'd never focused on all the spitting and gagging and sloppiness. I was just more into seeing what (my boyfriend) likes and like reacting to that. And I thought like that was fun. But now, because you're working with somebody new most of the time, you don't always know exactly what they like. So you're like, "Hey, do they like what I'm doing? Should I keep doing this?" 
PornCrush: Is that something that's talked about before the scene? Do you ask the guy what you can do to make it better?
Madison: I try and ask the guy. I'm like, "Hey, what do you like? Just so I know, Are you into ball sucking, ball licking? What does it for you? Let me know."  And usually they'll let me know. Some guys don't want to talk. They're kind of just sitting there with their headphones in and I'm like, "We're gonna do stuff in, like, 10 minutes. You don't wanna have just a small little conversation before?"
PornCrush: Are you someone that watches your scenes after they've come out to try to study what you're doing and how you can improve?
Madison: Sometimes if they send me a scene that I can actually watch, then I'll watch it. But not everybody sends it, so I'll watch the free version, the (trailer). My my first scene (for excogi)  just came out last month and one of my subscribers is gonna give me his login to watch it. I'm dying to watch this one. I need to see what my first scene looked like
More recently I've been watching my own content just because it was something that I liked. And I was like, "Oh this is going to be a good video." I'm like, "Oh, look at how I'm opening up," and then I have other little side notes. I'm like, "Make sure your hair is up," because I have all these little hairs that get in the way. So I need to make sure those are back because that looks stupid. Just making little side notes. Or like whenever I go to a shoot, if the director is nice, I'll usually go and ask them, "Hey, like, is there any feedback you can give me to improve, just because, you know, I'm still new?" I want to improve and do better.
PornCrush: One thing I have heard about you, Madison, from several people, is about the vibe you give on set. You usually show up with a very good attitude, very good energy. Have you learned about how important that kind of stuff is and just, you know, having a professional way about yourself, and how much that can help in having a successful career?
Madison: Even if I'm upset going to the shoot, I'm like, "Why would I be upset when I'm out there? What what could be worse than this? I'm gonna go work for a few hours and then drive back home." Like, I've worked at McDonald's. I've worked at like a dentist office like. It could be worse. It's a good life. You're meeting people every day.
PornCrush: Is there something you've learned about the industry, something that's maybe surprised you?
Madison: I didn't know that period sex was a whole thing, That was a whole (experience) that happened and when I found out what happened then I was like, 'Oh you put a little sponge up there and then you have to fish it out?" That's not fun.
PornCrush: If you knew anyone that was coming into the industry right now, what advice would you give them?
Madison: I would say really, really research your agency. I appreciate what my first agency did for me, you know, putting me out there. But I'm with a better agency (Hussie Models) now. It just depends on your goals, because certain ones do better at providing you better scenes and other ones are better at providing you more money.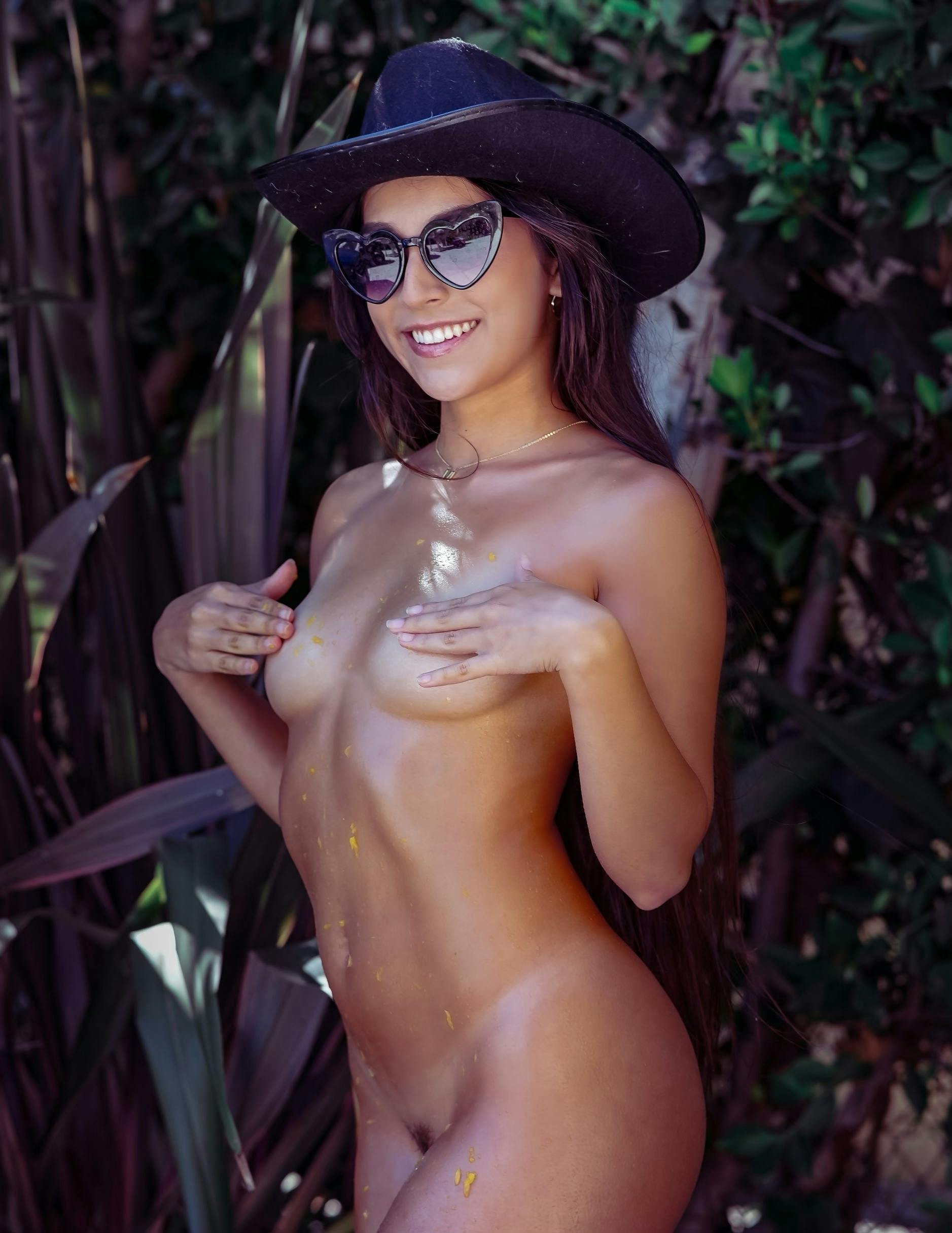 PornCrush: What about mentors or role models or, or maybe just someone that you've become close friends with since you started.
Madison: I would say I have one that I really talk to who is in and out of the industry. She's not super consistent, but her and I met on the same trip and trauma bonded together so we're like, 'Oh, we're friends forever now.' And then I have one where her and I are from the same agency. Her name's Molly Little. She's super sweet. You've probably heard of her because she's super great. She's a great girl, a super-good performer. If you go out with her you're going to have a great time.
PornCrush: Molly is definitely making a great name for herself in the industry. One more thing before we go into our second segment … what are some of your immediate goals as you move forward with your career.
Madison: Well, scene-wise, I want to get a Vixen shoot. That would be really cool. I've met with them. I just haven't gotten a set date yet. I don't have any really big goals, just because I just want to like see what happens. I just want to keep working. That's my only goal: just keep working. Because as you know with the industry, there's a bunch of ups and downs.
PornCrush: What are your thoughts on anal sex?
Madison: I'm really boring. I don't do anal. I don't let people touch my butt. I tell people, "You can touch me (almost anywhere), you can pull my hair—just don't touch my butthole. That's my (only rule).
I'm actually doing my first rimming job on a guy on Saturday or Sunday and it's only because I've worked with this guy before and he sent me a really sweet text. He was like, "What if I make sure my butthole is, like, super clean and extra shaved?"
The fact that he made that effort to send me that text—and I know he lives a super-clean life—I was like, "I trust you. I trust you. I'll do it." It's Brad Newman. He's super sweet. I think he's a midwestern guy. He's just the best.
QUICK POPS
Okay, Madison … this the point of the interview where I ask some rapid fire questions about your likes, dislikes and other fun stuff. We call it "Quick Pops." Here we go …
PornCrush: What are your biggest turn-ons in a guy?
Madison: I love when they have a dark sense of humor. If you can make me laugh then we're off to a good start.
PornCrush: What about what about sexually? Anything that puts you over the top and helps you orgasm?
Madison: I like to be dominated. That's a whole vibe for me, because I have long hair, so it feels good.
PornCrush: Along those lines … any kinks or things you didn't realize you liked before you got into porn? Things you've discovered about yourself?
Madison: I didn't know I could get choked with my own hair.
PornCrush: Besides the McDonald's parking lot, what's one of the riskiest places you've had sex?
Madison: It wasn't full-on-sex, it was just a blowjob. But it was in a church parking lot while Mass was happening that I was supposed to be in.
PornCrush: Had you been in the church before Mass and then went out and did it?
Madison: I think I had my parents drop me off, or it was one of those long days where I had a youth thing, and then Mass and then like a faith night. I had planned it to be there all day.
PornCrush: What about favorite sexual position?
Madison: I'm a missionary girl. I like the eye contact. But it's all good.
PornCrush: If you were going to watch a particular genre of porn to get off, or maybe if you were with your guy, what do you like to watch?
Madison: I usually go with three-way porn with two girls and one guy. It usually has a storyline—usually get a babysitter or a sex neighbor.
PornCrush: Did you have much experience with girls before you got into the industry? What's been what's that been like for you?
Madison: I'm still new when it comes to girls but I'm not like one of those girls where it's, like, "I'm strictly straight." I enjoy a pretty woman. I can go down on them. It's an 'I can enjoy their beauty' type of thing.
PornCrush: What's something you have in your porn suitcase or duffel bag that you take to sets that you couldn't live without?
Madison: My vibrator. I take it all the time. I'm like, "Oh, if it's a little too big … let's have some fun real quick. Let me work it in with the vibrator. Just get it in there."
PornCrush: What's the thing that you love the most about the porn industry?
Madison: I really like getting to meet new people, because everybody has a different story and a different place that they come from.
PornCrush: When you're not working, what do you like to do in your free time?
Madison: Relax, watch TV, hang out with my dog, just be very chill. Stay home.
PornCrush: Yeah, and you're a homebody, right? Didn't you tell me that before?
Madison: I am, yes. I love being home. I love staying here. It's my place.
PornCrush: Did you ever have a period in your life where you were kind of a wild child, a partier?
Madison: My older sister was the wild child so I had to be the good child.
PornCrush: Tell me about your pets.
Madison: I have a wonderful husky, she's going be two-years-old. Her name's Aria. She's a little shithead. And then I had a Chihuahua, but now she lives with my parents. Her name's Bebe. And she has really bad breath and she has this weird nipple that looks like a little penis.
PornCrush: Last thing, if you're leaving set and you're starving, where are you gonna go to eat?
Madison: I've been going to In-N-Out. If I'm super hungry, I'll get a double-double with mustard, extra pickles, no lettuce, no tomato, fries light with a large root beer float.
PornCrush: Wow, sounds like you've said that a time or two? You know it by heart.
Madison: I know exactly what I want.
PornCrush: Did you get so sick of eating McDonald's food from working there that you don't like it anymore?
Madison: I stopped eating it for about like a year, and then this past year I've gotten back into eating it So I'll have a Big Mac now and it's delicious. It used to be the cheeseburger, but now the cheeseburgers gross me out because for some reason they're, like, weird.
PornCrush: I've always thought the McDouble was the best burger on any "value menu," even though they keep raising the price. I also don't think enough people know about the McFlurry (ice cream). Very underrated.
Madison: The McFlurries are good, but the whole point of the McFlurry is for it to be stirred, and they are never stirred.
PornCrush: You're right, sometimes you have to do it yourself. Very high-maintenance.
Thanks for taking some time to chat tonight, Madison. You're doing a great job. I keep hearing so many good things about you and we're looking forward to following your career and then also meeting you in person sometime soon.
Madison: Yeah, I'm excited to meet you. Thank you. I had a really great time.