*Multiple times per month, PornCrush will highlight a surging performer who is less than one year into her career in "Ready to Bust." Please send us a message if you are interested in being featured.
She's performed in short plays in men's prisons, worked in an old folks home, lived in Joshua Tree and once aspired to be a blackjack dealer.
So it only makes sense that Millie Morgan's first mainstream porn scene was a bit … unconventional.
"I had sex with a mascot," the surging newcomer told PornCrush. "I had actually been a mascot back in high school, so it was a full-circle moment for me."
Filled with arousing dirty talk and capped with a messy facial, Morgan's romp with the PornDude generated quite a buzz back in March—and she's been on a fast rise ever since.
Brazzers, Team Skeet, Sweet Sinner and others. Just four months since her debut, Morgan has already shot for the some of the stop studios in all of porn. And the demand for her services continues to increase right along the praise she's receiving from directors. That includes AVN Hall of Famer Mike Quasar, who tabbed Morgan as his "favorite newcomer" in a recent tweet.
The Alabama-born Morgan—who moved to San Diego as a teenager—said her only regret thus far is not entering the industry sooner. Morgan spent three years as a successful OnlyFans and Chaturbate model before transitioning into mainstream.
"I'm just so grateful for every opportunity I have to be on set," Morgan says. "I'm very proud of what I've done, but I'm also hungry for more. I'm just like, 'Put me in, coach! I will show up on time and I will be clean and (my lines) will be memorized. Just let me in!"
PornCrush caught up with Morgan earlier this week to discuss her background, her life before porn, her favorite sexual position, the secret to making her squirt—and her passion for cheeseburgers.
We hope you enjoy this interview—and make sure to check back next week for another installment of "Ready to Bust.'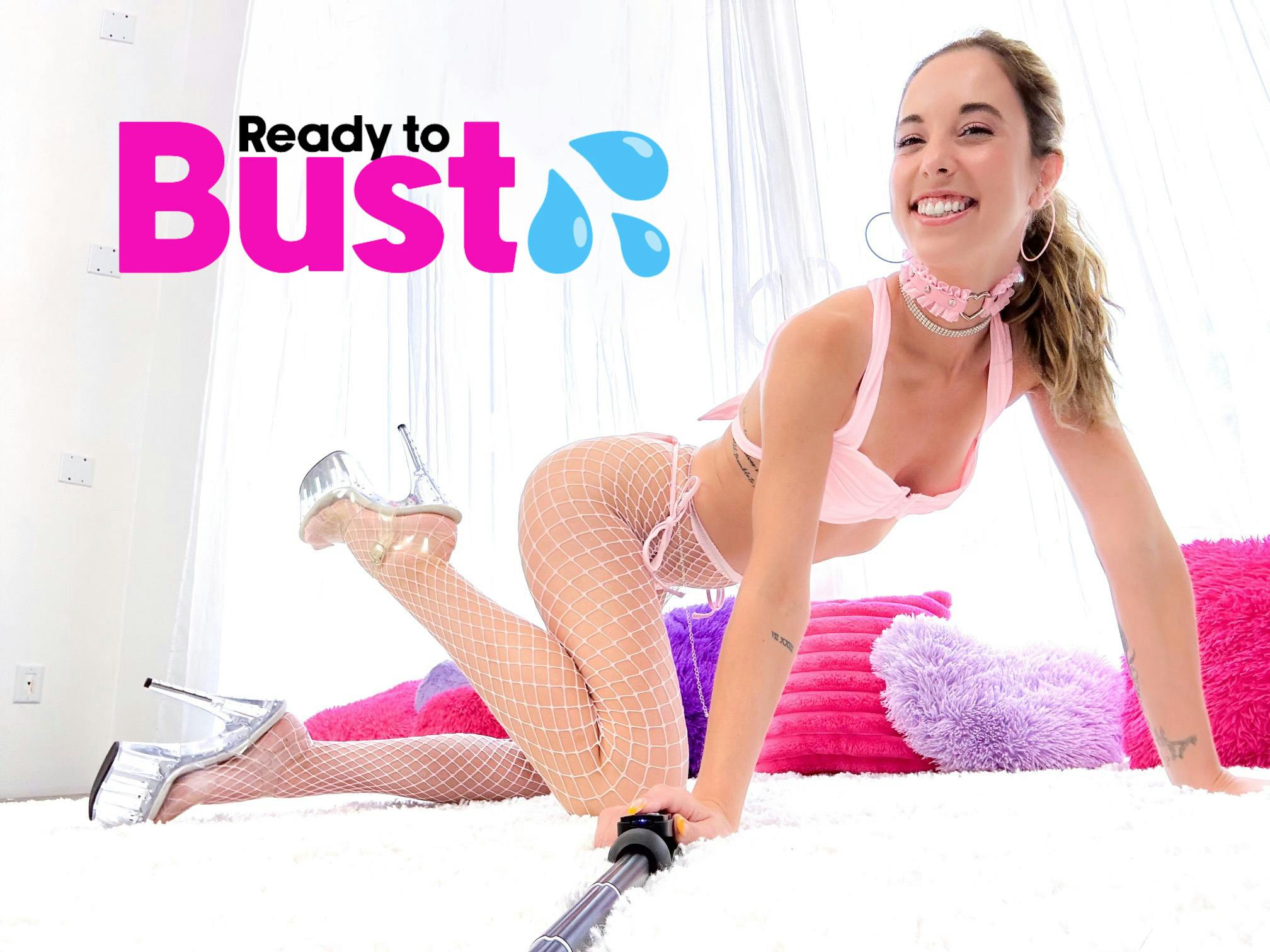 PornCrush: Tell us a little bit about your background, your childhood, and where you grew up.
Millie: I was born and raised in Alabama, the very deep south. I moved to Southern California when I was a teenager. Southern California is always where I felt like I belonged, so I really felt a sense of home once I moved here. I didn't really feel like I fit in when I lived in the deep south.
So that was a pretty definitive (moment) for me, moving out here. That was my life goal. After that, it was kind of like, 'What do I do now?
PornCrush: How is does life in California differ from life in the deep south?
Millie: (The differences are) endless. Goodness gracious, I mean … in the south, there are churches on every corner there, you know. And there's really great sweet tea. There's a lot of epic biodiversity in the deep south, which is really gorgeous. Like, I love all the French and the Spanish influence there. I love how they're intertwined. I'm a history nerd, so I think that aspect of things is really interesting. Still, you can't really compare the two because they're two entirely different worlds.
PornCrush: So you get out to California when you're in your teens. At that point in your life, what are you thinking you were going to do when you grew up? What were your goals and aspirations? What were your hobbies and interests and passions?
Millie: I'd always seen myself taking some sort of unconventional career path. Like when I was younger, I had visions of myself being like a blackjack dealer or a bartender. Or maybe working on a riverboat. Maybe I read too much Huck Finn.
One of my first jobs was at an old folks home. I spent a lot of time just observing people at the end of their lives. And it was pretty obvious the people who felt very fulfilled with the choices that they had made and the people who were just, like, running time off the clock. It made me want to become of those people who felt fulfilled.
PornCrush: Yeah. I'm sure there were noticeable differences between the people who'd lived a happy life and the ones who had regrets..
Millie: Oh yeah, I mean, it spoke for itself, you know, just in terms of demeanor. It really (influenced) a lot of the choices that I would make for myself moving into adulthood. I formed this barometer of how will my end of days be and who I want to be. I want to be able to stand up and say I've done this or that.
PornCrush: You definitely seem to have a real upbeat, positive vibe about you. I'm sure a lot of that was kinda formed in those years.
Millie: Yeah, you know, seeing so much death and darkness, it teaches you to take every day for what it's worth and like live it to the fullest.
PornCrush: Absolutely. Moving forward, were there signs, maybe in your late teens, that sex work or the adult industry would be a part of your future?
Millie: I definitely think so. I thought about it for a long time before I wanted to do it. I studied acting in college. I actually have a degree in theater. And I stopped acting because I'm just too sensitive for the whole audition process.
I had told myself that if I were ever to start acting again someday, people would pick me for the roles. They would know who I am and want me. And there's really no other industry besides porn where that's the way that things function. Set every day is like a blessing because it feels for me like I'm living my dream. So yeah, there were definitely signs. Plus, I always got in trouble for flirting—even when I wasn't flirting. I had to make great efforts because it was known that I was not trying to flirt, but people would still make eyes at me. I just had to be very quiet.
PornCrush: How would you get in trouble for flirting? Like during school, in class?
Millie: I worked for an arts education nonprofit organization for a time, and we worked in maximum security men's prisons. Some of my last acting jobs before porn were reading scripts in men's prisons. I had to make sure that it didn't appear like I was trying to flirt with anyone or lead anyone on just because I was making eye contact. I'm empathetic and approachable and, you know, genuinely interested in what someone has to say. Sometimes those things can easily become misconstrued. So that was something I had to be careful about.
PornCrush: Moving forward, how did you end up in the adult industry? What happened? Did you start dabbling in OnlyFans and camming like so many others?
Millie: Yes! My anniversary on OnlyFans and Chaturbate is actually this week. It's been three years, which is really crazy and exciting. I was single and I really needed an outlet for my sexual frustrations. It was during the pandemic and I was holed up and horny. That's how I started camming. And then I became interested in doing mainstream studio work. I started sending emails and looking (at mainstream work). It'd be really funny to dig up some of those emails, with me desperately asking directors and studios to please put me on a set. But it wasn't until I did a collab with Sean Alf and Robbie Echo that things changed.
On the same site as the collab, they were filming an episode of PornDude Casting Couch. I was like, 'What? Sex with a mascot? That's so fucking fun. How did I get involved with that?' I had actually been a high school mascot back in the day, so it felt like a full-circle moment for me to have sex with someone wearing a mascot head. I had seen it online but it was really fun to see it in person. Anyway, that's how I got my first scene.
PornCrush: You were a high school mascot?
Millie: Yeah, I thought it was fun. I got to go to cheer camp for that, which was humorous. Me trying to keep up with cheerleaders; they are freaking athletes.
I had a very spirited school. At football games, if there were guys that I thought were jerks or assholes to girls, I would emasculate them a little bit sometimes by cornering them in the mascot suit or sitting on them, which might be in a little bit inappropriate in this day and age. But they'd never fuck with the mascot. And so that was my way to kind of, liike, giving the little finger at the patriarchy.
PornCrush: What do you remember about your initial experience with OnlyFans and Chaturbate?
Millie: I was in Southern California and everything was kind of closed down because of the pandemic. I'd been inside forever, and I was newly single. So that was a really tricky time to try to figure out how to gain some sort of connection or romantic and emotional fulfillment because everyone was distancing.
So I think it made a lot of sense that I would kind of start (branching) out because certainly, the guys that I was meeting on dating apps weren't (great).
I moved to Joshua Tree after I started webcamming and doing OnlyFans. Just because I thought it would be a fun adventure. Once I was working remotely and had quit the office job I was doing, I figured I could work anywhere. So why not go somewhere really cheap and a little offbeat?
And also I kind of liked the idea of just dropping off the grid, which was fun for a little bit. But I definitely am so grateful to have trash service now. I don't miss taking my trash to the dump. People in the desert are built differently. They are a tough breed of people. I have so much respect for them.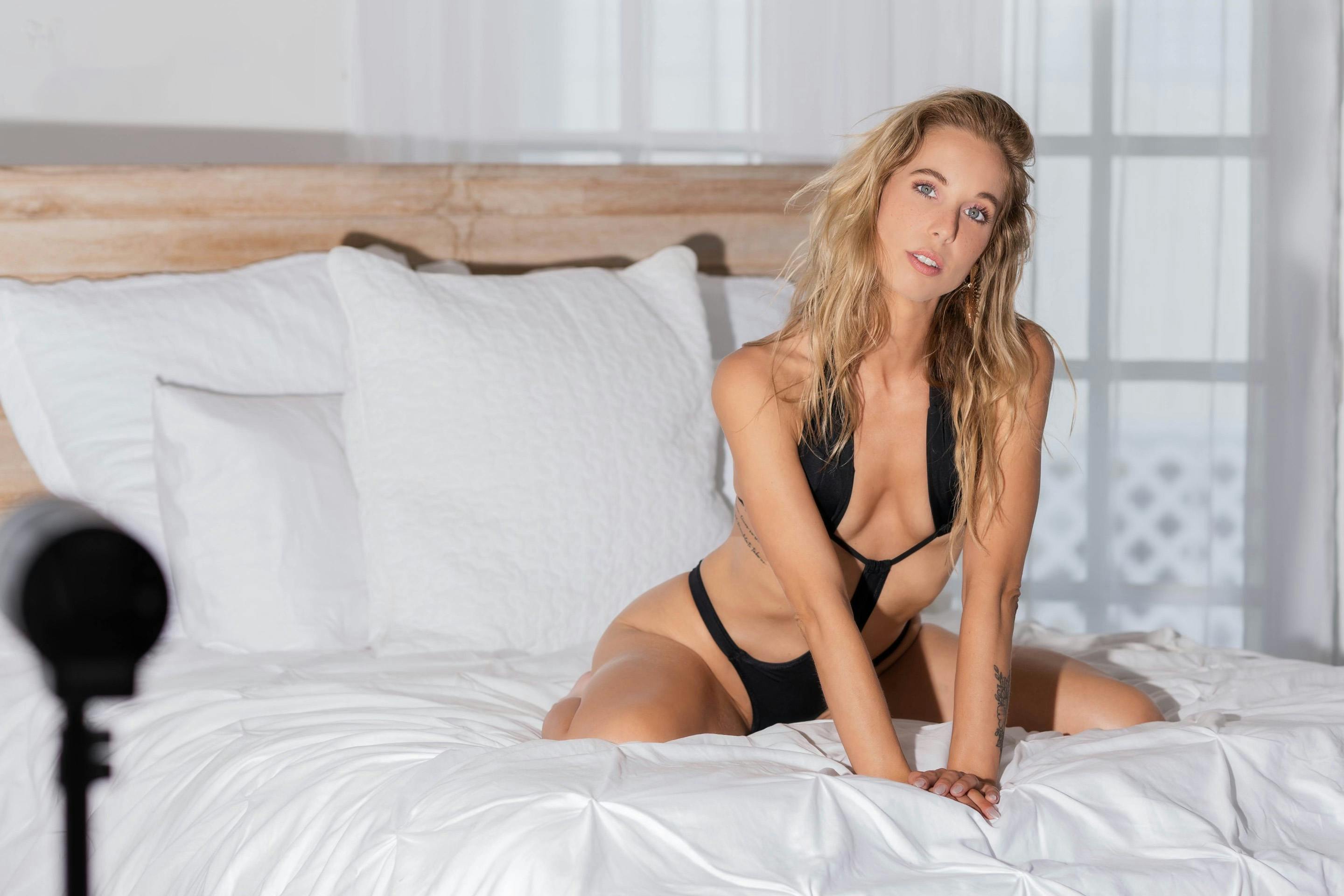 PornCrush: Once you finally started doing mainstream porn, what was your mentality like? How nervous were you? Or did you catch on quickly?
Millie: Overall it was super organic. I had this sort of frenetic energy from my excitement of wanting to be involved for so long. Now every time I'm on set, I'm just really grateful to be there. So yea, I think that a certain amount of nerves were to be expected, but for the most part, I just felt like I'm like this is what I'm supposed to be doing—and this what I should've been doing all along.
PornCrush: I think you've had about 20 scenes released thus far, and I'm sure you've shot more than that. Are you someone that waits for your scenes to drop and watches them and critiques yourself?
Millie: I love to watch my own scenes. I think it's so much fun. And I'm definitely always learning and growing. So yeah, you better believe I'm watching and taking notes.
PornCrush: What are some things that you've seen that you want to improve on?
Millie: You have to keep in mind that I'm having sex with professionals. So sometimes the dick is so good that I'll forget there's a camera there. The director is like, 'You've gotta open up, girly!' For the most part, I'm pretty good about being mindful of the camera, especially when we've gone over positions.
PornCrush: I've heard so much buzz about you lately, not just because of the impression you've made on camera, but off of it, too. A lot of people have been really impressed with the way you carry yourself off-set. What are some little things that go into being a successful porn star?
Millie: I think having a happy, positive, excited demeanor really goes a long way. It's exciting for me to be there. I never wanna lose that excitement. I know that I'm still new. Certain things will eventually become routine. Hopefully, someday I'll be in a position to be able to take things for granted, but I never want to. I think maintaining that attitude and that excitement and the enthusiasm to learn and try new things is important.
PornCrush: Mike Quasar is a director that's so well respected in the business He is such a character too. He has really thrown a lot of praise your way lately on the internet and in conversations. What's it like to work for him? What do you like about working for Mike Quasar?
Millie: I love that Mike has got this no-bullshit attitude. He's very, very kind, but he's also just very straightforward about executing his vision. And I love his sense of humor, so we're moving along pretty well.
PornCrush: What type of goals have you set for yourself? Do you make lists of things you want to accomplish? Do you take it day by day? How are you approaching your future?
Millie: I want to be able to try as many roles and embody as many characters as possible. I'm just so grateful for every opportunity I have to be on set. I'm very proud of what I've done, but I'm also very hungry for more. That's where I'm at and what I'm striving toward. I'm just like, 'Put me in, coach. I will show up on time and I will be clean and (my lines) will be memorized. Just let me in.'
PornCrush: Ok, Millie .. this is been a great conversation. Let's finish off this interview with some Quick Pops!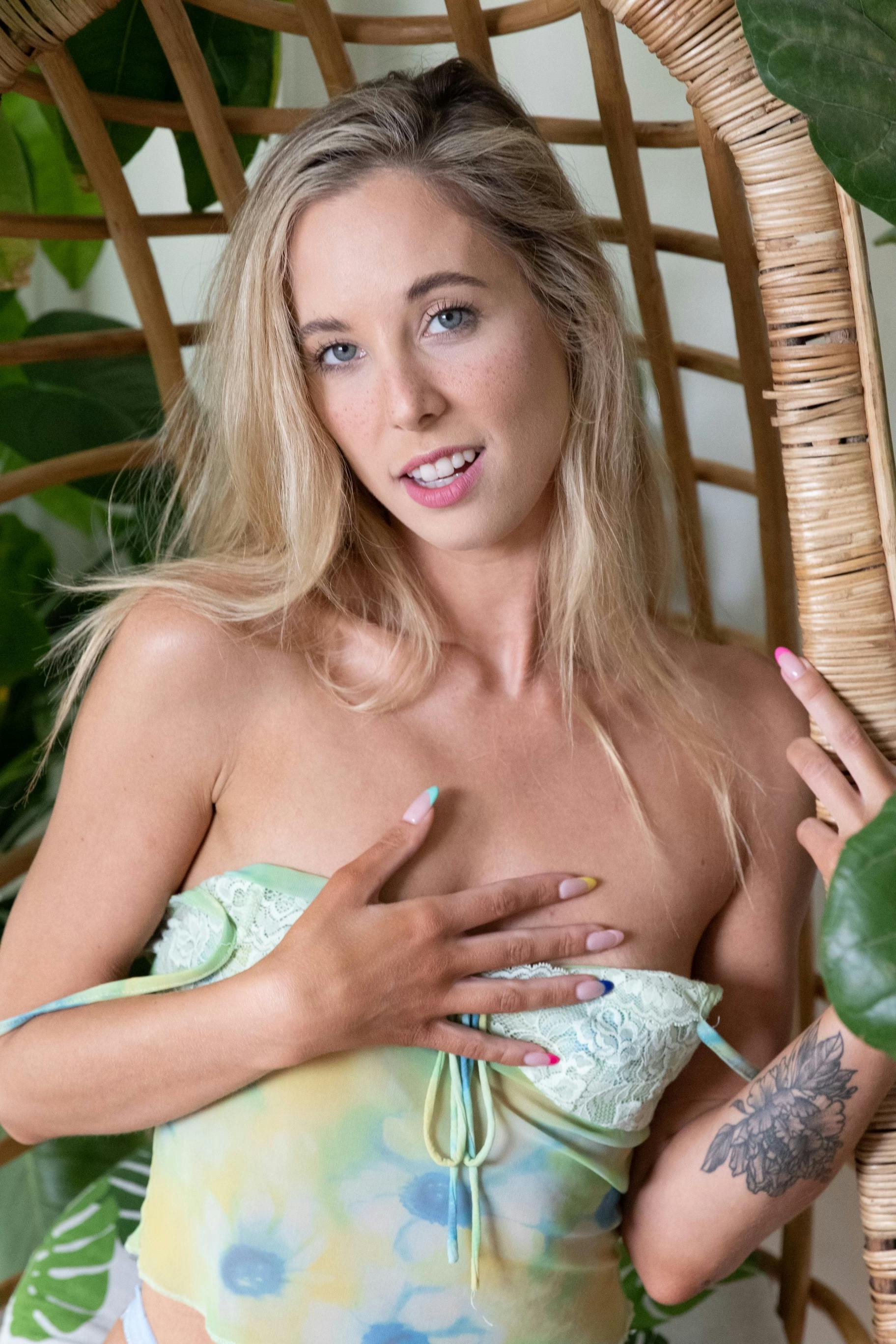 Quick Pops 💦
PornCrush: What's your biggest turn-on in a guy?
Millie: Good style and clean hygiene goes a long way.
PornCrush: What about turnoffs?
Millie: Arrogance. There's a certain type of attitude that's just not attractive to me.
PornCrush: When you're having sex, is there something a guy can do that really puts you over the top and helps you orgasm?
Millie: I love having my titties sucked on very roughly. And recently I've discovered something new. I don't squirt very often with a partner. However, if you shove a cock very, very deep down my throat, I can squirt from that. So that was a really exciting discovery.
PornCrush: Wow, even if you're not being penetrated?
Millie: Yeah. I mean …  there was some fingering action going on both times it happened, but I'm pretty sure that the cock down the throat was the key that unlocked the watershed.
PornCrush: What about sexual positions? What's your favorite?
Millie: I don't think it happens a lot in scenes, but my favorite personal position is spoon because I love lazy, intimate deep penetration. Morning sex with some spooning … just roll over and fuck me, please.
PornCrush: What's the strangest or maybe riskiest place you've ever had sex?
Millie: A public park in broad daylight.
PornCrush: Were you on a bench? Under a tree? Set the scene for me.
Millie: Just in the middle of the park. We were in the grass. I was wearing a long dress.
PornCrush: If you're going to masturbate, what type of porn are you going to be watching?
Millie: Sometimes I'll watch facial cum compilations, but for the most part I watch my own porn. I'm an empath, so I'm most attracted to porn where I can tell that someone's getting off. So I'll find a video every now and then where I'm like, 'Oh, yeah, they look like they're really enjoying that.' But for the most part, I remember the sex that I've really enjoyed. So it's really fun to revisit that with my own content.
PornCrush: This site is called PornCrush. I know you've already worked with some great people. But is there anyone you're kinda crushin' on, or someone you've got your eye on that you want to do a scene with soon?
Millie: There are so many. If I had to like name names, Small Hands and Joanna Angel are so hot. Alex Coal, she's such a lovely human. I would love to work with her.
PornCrush: What's the No. 1 item in your set bag/suitcase that you can't live without on shoot days?
Millie: My tongue scraper. Gotta have a clean tongue before you're sticking a dick on it.
PornCrush: What about away from set? What do you like to do in your free time when you can kind of unplug and do your own thing?
Millie: I love to go thrift shopping and find new clothes and props and accessories for photo shoots. I like to hang out and cuddle with my dog. She's a German Shepherd mix. She just turned 11. I adopted her when she was nine. She's a rescue. I don't know what trauma she went through the first six years or so of her life, but she's got some trauma, some scars. But she's a sweetie. She likes to sleep and cuddle. She likes people. She doesn't really know what to do with other dogs, but she means well.
PornCrush: Is there a trait you picked up as a teenager in the South that has stuck with you all these years?
Millie: I lost my accent within six months of moving, so it's definitely not that. I think that I have very polite Southern sensibilities. It impacts your life in a certain kind of way when you're raised with the 'Yes sir, no sir' kind of obedience.
PornCrush: I read that you're a huge cheeseburger fan, which gives us something in common. Living in Texas, I'm partial to Whataburger. What about you?
Millie: In-N-Out is bae; it's my shit. Grilled onions, lettuce, and tomato, no spread. That's my order. I don't fuck with sauce because I don't like the sog. If it's a good burger, you don't need the sauce. I will die on that hill.
PornCrush: I hear ya. It's kinda like putting a bumper sticker on a BMW. Why mess with perfection? In-N-Out is definitely tough to beat, although I'm not a huge fan of their fries.
Millie: If you renounce all other fries for In-N-Out fries, you forget how much better other fries are. That's where I am at this point. I know somewhere deep in the depths of my soul that the fries just aren't good, but I've gaslit myself by eating them so many times a week that you don't notice eventually. That's my advice to anyone who complains about In-N-Out fries. Just give up all the other fries. They'll taste amazing.
PornCrush: Okay, Millie … it's been great getting to know you a little bit and I'm excited for all that's ahead for you. I know a lot of other people are, too. The buzz has been so positive so far. Let's catch up again soon.
Millie: Please, I'd love that. Thanks so much for having me.